Not everyone is happy when they open the envelope containing their A-level results. But if you don't receive the results that you were expecting then that doesn't have to spell the end of your academic journey. Here's our complete guide to retaking your A-levels, including why you should retake your A-levels, the benefits of retaking your A-levels, and how long it might take:
Why Retake Your A-Levels?
There are many reasons why you might choose to retake your A-levels, with the primary reason simply being that you didn't get the grades that you needed or expected to achieve. This is particularly important if you have a dream career path in mind, and you will be unable to pursue it without achieving specific grades. A good example of this is if you are hoping to pursue a highly competitive and sought-after career path, such as medicine, law or veterinary science.
If you don't get the grades that you need then that doesn't mean that you have to give up on your dream: your first path should be to contact your chosen university and see if they will still offer you a place despite not meeting the grade requirements. This happens more often than you might think! If not, you could apply for other available courses through Clearing and still go to university without having to take a year off. Don't rush into making any decisions though: Accepting a place on any course that will take you might be a surefire way of ensuring you can go to University this year, but it might not benefit your long-term career goals.
37.9% of 18-year-olds in the UK enrolled on an undergraduate course in 2020, but that doesn't mean you should feel pressured into attending University to keep up with your peers. You could end up on a course you don't enjoy, in a city you don't know, and ultimately still not have the qualifications you need to do the job of your dreams. If this is the case, it would be a much more worthwhile route to resit the A-levels that you didn't achieve your expected results in and simply reapply for the right courses, and in the right subjects, at a later stage.
What Are the Benefits of Retaking A Levels?
It's never too late to decide to resit your A-levels and there are many benefits to choosing to do so. These include:
Ensuring that you are eligible to attend further education, particularly if you have a specific further education course or qualification in mind
The better your A-level results, the better the university that you are able to attend will be
Having good A-level results demonstrates that you have a strong understanding of the subjects that form the foundation of your future career within your industry of choice, and will give you more confidence when applying for new job roles
Your A-level results will appear on your CV and will add value to this, making you more likely to secure the job role you want if you have good results
Your career options and earning potential will both be greater if you resit your A-levels

Who Can Retake A-Levels?
Anyone can retake their A-Levels, regardless of their age or previous experience. The only requirement is that set by the exam board, which requires that you have a GCSE at Grade C or above in the equivalent subject to get started. So, if you've just left school and didn't manage to achieve the A-Levels results you wanted and expected, or you've been out of education for a while but have realised you can't pursue your chosen career path without achieving higher A-level results in specific subjects, it's never too late to follow your dreams and make those improved exam results a reality.
How Long Does it Take?
Unfortunately, it is no longer possible to simply study for the module or element of the A-level that you wish to resit in order to elevate your grade. This is because, in recent years, the A-level system has been reformed. Whilst it was once a modular system, it is now a linear system. This means that you need to study a full course's worth of content before it is assessed.
When the modular system was in place, candidates could resit their modules as they failed them or did not achieve the grade that they wanted: this was very common practice. When AS level exams were standard, candidates were also able to resit their AS level modules, ensuring that a disappointing AS level grade would not have to affect their final A-level grade. It is thought that this process makes it easier for students to fully immerse themselves in their subject matter, but it is not so good for students who fail their A-levels or wish to improve their A-level grades. Instead, you will need to retake the whole course, and you cannot resit the exam until the following May/June, meaning that as a bare minimum, it will take a full year to retake your A-level. The good news is that if you are satisfied with your coursework mark from your original A-level and only wish to resit the examination element then it is possible to carry forward your coursework mark from your previous attempt, so you don't have to redo it.
Where Should I Resit an A-Level?
If you are thinking of resitting an A-Level then you have three different options about where you can choose to do this. You can choose to resit your A-Levels at school, at a college or sixth-form centre, or online. Each of these options will have its pros and cons.
Resitting Your A-Levels at School. This is a good option if you want to study your course in the exact same way, and using the exact same materials. The benefit of resitting your A-Levels at school is that you can work with teachers that are familiar with you. You will be taught in a classroom and sit your exam in a familiar environment. However, some schools don't give students the opportunity to return and resit, and many people feel that they don't want to return to a school environment. They feel ready to move on and don't want to learn alongside those younger than them
Resitting Your A-Levels at College or Sixth Form. This is a good option if you want to learn in a physical, face-to-face environment, but feel ready to move away from school. You will have a set timetable and attend classes for each of your subjects, just as you did in school, and you'll sit your exam in a classroom setting with your classmates, just as you did in school. But you'll have a little more freedom with your schedule and how you spend your time outside of your set lessons. There are also colleges that provide bespoke options to get you through your exams, offering smaller class sizes and one-to-one tuition. But the main drawback of this is that it doesn't come cheap: you can expect to pay around £6,000 per A-level to learn in a bespoke college, which is out of reach for many
Resitting Your A-Levels Online. A more affordable option to study for your A-Levels without breaking the bank is to study for them online. One of the main benefits of online learning is that you can work at a time and rate that suits you, meaning that you could work through the course materials at your own pace and work, volunteer or maintain other commitments at the same time. This will look great on your UCAS application. You won't be tied to a timetable, but you'll still have all the support you need as you'll have a personal tutor that can help you and provide tailored advice. When you study for your A-Levels online, you will be responsible for booking your own place to physically sit the exams. You can do this by contacting your local school or college to ask if they accept private candidates. Keep in mind that you should book your exam roughly six months in advance and that you will be responsible for any fees associated with sitting the exam. The amount for this fee varies from centre to centre

How Can I Study for an A-Level Resit?
You can study for an A-level resit either in a physical school or college setting, or at your own pace and from the comfort of your own home with an online college. Regardless of which way you choose to study for your A-level resit, it's important to note that you will need to be committed to your studies because you will conduct much of your research and revision independently. In order to be successful in your resits, you need to be as prepared as possible. To do this, you should:
Complete practice papers, and then look at the answers to the previous year's examinations to help improve your breadth of knowledge and your understanding of how the papers work
Write comprehensive study notes based on the lecture slides and other study materials that you have been provided throughout your course
Prepare any case studies that are required as part of the examination process
Study and revision are the most important things you can do to ensure that you achieve better results when you resit your A-levels. It's worth noting that because examination resits can be so expensive, you probably can't afford to fail again, so it's important to get it right this time!
How Much Does it Cost?
The amount you will pay to resit each A-Level will be determined by where you choose to study. No matter which route you opt for, you will need to pay two separate types of fees. These are course fees and exam fees. The course fees are usually the highest, and most variable, of these two figures. As we have already mentioned, college fees can be very expensive, and this can put many potential students off from re-enrolling to resit their A-levels. Depending on the type of college, class size, and level of support and one-to-one tutoring offered, you can expect to pay between £1,500 and £9,000 per A-level subject.
A much more cost-effective alternative is to look at online study. An online A-level course with unlimited virtual tutor support will cost between £300-400, depending on the subject and college chosen. Whether you choose to study in a college setting or online, your course fees should cover the cost of all your tutoring, course materials, and anything else you need to succeed in your studies.
If you choose to study for an A-level with the Online Learning College then some examples of courses available and what you can expect to pay for these are listed below:
Some colleges and online colleges will include the cost of sitting your exam in the course fees outlined above, whilst for many (particularly online) they are an additional cost which you will need to pay directly to the exam centre. Unfortunately, there is no fixed price for exam fees as the prices are set by the exam centres themselves so there can be a huge variation in the costs. Prices usually start at around £175 per subject but could be as much as £400 per subject, depending on the exam centre that you use. If the price you are offered seems high, contact multiple exam centres in your local area to ensure you secure the best available price.
When Would I Sit an A-Level Resit?
It is no longer possible to resit your exams in January, so if you wish to resit A-level examinations, you will need to do this at the same time as all other A-level students, which is in either May or June, depending on the subject that you are studying.  The exact date of your A Level resit will be determined by the exam board awarding body that you are studying under, which all have their own timetables. These can be found online, so if you need to know the all-important specific date of your examination, you will find it here:
If your university place is dependent on obtaining grades that you did not achieve, then unfortunately you will have no choice but to wait another full year before you can resit your examinations and take up that place. Many Universities are happy to defer their place for a year so that students can retake their A Levels, so if you already have your dream place at university waiting for you, you don't necessarily have to lose this. If you didn't obtain the place at the university you wanted through the UCAS application process in the first instance, you could also use your resits as an opportunity to resubmit your application and apply for places on other, preferred courses. Retaking A-levels does not have to be considered a negative on your UCAS application form, provided that it is framed in the right way and used to demonstrate your commitment to bettering yourself and reaching your ultimate career goals.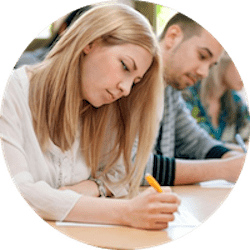 Study an A-Level with us
We offer A-Level Psychology, Business and Economics.