Dementia is a heartbreaking illness that can be very difficult to manage. Whilst dementia is not a specific disease, it is used as a general term for a series of conditions that impair an individual's ability to remember, think, or make decisions, thereby interfering with everyday activities. One of the most common types of dementia that people suffer from in the UK is Alzheimer's disease.
There are currently over 850,000 people in the UK with Alzheimer's disease, which represents 1 in every 14 individuals in the UK aged over 65. A comprehensive care plan is essential to ensure that those individuals with dementia receive the right level of care and support, and to have a positive impact on their overall quality of life.
There are many challenges that those caring for individuals with dementia face. It can be very difficult for those newly diagnosed with dementia to accept their diagnosis, caring can be intense and have a negative impact on your own health and well-being, and as the patient's behaviour and personal care needs change, it can be very difficult to respond appropriately, and to modify your care approach. That's why dementia care plans can be so vital.
The purpose of this blog post is to provide a step-by-step guide on creating an effective dementia care plan, helping to alleviate many of the challenges that both patients and caregivers face.

Assessing The Needs of the Individual
Before a care plan can be created, a thorough assessment of the person with dementia should be carried out. This may be carried out by a professional care provider, GP or nurse, dementia specialist, or even by friends and family members who are primarily responsible for providing care for the patient.
Some of the aspects of care that will be discussed as part of this assessment include:
Communication
Mobility
Toileting
Eating Patterns
Orientation/Cognition
Psychosocial/Behavioral
Caregiver Support Needs
Recreational Activities
When considering these care needs it is important to involve all relevant healthcare professionals. However, it is also important to consider the strengths and needs of the patient too. If they are able to communicate their wants and needs then these should be put at the heart of the decision-making process.

Establishing Goals and Objectives
For a care plan to be useful and successful, it is not enough to simply lay out the medical and emotional condition of a patient. You should also set goals and objectives that will improve their overall health and well-being. These goals should be clear, specific and measurable. For example, rather than state that a patient should socialise more, you should set a goal that they should attend three meetings for individuals with dementia each week. Not only is this achievable but it is also measurable so that you can see that the goal you set has been met.
The goals for each patient will be different, but goals are commonly related to maintaining independence, ensuring safety, managing symptoms, promoting well-being, and enhancing quality of life. When setting goals you should consider the person's capabilities and stage of dementia. But no matter what their stage, you should be able to set some goals that will improve their overall level of well-being.
Developing a Personalised Care Approach
Not every case of dementia is the same, and no two people are the same. Therefore each dementia patient will have their own unique care needs, and their care plan should be personalised to meet these.
There are many different factors that should be taken into account when creating a care plan. These include cultural background, personal preferences, and values. As well as assessing the medical needs of the individual with dementia, you should also think about who they are as a person. Their wants, needs and lifestyle. For this reason, it is important that you involve not only the relevant healthcare professionals but also the individual, their family members, and caregivers in the decision-making process.

Addressing Physical and Medical Care
In the later stages of the condition, dementia is likely to have a big physical impact on the person with the condition. Those with late-stage dementia may lose their ability to walk, stand, talk, or even get out of a chair or bed independently. In order to manage the physical health of an individual with dementia, it is important that they have regular meetings with their physical healthcare professionals. Many dementia patients co-present with other conditions that limit their physical abilities. Symptoms of dementia first appear in individuals in their mid-60s or later. And because dementia is a condition that often affects elderly people, conditions such as arthritis or hip problems are also common in individuals with dementia.
Regular check-ups, medication management, and symptom monitoring should all be included in the dementia care plan to ensure that physical and medical care needs are met. If caregivers observe other physical symptoms, such as behavioural changes, sleep disturbances, or pain then the care plan should include suggestions for managing these symptoms and clear instructions on what to do, and which professionals to contact, if additional support is needed.

Enhancing Cognitive Stimulation and Engagement
Cognitive stimulation (CS) is a form of 'mental exercise' developed specifically to help people with dementia. It involves a wide range of activities aiming to stimulate thinking and memory generally. Cognitive stimulation is often administered in short sessions by trained professionals, but family members and other caregivers can also be taught cognitive stimulation techniques.
Research has found that for people with mild-to-moderate dementia, cognitive stimulation probably leads to small benefits in cognition. For that reason, cognitive stimulation and engagement should be included in the care plan of individuals with dementia, to help them to slow down the progression of their disease for as long as possible.
Some examples of cognitive stimulation include memory exercises, puzzles, sensory stimulation, or reminiscence. As well as being beneficial for the individual with dementia, these activities can also be enjoyable for their caregivers, providing an opportunity to engage in a task together or to reminisce about happier times.

Providing Emotional and Social Support
When caring for or supporting a person with dementia, it is important to take a holistic approach and ensure that, as well as the physical needs of the patient, their emotional and social needs are addressed too.
This is confirmed by The Good Care Group which states that: Taking a holistic approach and getting to know the person with Alzheimer's disease or another dementia thoroughly – their likes, dislikes, moods, character and personal history – not only enables the carer to build a trusting rapport with them but also helps to establish the best ways in which the carer can assist the individual to continue achieving the activities of daily living, adapting the care given as needs change."
Dementia can be a very lonely disease and often the emotional and social needs of the individual, particularly at the early stage of the disease, are greater than the physical needs. As the disease progresses, emotional responses can be harder to control in people with Alzheimer's. According to The Alzheimer's Society: People with dementia often experience changes in their emotional responses. They may have less control over their feelings and how to express them. For example, someone may overreact to things, have rapid mood changes or feel irritable. They may also appear unusually distant or uninterested in things.
The best way to provide emotional and social support to a person with dementia is to create a calm and supportive environment. If the patient is showing any signs of depression or anxiety then there is support for this available too: approach their primary care physician who may be able to help with medication.
Finally, it is important to encourage continued social interaction for a person with dementia. Many will find comfort in maintaining their old friendships and routines. There are also outings, support groups, and community activities. These are often arranged through local authorities, care homes, and charities such as the Alzheimer's Society.

Ensuring a Safe and Supportive Environment
A comprehensive dementia care plan should take into account the living environment of the person with dementia, particularly if they wish to remain in their own home. An integral part of enabling a patient with dementia to maintain their independence is that their personal safety and security within their property is of the highest standard. This means that any physical barriers and health and safety risks should be assessed and, where possible, eliminated. If an individual walks with a frame, for example, then a coffee table may be seen as a hazard and a side table could be introduced instead.
As well as taking this practical approach to the health and safety of the living environment of the person with dementia, the care plan may also wish to take into account how everyday surroundings and stimuli affect the moods and behaviour of the person with dementia. Do they enjoy seeing family photos, for example, or do they find them confusing? The care plan should discuss whether these visual clues are helpful, or whether a more calming living environment could be promoted by removing them.
Finally, wandering is a real concern amongst individuals with dementia and is a result of confusion. When assessing the environment as part of a care plan, it is important to consider the precautions that can be put in place, such as door locks or personal alarms, to minimize the risk of this.
Involving Caregivers and Support Systems
It is a sad fact that the NHS is stretched and does not have the funding available to provide round-the-clock care to individuals with dementia who wish to remain in their own homes. For this reason, it is absolutely vital that caregivers and support systems are involved in the creation of the care plan, as they will be the ones providing much of the hands-on care.
Caregivers should be supported to maintain their own mental health and to help them provide the highest quality of care to the dementia patient. They should be offered dementia education, communication techniques, and effective caregiving strategies.
Caring for someone with dementia comes with its own specific challenges, including emotional, physical and financial concerns. The good news is that there are respite care options, support groups, or counselling services to prevent caregiver burnout
Action for Carers is a great resource for those caring for others, including those caring for individuals with dementia. They host support groups both in person and online, via Zoom.
Alzheimer's Society offers Dementia Connect; a personalised dementia support service that is particularly helpful for carers too.
Monitoring and Adjusting the Care Plan
A care plan should be seen as a living, breathing document that will change as the needs of the dementia patient changes. No dementia care plan is ever completed. The plan should be regularly updated, evaluated and adjusted.
Before the care plan is confirmed at each stage, and every time it is modified, it is important to seek feedback from the individual, family members, and healthcare professionals involved in the care of the patient. Ongoing communication and regular updates from each member of the care team should be seen as essential to ensure that coordinated care is provided to the highest standard.

Documenting and Communicating the Care Plan
Finally, once the care plan has been completed, and the contents have been approved by the healthcare professionals, the caregivers and the support system of the patient and, where possible, the patient themselves, the care plan should be documented.
It is essential that the care plan is documented in a clear and accessible format. In the early and middle stages of dementia, most patients are still able to read, but as the disease advances, this ability will gradually decline over time. Of course, there is no hard and fast rule, and some dementia patients will retain their ability to read to the end of life. By making the document clear and accessible, it increases the likelihood that the care plan will be read. It is also important to consider that those caring for dementia patients are often elderly themselves, and that clear bold fonts can be beneficial to them too.
The completed care plan should then be shared with all involved in providing care, or otherwise involved in the health and well-being of the individual with dementia, so that the best possible, and most consistent, level of care can be provided.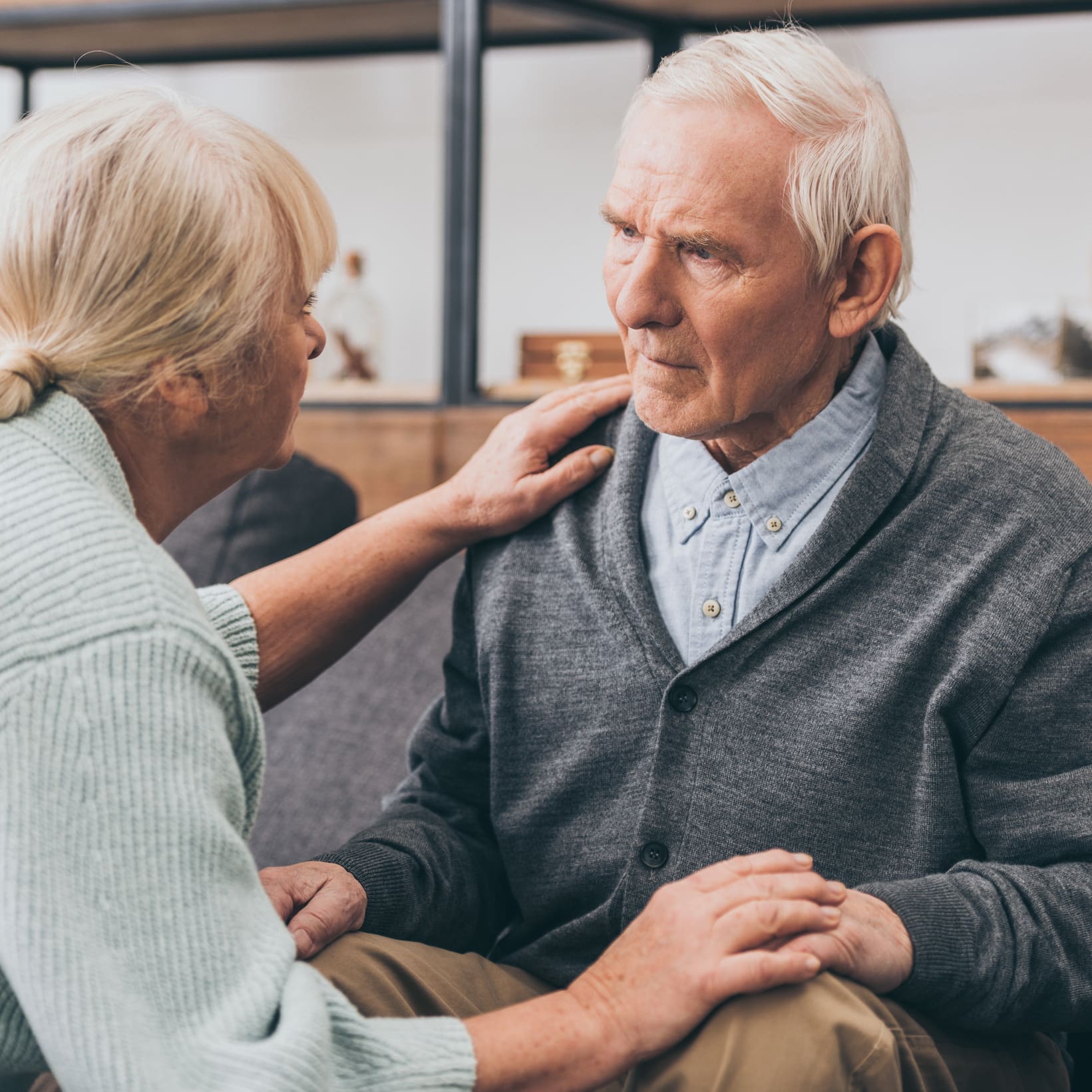 Interested in a Dementia course?
We offer the CACHE Level 3 Award in Awareness of Dementia through our online campus.