Everyone has a story about a teacher; either good or bad. Whether you were motivated by a favourite teacher at school, or a bad teacher put you off a particular teacher for life, what this shows is the importance and power of the teaching profession. A good teacher can mould children of all ages, helping them to believe in their abilities and reach their full potential.
Teaching is an incredibly rewarding job, but it is also a challenging one: whilst you will be an integral member of your community, you will also work long hours. Despite this, job satisfaction is guaranteed if you feel there is nothing more rewarding than watching young people grow and develop. Wondering whether teaching is the right path for you? Here's everything you need to know about the average teacher salary, routes into teaching jobs, and more. Here's everything you need to know about how to become a teacher:
What is a teacher
A teacher, often formally known as an educator, is an individual who helps students to acquire knowledge and competence in either a specific subject or a wide range of educational subjects and skills. Teachers almost always work in classroom environments, either in schools or colleges, and work with large groups of children who are usually of similar ages but who may have mixed ability levels. The role of the teacher is to develop and plan lessons for school pupils between the ages of five and 18, and you will often be required to teach and have knowledge of a broad range of subject matters, even if you choose to specialise in just one subject.
Teachers generally work in schools or colleges: these can either be state-run schools, or they could be public schools or privately-run academies. Whilst primary school teachers will spend approximately 19 hours per week within the classroom, the number of hours teachers work each week is considerably higher than you might expect. According to the department of education, secondary school teachers work an average of 55.7 hours per week whilst primary school teachers work an average of 59.3 hours per week. Expect to spend considerable time outside of the 9am -3.30pm hours of the classroom then; this additional time will be spent liaising with parents and colleagues, planning lessons and trips, marking exams and homework, and helping to support extra-curricular activities within the school.
In exchange for these long working hours, teachers are rewarded with the development of valuable and transferable skills, great job security and other benefits such as a competitive salary, generous holiday allowance and a pension.
Personal Qualities of a Teacher
If you want to be a teacher, then it's important that you enjoy spending time around children but being able to spend time with kids isn't the only prerequisite to success within this profession. To become a good teacher, you'll also need the following personal qualities:
The ability to relate to individuals of all ages. The role of a teacher involves communicating with not only pupils but also their parents/carers, as well as other educational professionals. You will need to be able to relate to, and communicate with all of these groups, often within one conversation. Demonstrating these skills via work within a school, or within other community groups (such as a sports club or the scouting organisation) will be beneficial in securing a teacher training place
Enthusiasm for education. If you choose to work in a primary school then this enthusiasm should allow you to provide an overview of all subjects, whilst if you choose to work in secondary school or further education setting then you will need to demonstrate a particular passion for, and knowledge of, the specific subject you wish to teach. Reading up on this subject and keeping up to date with any developments in your field, will be important
Excellent organisational skills and the ability to multitask. Teachers often balance many demands at the same time and need to have a robust organisational system in place so that they can deal with pupil needs, faculty needs, and other responsibilities at the same time
Endless patience and calm: often stressful situations and conflicts can arise involving either the pupils or their parents/carers, and as a teacher you need to be able to handle these situations in a calm and diffusing manner whilst addressing the core issues at the root of the situation
A good sense of humour
Integrity, moral virtue, and a strong sense of right and wrong: your pupils, their primary caregivers and your colleagues should be able to trust you implicitly in a wide range of different situations
Confidence in yourself and your ability to teach. Standing in front of a room full of children that don't want to listen to you can be demoralising, but you should maintain your confidence and composure, even when you are tired, under pressure, or when your pupils are being behaviourally challenging
The ability to engage your students, hold their attention, and share your knowledge. This may require some out of the box thinking, and you should be able to inspire your pupils in unusual or unexpected ways
Dedication, commitment and resilience. Teaching is a physically and emotionally demanding job, but good teachers thrive in demanding environments and are able to adapt their approach and their technique to suit the needs of a class, or even of an individual pupil
What a Teacher Does
When you work as a qualified teacher you can expect to undertake the following tasks on a day-to-day basis:
Develop and plan lessons for the children in your classrooms. Depending on whether you are a primary school teacher or a secondary school teacher, you could be working with school children aged between five and 18. These lesson plans should follow the national curriculum whilst also being engaging for students: they should be updated regularly
Encouraging student participation in lessons and in other school wide activities, including extracurricular activities
Providing pastoral care and support to the students under your care
Assign homework to test your students' levels of knowledge and understanding. You will be responsible for marking this homework and giving students relevant feedback. You may also need to modify your lesson plans at short notice based on any gaps in your classes' knowledge base
Prepare students adequately for any external exams and qualifications
Act as a mentor and role model; model the kind of behaviour you wish to see from your class. You will also be responsible for managing classroom behaviour, and disciplining children where necessary
Supporting the school leadership team to ensure that the school is meeting its targets and adhering to its development plan
Attending regular staff meetings to work collaboratively with your peers in ensuring the smooth running of the school as a whole
Taking part in opportunities to boost your own learning. Work towards your continuous professional development (CPD)

How Much Does a Teacher Earn?
Average teacher salaries vary across the UK; Your teacher salary will also be determined by how much teaching experience you have, and whether you choose to work in a state school or a private school (with private schools often paying slightly more). Whether you choose to work in a primary school or secondary school will also have an impact on your earning potential. It's important to understand what your earning potential might be before you enter any profession, so here is a breakdown of the teacher salary you can expect to achieve in a series of different circumstances:
As a newly qualified teacher (NQT) you will earn less than you would when you have finished your NQT period. The pay range for NQTs in England is from £25,714 to £32,157, with the higher end of that pay scale generally being achieved in London, due to London weighting. In Scotland, newly qualified teachers are referred to as Probationers because they are employed on a probationary basis, and the salary offered to all teachers at this level is £27,498
Once you have completed your NQT year you will be awarded a standard teacher's salary, and this will be increased on an annual basis in line with both your experience levels and with any excellent performance demonstrated. In England, a teacher salary will range between £25,714 to £41,604 unless you choose to work in London where the rates of pay are higher. Depending on where, in London, your school is based you can expect to earn; £26,948 to £42,780 (on the fringes of the city), £29,915 to £45,766 (in outer London), and £32,157 to £50,935 (in inner London). In Scotland, the teacher salary range is slightly higher than in England, with the potential to earn between £32,994 to £41,412
If you have not yet obtained Qualified Teacher Status (QTS) through the approved channels of postgraduate study but are working as a teacher under the framework for unqualified teachers, then your salary will be much lower than it would be once you have achieved your teaching qualifications. Expect to earn from £18,169 to £28,735 depending on your experience and performance
If you are looking to progress your career further and become the headteacher in a school, then this is where the highest salary potential exists within the teaching profession. State schools administer pay based on the age and number of children enrolled in the institution. If you work in a public school, however, they are free to set their own rates of pay. In England expect to earn between £47,735 to £117,197 except in London where this figure will increase to between £48,901 to £125,098. In Scotland the pay range at this level is between £51,207 to £98,808
Qualifications Needed for a Teacher
Teachers are highly qualified and well-respected within their communities, but if you wish to become a teacher then you need to know that there are many routes into the profession. In order to teach in the UK, you will need to achieve Qualified Teacher Status (QTS). To achieve QTS you will need to complete an Initial Teacher Training (ITT) course which can be completed either in a university environment or within a school setting and takes one year to complete on a full-time basis. This is the most common route into teaching and applications for most teacher training programmes in England are made through the DfE's 'Apply for teacher training' service, in the autumn prior to starting training.
Before you can begin a teacher training course in England you will need to have achieved the following educational milestones:
A degree (or equivalent) of a 2:2 or above. If you want to work as a secondary school teacher or post-compulsory level, your degree should be in the subject you want to teach. If you wish to teach a subject, you don't have a degree in, then you will have to take a subject knowledge enhancement course before you begin your teacher training. If you want to teach at primary school level, then the subject of your degree is less significant
GCSEs at grade C/4 or above in both English and Maths. To teach in a primary school you will also need a GCSE at grade C/4 or above in a science subject. If you don't already have these qualifications you should speak to your training provider who may allow you to complete an equivalency test to meet these criteria instead
You will also need to undergo a criminal record check through the Disclosure and Barring Service (DBS and declare any previous convictions you may have
If you don't already have a degree qualification, then this doesn't mean that you can't still pursue your dream of becoming a teacher. You could work towards securing a Level 5 Diploma in Education and Training: this is a teaching qualification for the post-16 education sector and can be studied at either university or college, either via an in-person or distance learning course. You could also work in a teaching environment without a degree by becoming a Teaching Assistant: the skills that you would learn within this role are transferable and would make it easier to work towards the qualifications you need to further your career whilst working within a paid classroom position at the same time.
On the Job Training
Continued professional development is a vital tool for teachers, who are given regular inset days (or paid days away from the classroom) to focus on their own continued professional development goals. Teachers are continuously training throughout their careers to provide the best possible opportunities to the students that they teach, and to both give new teachers the greatest chance of success within their chosen profession as well as sustain veteran teachers as they meet new challenges in education. Education is an ever-changing field, and it is only through continued professional development and on the job training that teachers will be able to meet these changing challenges.
Professional Bodies
The General Teaching Council (GTC) is the professional body for teachers in the UK. All registered teachers in the UK (that is all teachers working within schools that are maintained by the government) should be registered with the GTC. This body will provide an online community and professional support tools for qualified teachers and will also enhance your career prospects by demonstrating that you are committed to your career and to adhering to the highest possible standards laid out for teachers in the UK.
You may also wish to join the National Education Union (NEU) which is a union which promotes the rights of teachers, ensuring that they receive access to the support and benefits that they are entitled to. The NEU also has tools to provide advice, support, and workplace representation to all of its members.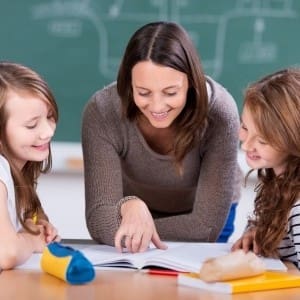 Interested in a teaching qualification?
We offer the CACHE level 3 award in supporting teaching and learning