A teaching assistant is an individual who works in a classroom to support teachers and help children with their educational and social development. Teaching assistants support children in all aspects of their school life, both in and out of the classroom. It is a role that is most common in primary school environments but in secondary schools, teaching assistants are often known as learning support assistants.
Teaching assistants fulfil a vital role in the classroom and there are currently 281,100 teaching assistants in the UK. The role of the classroom assistant varies from school to school, but no matter what the role involves, most schools would be unable to run efficiently without experienced and specially-trained teaching assistants.
To be a successful teaching assistant you should demonstrate the following five important qualities:

Introduction to the Significance of Teaching Assistants
Teaching assistants enhance learning experiences for students by supporting educators. Some of the roles that teaching assistants fill include
Preparing the classroom and setting up any equipment before lessons.
Clearing away equipment and materials after lessons.
Listening to children read, on either a one-to-one or small-group Reading to the children in the classroom, helping them to choose books, or telling them stories.
Working on a one-to-one basis with children who need extra support in the classroom.
Leading lessons and helping teachers to plan learning activities that are fun and engaging for the children.
Managing class behaviour and looking after children who have had accidents or who are feeling upset for any reason.
Helping out with playground duties, school trips and sports events.
Taking part in regular training to improve your skills and qualifications as a teaching assistant.
Teaching assistants give much-needed support to teachers who are often overwhelmed, they serve as an extra pair of eyes because it is impossible for one member of staff to provide all of the care and support a class of 30 children need. Teaching assistants also make learning more accessible, particularly if you are a teaching assistant who has been specifically trained to support children who need specialist support and wouldn't be able to get the most out of school without it.
Some children feel that teaching assistants are more approachable than teachers. This is because teachers are perceived as being in a position of power whilst teaching assistants aren't in the same way: this means that children may feel more confident confiding their concerns, both social and academic, to a teaching assistant.
When recruiting teaching assistants, it is important to look for individuals who are good communicators, who work well as part of a team, who understand the importance of education at every level, and who are able to demonstrate patience and empathy when working with young people.
1. Exceptional Communication and Interpersonal Skills
It is important that teaching assistants demonstrate exceptional communication skills. They should be comfortable communicating with not only other teaching assistants but also educators and students of all ages.
As a teaching assistant, your main form of communication with your students will be verbal communication, but you may also need to communicate via written communication when you use worksheets or other written activities. Whether you are using written or verbal communication, it's important to consider the language you use so that it is appropriate for the age and understanding of the children you are working with. If the children don't understand you then your efforts won't be successful.
It's also important to consider that Approximately 60–93% of communication is nonverbal, depending on context. Body language, facial expressions, and active listening are all forms of communication and it is just as important that teaching assistants are able to demonstrate these skills as well as verbal communication skills. Good teaching assistants should be responsive and approachable. Strong interpersonal skills and the ability to build relationships with the children you are working with are markets of success for good teaching assistants.
Some examples of the best ways to engage and communicate with students include getting down to the child's level when you're talking to them, and ensuring that you communicate to the children clearly and with clarity. If you suspect the children you're communicating with don't understand what you're saying then you should take the time to remodel and re-explain the task at hand. Teaching assistants can also use communication to encourage discussion and participation amongst children, both in classroom projects and socially too.
When considering communication, it is also important to consider the communication between the teaching assistant and the teacher they are supporting. Communication is key to building effective partnerships. Teachers should ensure communication is not always teacher to TA. Encourage two-way conversations, where TAs are able to share questions, observations and advice is vital to a successful and effective working relationship.

2. Proficiency In Subject Matter and Adaptability
The second quality that great teaching assistants should be able to demonstrate is proficiency in the specific subject matter they are supporting their pupils with. This is particularly important in a secondary school environment, where teaching assistants are likely to support teachers in specific subjects, such as science or languages, and proficiency is important. Even in primary schools where teaching assistants are covering a broad range of subjects, they should be proficient in the subjects that they are teaching.
The role of the teaching assistant is to support the teacher and to aid the students' understanding. Not all children will learn at the same pace so teaching assistants will often need to support children at different levels, whilst the teacher proceeds with the pace of the rest of the class. When faced with the diverse learning needs and styles of students, teaching assistants will need to be adaptable.
Many schools employ teaching assistants with particular specialisms, including literacy, numeracy, special educational needs (SEN), music and creative arts specifically to support children with different needs. The more specialisms you have, the more support you will be able to provide to the children in your classroom.
Most educators now recognise that different learning styles require different approaches. Teaching a classroom of 30 or more students makes it inevitable that you'll be responsible for individuals who learn in different ways and you should be prepared for this. Being adaptable and ensuring that the needs of the children come first is essential.

3. Patience, Empathy, and Understanding
Some of the most invaluable qualities that any individual can have are patience, empathy, and understanding. This is even more true of teaching assistants who are responsible for supporting and engaging young children.
Empathy is an incredibly important skill because it is a building block for social connections. Feeling connected to others is a key element of optimal well-being. Empathy sits at the heart of all human relationships: it makes us feel loved, valued and cared for. And this is how a good teaching assistant should want the children they care for to feel!
When children have a connection with their teachers or teaching assistants they feel more comfortable in their learning environment. Promoting a positive learning environment is essential for academic development. Some examples of how patient and empathetic teaching assistants can build trust and rapport with their students include
Building social relationships. Greeting children each morning or asking them what they did at the weekend can help children feel valued and motivated to succeed.
Adopting consistent behaviour management techniques. When misbehaviour occurs this should be recorded and the way that the children in the class are treated should be consistent. When children show positive behaviour this should be praised.
Use calming language and clear instructions. Use a clear but calm tone of voice so that children always feel reassured and understood. Work with the teacher to establish what the expectations of your class are and then relay these rules in a clear and concise manner.

4. Proactiveness and Willingness to Take Initiative
Another important quality of a great teaching assistant is that they are proactive and willing to take initiative. They should feel comfortable working not only alongside their teacher but also independently. Teaching assistants will work as part of a wider education team to identify and address students' needs before they become significant challenges. Whether a student is struggling with a particular subject or if they have significant behavioural or learning needs, the earlier these are identified the sooner support can be provided.
It's important to understand that students may have different needs from different staff members, and what they want from you as their teaching assistant may be different from the support they look for from their teacher.
Working alongside the teacher, a teaching assistant can work sensitively with students to identify what requirements they have on both physical and educational levels and what type of support they should provide to meet those requirements. This would usually be coordinated by the class teacher and will involve support from the teaching assistant as well as support at home so that the support the child or young person receives is consistent.
Good teaching assistants should actively seek opportunities to assist educators and enhance the overall learning environment for their pupils. Some children may need extra support but may not like to be 'singled out' for receiving extra help in the classroom. The teaching assistant can handle this by working to create an understanding and sensitive culture with teachers and their peers. Children who need extra support should be encouraged to feel confident in their abilities and to embrace the additional support they receive.

5. Team Player and Collaborative Mindset
Collaboration is an incredibly important skill in any educational environment. Through collaboration, pupils may develop explanation, demonstration, problem-solving, and metacognitive skills, or pupils may benefit from sharing the load of challenging tasks. But collaboration is also a valuable skill for teaching assistants to demonstrate. The most successful teaching assistants are team players who understand and appreciate the importance of collaboration within a school.
Great teaching assistants are able to work independently, but they also need to be able to work as part of a team in order to succeed. A collaborative mindset is essential for a great teaching assistant. The most effective classroom teams work collaboratively and make a huge difference in children's lives. A teacher and teaching assistant should see each other as integral team members using their strengths to support the pupils in their classroom. Their end goals should be the same.
You can adopt a collaborative mindset to have a positive impact on the classroom by:
Rotating roles within the classroom. When classes are working in smaller groups, set up the classroom so that the teacher works with one group one day and the TA works with the same group the next. Children within each group can complete tasks either collaboratively or independently. This means that the pupils will spend equal time with both the teacher and the TA, enabling them to build a relationship with both adults in the classroom and allowing the teaching team to understand the strengths and weaknesses of each child in the class.
Ensure that teaching assistants are visible in the classroom. When the teacher is leading a lesson the teaching assistant should be visibly supporting them. This demonstrates to the students that the teaching assistant and teacher are a team and that they are working together to focus on the learning success and wellbeing of the class.
A report from the Education Endowment Foundation (EEF) called Making Best Use of Teaching Assistants also recommends that teachers and teaching assistants hold regular formal and informal meetings to discuss the needs of the students and the progress of the class.

Conclusion
Teaching assistants fill a crucial role in the classroom and the education process would be significantly poorer without them. When looking for a great teaching assistant, educators should look for individuals who demonstrate exceptional communication skills, subject proficiency, empathy, proactiveness, and a collaborative mindset to enhance the overall educational journey for students.
It is important to recognise and appreciate the significant impact that outstanding TAs can have on students' academic success and personal growth. Teaching assistants should be chosen carefully and their value cannot be underestimated.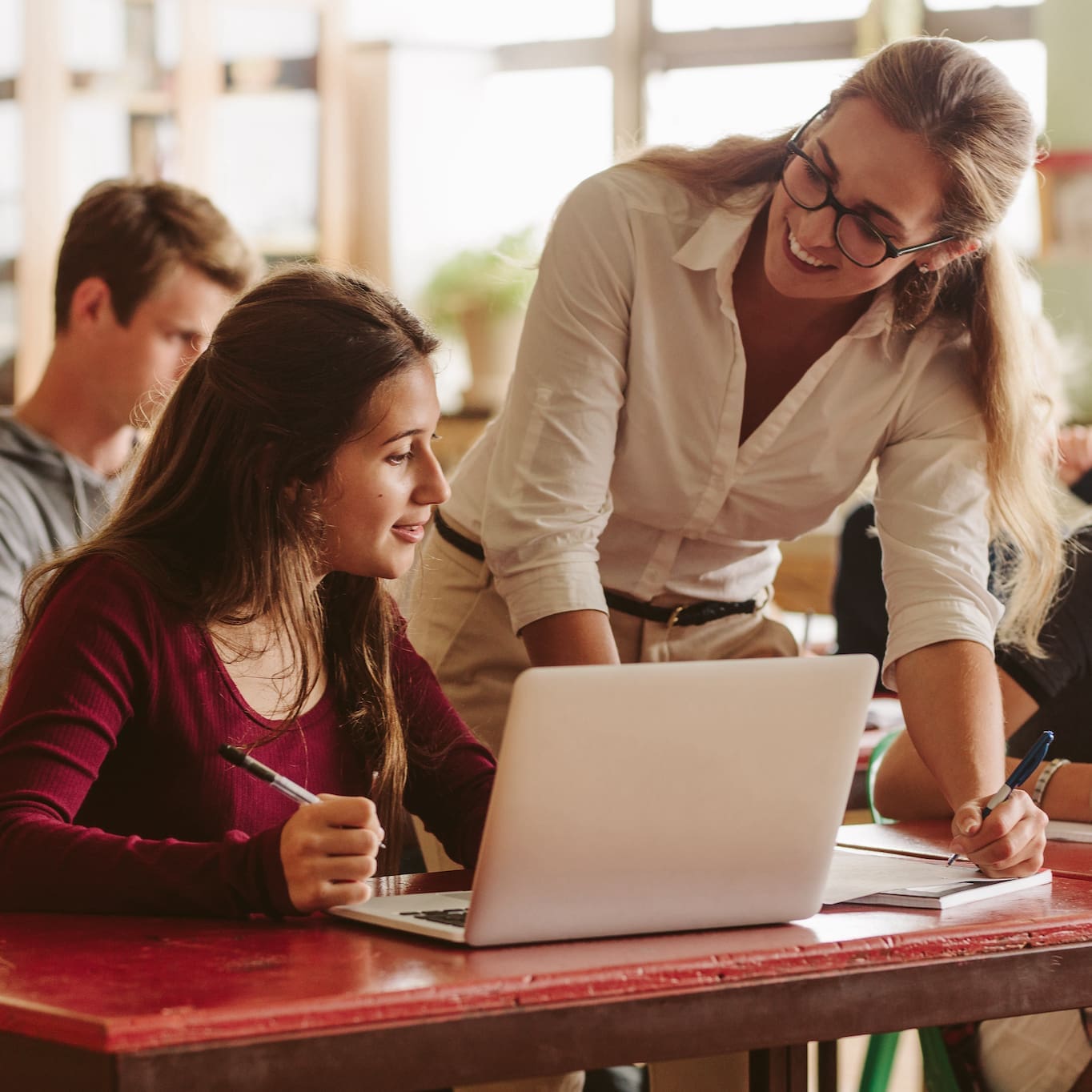 Interested in becoming a Teaching Assistant?
We offer the CACHE Level 3 Award in Supporting Teaching and Learning course.