Many people dream of pursuing a career working with animals. For some, working with animals is a childhood dream whilst others choose to work with animals later in life due to a desire to make a positive impact on their well-being. Working with animals is a general term, but there are numerous paths you can take to build a successful career in this field.
So how do you build a career working with animals? The aim of this article is to explore everything you need to know about pursuing a career working with animals. You will find a wide range of insights, advice, and resources to help you embark on this meaningful journey.

Introduction to working with animals
An animal care professional is anyone who works within the animal care sector. There are many different careers you can choose from if you hope to work with animals, and you will require different qualifications and levels of experience for each role. Some examples of careers that involve working with animals include veterinary medicine, animal welfare, research, conservation, and pet care services.
Regardless of which animal care career you choose, working with animals can be incredibly rewarding. Some of the benefits of working with animals include:
Being around animals improves mental health: The positive effects of being around animals reduce negative emotions and help with the development of effective interactions, meaning that people that spend time with animals tend to be happier and more socially well-adjusted.
Working with animals is a varied career, and no two days are ever the same. Animals can be unpredictable, and that only makes working with animals more challenging and exciting. Those working in this field need to be highly adaptable because the work will introduce them to new animals and situations every day. However, the variety that is afforded means that those working with animals will look forward to finding out what each new day will bring.
Animal carers enjoy the opportunity to communicate and build a bond with different species, providing a valuable service. Your role will involve caring for animals that can't care for themselves, and that will feel incredibly rewarding and enriching.
To work with animals successfully, you must genuinely love animals. You shouldn't start a career as a dog walker if you're frightened of dogs, for example. Some of the main qualities you need to succeed in this field include compassion, empathy, and a genuine love for animals.

Identifying Your Passion And Career Goals
As you're reading this piece it's likely that you already know you want to work with animals. But choosing a specific field within that broad spectrum of career choices can be hard. Some factors to include in your decision-making process should be your personal strengths, interests, and values. Use these to determine the specific areas of working with animals that resonate with you.
If you don't enjoy studying or struggle academically then the many years of studying in a veterinary school required to be a vet might not be the right choice for you, for example. If you enjoy hands-on work and want a physical role that will see you spending plenty of time outdoors, for example, then a zookeeper could be a better choice for you. Thinking about your strengths, your personality, and what your final career will look like will help to keep you focused on choosing the right animal care role.
Before you take the plunge and settle on a career path, you should set clear career goals and define the impact you wish to make in the lives of animals. To find happiness in your chosen career it's important to align your career goals with your values.

Gaining Relevant Education and Experience
Because the field of animal care is so competitive, it is also a sector that is highly qualified. The qualifications you will need will depend on the animal-related career you choose, but common courses chosen by those in animal-related careers include veterinary science, biology, zoology, animal behaviour, or animal welfare studies.
If you plan to attend university to study further education courses in subjects such as veterinary medicine or animal welfare then you should consider taking science-based A-level subjects. These include chemistry, biology and physics. Some courses will also require that you have A-levels in maths, statistics or psychology.
One of the most competitive university courses in the UK is veterinary medicine. Entry to veterinary medicine courses is highly competitive and the selection process is rigorous as a result. At the University of Edinburgh alone, over 2500 people apply each year, though there are only 1200 course places available. This means that you'll need more than just good grades in the right subjects to secure a place. You'll need something else to make your application stand out from the crowd. This is why hands-on experience through internships, volunteering, or shadowing opportunities is so important.
Hands-on experience is also important when working with animals because it helps individuals better understand animal behaviour, develop practical skills, build trust, and learn species-specific needs, leading to better care and welfare for the animals.
There are a wide range of educational programs available to help you gain practical experience in your desired field. Some examples of these include:
Volunteering with the Blue Cross
Internships with the Lelongle Wildlife Trust
Virtual work experience programmes with Springpod

Exploring Career Options and Specialties
The umbrella heading of animal care covers a wide range of career paths including, but not limited to, veterinary medicine, wildlife conservation, animal shelter management, animal training, working within zoological parks, and more. Each of these career paths will have its own specialities and the level of education and training you will need will differ. For example to become:
A Vet: You will need to secure the relevant A-level qualifications to enter veterinary school. You will then need a degree in veterinary medicine from an accredited university. This course normally takes 5 years to complete. You will then need to register with the Royal College of Veterinary Surgeons. Becoming a vet is an expensive and lengthy academic process, and one that there is a huge demand for.
An Animal Shelter Worker: There are no formal qualifications required to work in an animal shelter or in animal rescue, and many people without experience will gain experience working in these settings as a volunteer. Experience is essential in this arena. Once you have gained some volunteer experience, you may wish to progress to a paid position. At this point, you should consider a Level 1 Diploma in Work-based Animal Care qualification. You can progress to Level 2 and Level 3 diplomas in this same subject. This is a good career choice for those who prefer hands-on skills to academic learning.
A Zookeeper: Because it is an in-demand career role, most zookeepers are educated to degree level. You can do a foundation degree, higher national diploma or degree in: animal or zoo management, animal behaviour and welfare, zoology or marine zoology.

Building a Professional Network and Seeking Mentorship
The animal care field is an incredibly competitive one, particularly in roles that involve working with animals directly, such as veterinarian or zookeeper. Building a successful career in these arenas will take not only hard work and dedication, but it may also be dependent on having the right professional network. It is often said that in the world of business, it's not what you know but who you know. And this same rule of thumb applies to animal care careers too. During your work experience placements, training courses, and any other opportunities you should take the time to network and connect with professionals in the animal industry. Growing your contact book will help you to find the opportunities best suited to your skills.
Of course, it isn't always easy to meet the right people. So it's important to be proactive and seek relevant opportunities. Attending conferences, workshops, or industry events is a great way to meet like-minded individuals and potential mentors. And if you do undergo any work experience or volunteering sessions to gain experience in the field, try to maintain contact with the experienced professionals you meet in these settings who can provide guidance and support in your career journey.
The right mentor will support you in all aspects of your career. Mentorship is particularly common in academic environments such as veterinary practice. Traditional in-clinic mentorship often focuses on the development of clinical skills. But the most effective mentors also support the development of communication, leadership, and wellness skills. These non-clinical skills are areas where many early-career veterinarians feel particularly underprepared.

Developing Essential Skills And Qualities
Outside of the formal qualifications that you may need, those successfully working with animals generally have most or all of the following skills and qualities:
Good communication skills.
The ability to demonstrate empathy for the needs of others, both human and animal.
Patience and the ability to remain calm in stressful situations.
Flexible, adaptable and open to change at short notice.
The ability to work independently and use your own initiative.
There are many ways that you can develop these skills. One of the best of these is to seek out opportunities where you can work with diverse animal species and build relationships with those already working within this arena. Many animal shelters regularly seek volunteers who can help with fundraising, animal care, and other aspects of running the organisation. It is also possible to find work experience opportunities with vets, pet groomers, and in other animal care environments such as farms or petting zoos. Focusing on self-development and utilising self-reflection can also be useful in developing the traits you need to pursue a career working with animals.
But perhaps the best way you can develop the vital skills and qualities you need is through continuous learning and ongoing professional development. The field of animal care is constantly changing and evolving. To succeed in this field, it's important to remain updated with the latest research and advancements in the field. Animal care is currently focusing on the impact of sustainability, for example, so this is an interesting direction to pursue additional study and research if you want to make your CV stand out from the crowd.

Navigating Challenges and Opportunities
Working with animals is incredibly rewarding but it also poses its own unique challenges that you may not experience in other careers. If you are working with vulnerable animals then this may trigger emotional stress: the trauma experienced by animal rescue workers struggling to rehome all their rescued animals can be emotionally demanding, for example.
There is a current shortage of animal care workers, and this can lead to emotional ill health and burnout. One study has reported that animal shelter workers experienced PTSD levels that were 10 times higher than those experienced in the normal population. The same study found that like PTSD symptoms, psychological distress has been associated with animal care work. Working with animals can also be physically demanding, particularly when working with larger animals, or particularly energetic animals.
Finally, it's important to consider the ethical dilemmas posed by working with animals. Ethical dilemmas include issues relating to animal welfare, such as whether it is better to euthanize a pet or continue with treatment. As well as choosing whether to rehome an animal or whether to financially invest in the treatment an animal needs. Research suggests that 77% of vets have experienced moderate to severe levels of stress due to ethical dilemmas.
To deal with these concerns, those working with animals should focus on building emotional and physical resilience. When stress levels start to rise, take time out to practise self-care. And if simple self-care methods don't help to lower work-related stress or anxiety levels then seek support when you need it. The job you do working with animals is important but stressful, and you won't be alone in occasionally feeling overwhelmed by this.

Conclusion
Working with animals can be incredibly rewarding. There is a wide range of different animal-focused career paths to choose from, and building a career working with animals can be incredibly rewarding if you choose the right path for you. When choosing the right career, it's important to set clear career goals and pursue the necessary education and experience to achieve their aspirations. Some animal-focused career paths will require lengthy periods of academic education, whilst others will rely more on the development of practical skills through work experience and hands-on courses.
No matter what path you choose, all animal care careers make an immensely positive impact on the lives of animals, and this is something you should be rightly proud of. You are choosing to devote your career to the service of creatures that don't have the voice to advocate for themselves. Animal care is a rapidly evolving field, and so it is an area where continuous professional development is of vital importance. Updating your skills and improving your ability to provide animal care will only enable you to better support the animals that you care for.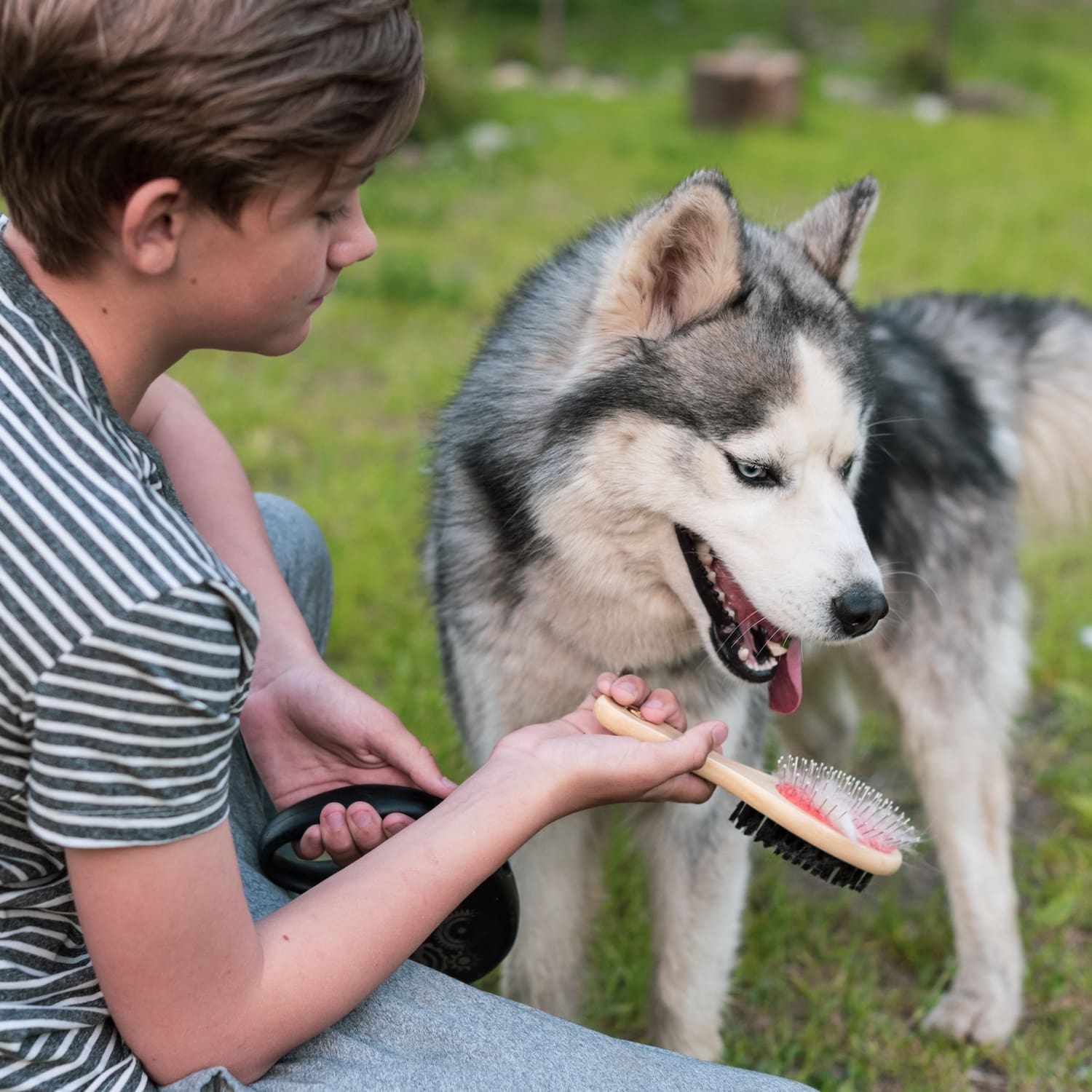 Interested in an Animal Care course?
We offer the Animal Care Level 3 through our online campus.