Are you thinking about becoming a health visitor? If you love working with young children and their families, are keen to play an active role in your local community and want a career where you can really make a difference then it could be the right path for you! Health visiting is a complicated and demanding profession, but the challenges of this career path are outweighed by its many benefits.
From what to expect a health visitor's salary to look like, to how to find the best health visitor jobs, here's everything you need to know about how to become a health visitor:
What is a Health Visitor
A health visitor is a healthcare professional that supports new parents, often in their own homes, helping to make the transition to parenthood as easy as possible and ensuring that families with children aged five and below (but often new babies on discharge from hospital) are healthy, happy, and thriving. Health Visitors are usually nurses or midwives that gain additional qualifications in order to take on the greater responsibility of becoming a health visitor.
Health visitors are officially known as specialist community public health nurses (SCPHN) and in order to carry out the role health care professionals must undertake additional training in community public health nursing. Health visitors play a vital role in the lives of parents with young children, establishing relationships with families from every socio-economic group, and they are often the first port of call for all parents of children under five if they have any concerns about their child's health, development, or general wellbeing. As part of their day-to-day role, health visitors work with children and families in at-risk groups, including but not limited to, travellers, addicts, asylum seekers, refugees and the homeless. The main aim of the health visitor is to give all children in the UK the best possible start to life and therefore the role of a health visitor is vital, as well as being incredibly fulfilling. 90% of a child's brain development happens before that child is five years old, so supporting a child through those first five years will give a child the best chance of developmental normality, and ultimately success in later life.
As a health visitor, you will typically work a standard 37.5 hours per week, which allows for a good work-life balance. Some evening work at clinics, manning drop-in centres and leading support groups may be required. Part-time and job share opportunities do exist within this profession, as do opportunities to take a career break when needed.
Personal Qualities of a Health Visitor
The journey to becoming a health visitor is not an easy one, but it is a career path that is incredibly rewarding for the right person. No two days are the same, you can see the positive impact you are making within your community, and you are able to provide immediate support to children and their parents when they really need it. Here are just some of the personal qualities that you will need if you are thinking of becoming a health visitor:
The desire to work with people, and to help them to reach their full potential
A passion for working with children, and confidence in handling children aged between 0-5
Strong knowledge of neonatal care, childcare, public health, sociology, mental health and psychology
Understanding of the legislation and standards surrounding parenting and childcare in the UK
Knowledge of confidentiality, data protection and GDPR, and a desire to maintain these privacy standards
Being able to communicate with all people in a way that is caring, compassionate, understanding and empathetic
Being sensitive to the needs of others
Having a manner that is patient, tolerant and understanding, so that both parents, children and other family members would feel able to talk to you and confide in you
Being non-judgmental in your approach to all situations
Having a desire to be involved in your local community and to working within it to make it a better place
Excellent interpersonal skills that are easily adaptable, meaning you can communicate with families, children, and other healthcare professionals, often within the space of the same conversation
High levels of written and verbal communication skills
Good observation skills: the ability to observe key information in a relatively brief period of time
Good organisation and time management skills, so that you can organise your own workload
Fast and well-thought-out decision-making skills
The strong desire to help other people, and to encourage them to be the best that they can be, without judgement
The ability to be flexible and to make change within your working day, often at short notice
Having strong attention to detail and thorough analytical skills, so that no details about a child's development is missed
The ability to both work well with others and to work well alone
An understanding nature, so that you can understand and empathise with the reactions of others (both positive and negative)
Having a resilient and mature approach to emotionally demanding and challenging situations, and the ability to leave these situations behind you at the end of the working day
The ability to work well under pressure, and to keep a level head when situations are tense or stressful
Good IT skills and the competence to learn how to use new equipment quickly
The ability to follow policies, procedures, instructions and risk assessments
What a Health Visitor Does
The role of a health visitor will change from day to day, depending on the unique needs of their clients and, in part, to the age of the children that they are visiting. However, some of the most common roles completed by a health visitor will include:
Assessing their client's wellness and providing support where needed. This can include weighing and measuring children to ensure they are developing well, assessing new mothers to ensure they are recovering well from birth, undertaking child development screening, and helping with the general mental and physical wellbeing of all the family members under their care
Providing support to new parents who may need additional advice on feeding, establishing a routine, development, and anything else that will ensure the baby is well cared for and healthy
Working closely with social services to ensure that any families in need of additional support are given the referrals they need, ensuring that families are cared for and protected
Educating and supporting families to make healthy choices and sharing the role this can have in illness prevention. This can involve support with nutrition, hygiene, and establishing other routines too
Health visitors can encourage to ensure their children are properly immunised and can work with parents, and their GPs, to ensure that an immunisation schedule is implemented and followed
Health visitors also promote general good health and will encourage parents to ensure they are eating and drinking well, taking their medications, and getting enough sleep, so that they have the energy they need to take care of their small children

How Much Does a Health Visitor Earn
As most health visitors in the UK work within the NHS, the health visitor salary will be determined by the NHS pay band that they fall under. If you are a newly qualified health visitor, then it is likely that you will fall into band 6 and will be offered a salary of between £32,306 and £39,027. Once you have gained more experience you could progress to a specialist or senior health visitor; at this stage you will fall in NHS band 7 and your health visitor salary will increase to between £40,057 and £45,839.
It's important to note that these figures are rough approximations rather than precise figures and that varied factors could have an impact on your earning potential. If you live in London, your salary will be subject to London weighting, for example. The number of years experience you have in your field and any additional on-the-job training you undertake could also have an impact on the salary you will receive.
If you are training to become a health visitor then you will receive a training salary, which is slightly less than that offered to a newly qualified health visitor. There are other perks to working for the NHS which should be taken into account: a generous pension scheme, paid sick leave and good maternity benefits, in addition to nationwide discounts from a variety of organisations and corporations.
Qualifications Needed for a Health Visitor
If you wish to become a health visitor then, before you can begin your training for this role, you will need to be a qualified and registered nurse or midwife. This registration must be logged with the Nursing and Midwifery Council (NMC). If you are not already a registered nurse or midwife, therefore, the route to becoming a health visitor is a relatively long one involving registering onto a specific nursing programme. Depending on the programme you choose (and whether you do this on a part time or full-time basis) it can take anywhere between 16 months and 4 years to gain your nursing qualifications, for example.
If you already have your nursing or midwifery qualification, or once you have secured this qualification, you will need to undertake the health visitor training programme known as the Specialist Community Public Health Nursing – Health Visiting (SCPHN – HV) course. The good news is that there is no requirement to have a certain amount of experience within the nursing or midwifery fields before you start this course, so if you know you want to be a health visitor you can start this programme as soon as your initial training is completed.
The SCPHN – HV training programme courses are degree level courses: you can study for this at either undergraduate or postgraduate level. These courses take 1-2 years to complete (depending on whether you study on a full or part-time basis) and it is only when you have received this qualification that you will be able to begin to work as a health visitor.
On the Job Training
If you are a registered nurse or midwife with ambitions to become a health visitor, then it is possible to apply for a specialist community public health nurse (master's) degree apprenticeship. This is a route to the profession that allows you to both work and earn as you achieve the qualification that you need. It usually takes 18 months to complete, and you will spend 50% of your time on academic study and 50% of your time on work-based learning. Work experience and volunteering are key if you are hoping to gain a position on one of these on-the-job training courses, as they can be incredibly competitive.
As in all medical professions, on the job training is vital when you become a health visitor as it is important to keep up to date with new innovations in the field, as well as new medical advances and practical best practice.
Professional Bodies
The main professional body you need to be aware of if you wish to be a health visitor is the nursing and midwifery council (NMC), as you cannot practice as a nurse, midwife, or health visitor in the UK unless you are registered with this professional body. To maintain your registration, you'll have to complete revalidation every three years. In order to have your registration revalidated, you will need to complete at least 450 hours of registered practise and 35 hours of continuing professional development (CPD), which must include 20 hours of participatory learning, during the three years since your membership was last activated.
Membership to the Institute of Health Visiting (IHV) may also be beneficial. This is the professional body dedicated solely to health visiting and their members are offered a wide range of training courses, access to industry-specific research and documentation, and access to a private members area where they can communicate with other experts in their field as well as access webinars that are exclusive to members of the organisation. Joining a professional body dedicated to your specialism is a wonderful way to find out about new training opportunities and continue enhancing your career.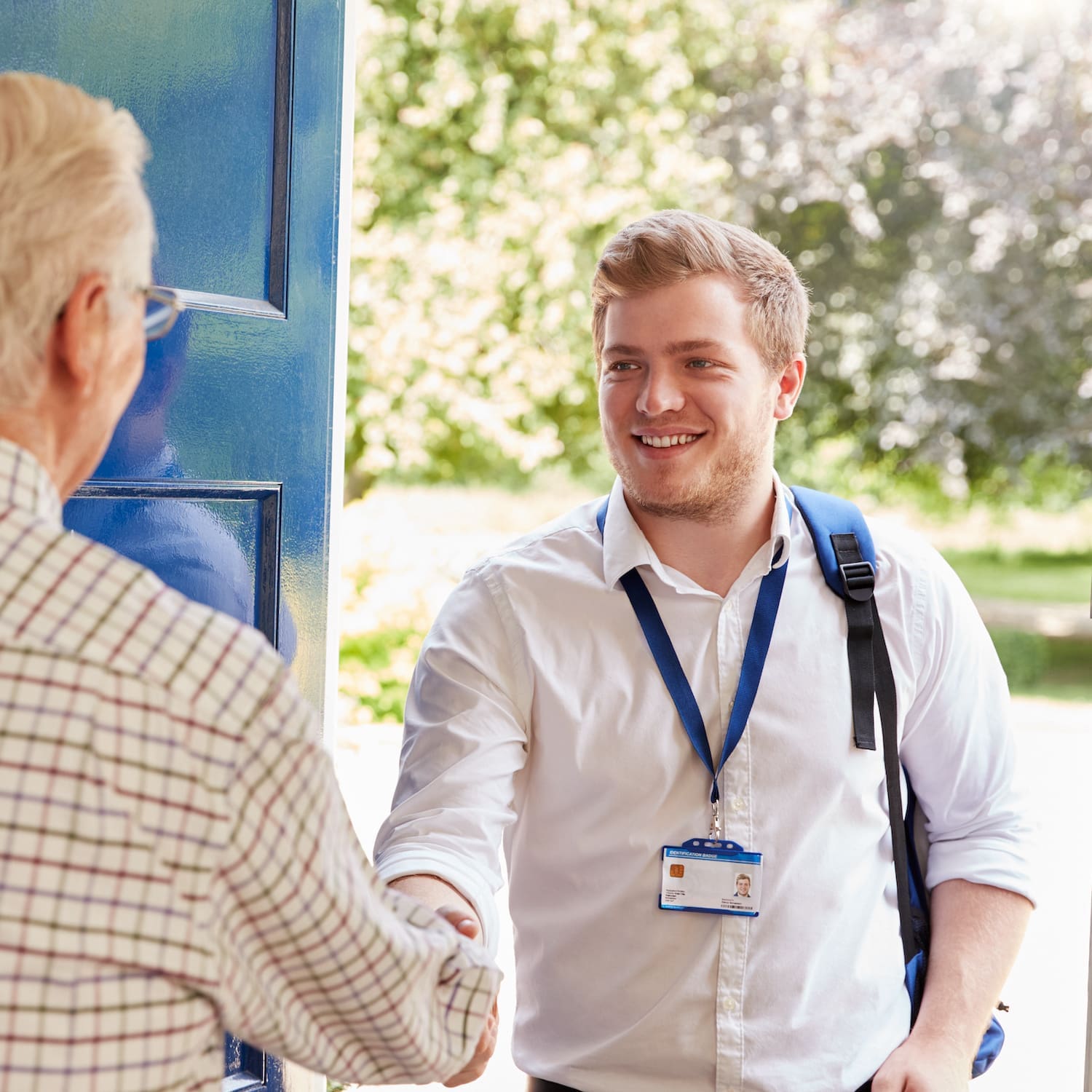 Interested in a healthcare qualification?
We offer the CACHE Level 3 Award in Health and Social Care