If you're looking for a career that will challenge your mind and give back to your local community then a career in health and social care may be the perfect choice for you. Care workers are professionals that have been trained to support individuals to live independent lives where necessary, and to provide them with support with essential everyday tasks such as preparing and eating, socialising and taking part in physical activities, providing medical support, and assisting with toileting needs. As a care worker, you may find yourself working with individuals in care homes or supporting them to live within their own homes. Some care workers support a small number of clients, whilst others will drive to people's homes and support them within their own communities.
Health and social care workers fulfil an incredibly valuable and important role, but there is currently a significant shortage of care workers in the UK. At almost 11%, care worker vacancy rates in 2021-22 were twice as high as the national average. This means that, once you are qualified as a care worker, you are almost guaranteed to find a job in the sector.
But why should you study to be a care worker? What skills do you need to work in the sector and what qualifications do you need to work in care? Here's everything you need to know about online health and social care courses:
Can You Do a Health and Social Care Course Online?
The short answer to the question 'can you do a health and social care course online?' is yes: There are a huge number of care courses available via online and distance learning. Health and Social Care courses are ideally suited to online and distance learning, enabling students to obtain the qualifications they need to work within the care sector whilst also working in the sector, or maintaining their existing employment and home life commitments. Many people feel that they are not suited to education because they have a busy lifestyle, full-time employment or family commitments. However, advances in online learning mean that you won't have to miss out on pursuing your goals and developing your career because of your other commitments.
A core example of this is the CACHE Level 2 Certificate in Health and Social Care course, which is the first step to working to care for others. The course is perfect for people looking to gain a nationally recognised qualification to begin their career in the care sector. This is a knowledge-only qualification and therefore experience in a real work environment is not required and the entire course is completed online. Because you don't need to complete any practical assessments in order to complete this qualification, the online version of the course does not differ in any way from the offline version. Whilst this qualification is generally completed over a 12-month period, one of the benefits of studying online is that you can complete the course at your own pace and if you are keen to gain your qualification in a shorter time frame then you can study at a faster pace. Online learning qualifications tend to be earnt much faster than their offline counterparts.
Are Online Health and Social Care Courses Recognised?
There are a huge number of health and social care courses available on these, and a huge number of these are recognised and valued within the care sector. Many online courses have the same value as their offline counterparts. The key to choosing the right online health and social care course is to ensure that it is recognised and of value. For this reason, a huge number of the health and social care courses offered by the Online Learning College are NCFE CACHE accredited. All NCFE CACHE courses lead to a nationally recognised Ofqual regulated qualification and are accredited against the Regulated Qualifications Framework. These qualifications have the same high value whether they have been secured offline or online.
Employers will recognise qualifications secured through distance learning and are required to view them in the same way as an identical qualification that was studied on campus. The key is not where or how you study for your health and social care qualification, but in ensuring that it is a recognised and accredited qualification that will have provided you with the skills and knowledge you need to fulfil your role.

What Qualifications Do You Need to Work in Care?
If you are interested in a career in the health and social care sector but don't have any formal qualifications, then the good news is that you can begin your career as a care worker without any formal qualifications. Many care homes will look for entry-level employees that have the skills and personality traits that will make them a good fit for care work. These skills include:
Good communication skills and the ability to communicate clearly and effectively with individuals from all walks of life
Plenty of patience, and the ability to remain calm in difficult or stressful situations
The ability to build relationships with both your patients and their families, and to create trust with all involved parties
Strong problem-solving skills
Sensitivity and the ability to deal with potentially embarrassing medical conditions (including toileting issues) with care, respect and understanding
If you have these skills then you will be a good fit for a career in a caring profession. However, whilst you may be able to get your foot in the door without formal qualifications, it is a good idea to secure relevant work experience in a care home setting and official care qualifications. Some care homes will have minimal qualifications or educational levels for the care staff they employ: you should clarify this with the care homes you wish to work in.
Some of the most popular qualifications for care staff to obtain include:
A first aid qualification to clearly demonstrate their first aid skills.
Level 2 and Level 3 NVQs in health and social care. A key and popular example of this is the CACHE Level 2 Certificate in Health and Social care
You may also wish to gain qualifications in the specific area of social care that you hope to specialise in. Examples of these include the CACHE Level 3 Award in Supporting Individuals with Learning Difficulties and the CACHE Level 3 Award in Awareness of Dementia
To work in care in the UK and to meet the government's minimum standards of care, you will also be required to complete a 12-week induction scheme. This is a short course that will ensure that you are aware of the safeguarding, equality and inclusion and health and safety requirements of working in the health and social care sector.

Why Study to Be a Care Assistant?
Being a care assistant is an incredibly enriching and rewarding job role. It is a career path that allows you to give back to your community whilst also providing a certain level of flexibility to ensure you have a good work-life balance. Some of the main reasons to study to be a care assistant and pursue this as your chosen career path include:
A high level of job satisfaction. You can immediately see the impact that you have on the lives of your patients and will have a strong sense of personal achievement when you help them to achieve their goals. Working as a care assistant can be incredibly rewarding and unlike other health and social care careers, you have the time to form meaningful relationships with those that you are working with.
A varied and exciting career path. The nature of care work means that no two days will ever be exactly the same. Because the care needs and services you will provide will differ from patient to patient, so much of what you do will differ from day to day. Your role as a care assistant will also involve helping your patient to meet their goals, and that could mean that you also try or learn new skills as you support your patients with their interests.
Good levels of job security. The UK is currently experiencing a care crisis, and there is a severe shortage of carers and care assistants in the country. This, in conjunction with the UK's ageing population, means that care needs are only going to continue to grow. For this reason, a career in care is a career that offers excellent levels of job security.
Excellent opportunities for career progression. Becoming a Care Assistant is a great first step to pursuing a rewarding career in social care. It is a great career to learn everything involved in working in health and social care at a grassroots level and you can then pursue a career with greater responsibility and salary expectations, such as becoming a care assistant, care manager, or social worker. For this reason, many people view a care assistant role as an important first step into climbing the health and social care career ladder.
How to Become a Care Assistant
The role of a healthcare assistant is to make sure that the patients under their care are as comfortable as possible, and will make sure that their everyday lives are a little simpler. Because working as a care assistant is an NHS role, it can also serve as a stepping stone into other NHS roles, providing a great basis for career progression in the sector. There are four different routes to becoming a care assistant. You can either attend a college course and study the skills you need, go straight into the workplace by applying directly to a care home, secure an apprenticeship, or volunteer in a care home. Volunteering is a great way to ensure that a career in care is right for you without the commitment of securing a job role.
Once you have secured a role as a care assistant, your employer will provide you with training opportunities to enable you to grow and develop your skills. In 2015 the NHS launched a Care Certificate that is offered to all healthcare workers and will ensure that you develop skills in care and health and safety. The role of the Care Certificate is to "provide a framework to ensure that all support workers have the same introductory skills, knowledge and behaviours to provide compassionate, safe and high-quality care, in their workplace settings."
Once you have secured your care certificate, then you may wish to pursue a level 2 or level 3 diploma in healthcare or healthcare support, if you did not secure this before you secured your job role as a care assistant. These additional qualifications will put you in a stronger position to pursue promotion to the position of senior care assistant once you have gained enough experience in the sector. The potential for career progression within the NHS is excellent, and if you're interested in growing the role that you play in care then you could also apply to train as an assistant practitioner or nursing associate. The more training and appropriate qualifications you secure, the more positions will be open to you.
Can You Be a Care Assistant Without Experience?
Whilst some care homes will prefer that the care assistants they employ have experience in the sector, there are no basic entry requirements to work as a care assistant and it is possible to work in the health and social care profession without having direct caring experience. If you are interested in working within a care home that does ask for a certain level of prior experience, then it's also worth noting that any unpaid caring that you have undertaken can be included as prior caring experience. This includes, but is not limited to, caring for elderly or disabled relatives, or even caring for small children, including your own.
More important than being able to demonstrate prior experience within the care sector is that you can demonstrate a willingness to learn, a commitment to working as a care assistant, and a good level of written and spoken English. Outside of these requirements, you will receive all the training you require as part of your initial induction.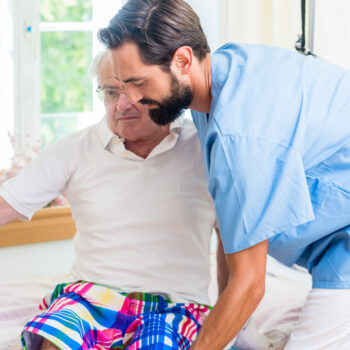 Interested in a health care qualification?
We offer the CACHE Level 2 Extended Diploma in Health and Social Care