Care work is an incredibly important, and fundamental career choice. Everyone has the right to feel safe and to receive high standards of nutrition, hygiene and medical support. Care workers provide this service and support for the elderly, vulnerable, and infirm. Care work is an umbrella term that directly involves care processes that are conducted in service of others.
Often family members take care of their loved ones and provide care, taking care of the needs of those they love. Family carers rarely receive training, and this can leave them feeling overwhelmed and vulnerable, confused about whether they are doing the right or best thing for the individual they are caring for. For this reason, whether you are a professional care worker or are providing care for someone you love, training should be seen as an essential aspect of providing care to others.
The aim of this article is to outline why training is crucial in promoting quality care and the overall well-being of those individuals receiving care. Whether you are a professional caregiver, healthcare provider or family caregiver, this piece will clearly demonstrate why you should consider undergoing training to ensure that the care you provide is of the highest possible standard:

Defining Care And Its Scope
The care work umbrella covers a wide range of different roles. Carers can support their clients in their own homes, in care homes, or in hospital settings. There are currently 1.6 million people employed in a social care setting in the UK. It is estimated that an additional 5 million people aged 5 and over provide some form of unpaid care in the country. Approximately 3 million of those unpaid carers are female whilst the other 2 million are male.
Some people are both paid and unpaid care workers: one in three NHS England employees juggle their paid employment with caring for a loved one on an unpaid basis. It's important to note that care work isn't easy, whether you are a paid or unpaid carer. Research has found that 60% of carers report a long-term health condition or disability compared to 50% of non-carers.
But when carers are properly trained and supported, care work can be incredibly rewarding. That's why care work is often referred to as being a vocation. As a carer, you have the opportunity to improve someone's life for the better and make a key impact on their health and well-being. Carers have an opportunity to engage with people from all different walks of life, and they are appreciated by those they care for. As a carer, you can work with a wide array of different care recipients. These include the elderly, children, individuals with disabilities, and those with chronic illnesses.

The Complex Nature of Care
Care work is a complex and multifaceted role. Care work can be physically, emotionally, and mentally demanding. Working hours can be long, and you are often responsible for juggling the needs of more than one client at the same time. It is the diversity of the role that makes care work so interesting, but also so complicated. Care workers take care of:
The physical needs of their clients. That means ensuring they are washed, cleaned, dressed, and ensuring that they eat regularly and that their meals are healthy and nutritionally balanced.
The social needs of their clients. Carers form a part of their client's social circle. They prevent them from experiencing social isolation, whisich can be common among those in need of care. From organising visits with friends and family to arranging trips with other people with the same condition, social needs form a part of a carer's
The emotional needs of their clients. Those in need of care tend to be more vulnerable than other members of society. Their condition can also leave them more susceptible to depression and anxiety. Care workers will tend to the emotional needs of their clients and report any emotional needs to their medical team where necessary.
The medical needs of their clients. Care workers will engage with their clients' medical teams, and may be responsible for administering treatments and medications.
In isolation, each of these job roles is not complicated but when a holistic approach is taken, providing care can be complicated and multifaceted. It is important that each of these aspects of care is provided and in order to do so, care providers will need to develop a broad range of skills. The more skills and training they have, the easier it will be to provide high-level support to the individuals in their care.

Benefits of Training For Care Providers
There are many benefits of choosing to undergo training as a care provider, both in a professional and personal capacity. Training is vital in the health and social care arena because it ensures that care recipients receive a high standard of care quality and that appropriate safety standards are being met.
The legal training requirements for health and social care employees in the UK are relatively low. The CQC is the independent regulator of health and social care in England, and they require that health and social care providers ensure their employees receive all mandatory training. All care organisations have a legal responsibility to provide staff with Health & Safety awareness training, including Fire Safety. Moving and Handling training is also mandatory and if staff are involved with preparing food or assisting at mealtimes, then Food Safety and Hygiene training will also be mandatory.
If you are not employed as a care worker, but rather provide unpaid care support then there are no legal training requirements that you need to meet. However, you should still consider undergoing training to ensure you provide the highest possible standard of care and support. It is highly recommended that all carers undergo basic first aid training, and NVQs in Health and Social Care are also considered to be the gold standard for care providers.
Training carers helps to engrain the necessary behaviours, attitudes, skills and knowledge to deliver high-quality care. Carers that have received essential skills training tend to provide a higher level of care that is both safer and has a person-centred approach.
Emergency situations can often arise when caring for elderly, vulnerable or terminally ill patients. Training can enhance the carers' ability to recognise and respond to emergencies or challenging situations effectively. Without this training, and the knowledge it will bring, it can be easy to panic in emergency situations. However, knowledge is power, and the better your understanding of how to react, the calmer you will be able to remain.
The Carers Trust recommends that both formal and informal carers consider training because it can offer new opportunities and a chance to build confidence. If you are a long-term carer, then your local carer service may be able to help you find other grants and loans that suit your situation, which can be helpful if you're interested in further study but are concerned about how you will pay for your course.

Improved Quality of Care
Although you don't need to have formal care qualifications to apply for care worker jobs, The Care Certificate Course is mandatory training for carers who wish to progress in the arena. Many employees will require that you begin the Care Certificate course within a few weeks of starting your new job, so you may find it useful to study this course before you start applying for jobs. Some employers will also require that you have GCSEs in English and Maths.
There is no formal qualification for unpaid carers. But if you are committed to unpaid caring for a friend or loved one in the long term, then you may wish to consider holding yourself to the same high standards as care employees and undergoing the same level of training. Proper training contributes to improved quality of care for recipients. Trained caregivers are better able to provide personalised, patient-centred care to their care recipients, promoting dignity and respect.
Training empowers caregivers to implement evidence-based practices and stay updated with advancements in care techniques. The right training supports carers to take the right steps to prevent risk from occurring within their chosen care setting and prepares them to respond appropriately when a risk emerges in the course of delivering care.

Ensuring Safety and Well-being
It is often highlighted that undergoing appropriate training is the best way to ensure the safety and well-being of care recipients. But it's also important to note that health and safety training is essential to protect the well-being of care providers too.
There are obvious benefits to undergoing training in areas such as infection control, medication management, and proper lifting and transferring techniques. Infection control training will ensure that, if you're caring for someone with a communicable disease, you minimise the risk of transmission, for example. Training to learn proper lifting and transfer techniques can help to maintain your own spine health, minimising the risk of any serious injury.
The safety and well-being of both the care recipient and the care provider should be the main concern in any caring relationship. And the best way to ensure that high standards of safety and well-being are maintained is with training. Some of the most significant safety training you may wish to consider includes:
Assisting and moving. This will teach you how to move and position an individual safely, use any equipment that may be required, and minimise risk before moving and positioning individuals.
Basic life support and first aid. If an emergency situation arises, you should know what to do. These courses should teach carers how to follow procedures for responding to accidents and sudden illness and providing basic life support.
All care workers should understand the principles of providing dignity in care, treating their care recipients with respect and maintaining their privacy.
Professional Development and Recognition
The right training opportunities can contribute significantly to the professional development of care providers. The more qualifications you have that are specific to your field, the more employable you will be. If you are already employed as a care worker, then within your existing field you will also increase your opportunity for career advancement considerably by undergoing additional training. Additional training is also a great way to demonstrate your commitment to your sector of employment.
If you wish to care for people in their own homes on a self-employed basis, you will also find that you are more employable and in demand the more qualifications you have. When looking for a carer for themselves or for a loved one, many people will look for the best care provider available. Qualifications will improve your skills within your field, raise your profile within the sector, and give people confidence in the quality of care that you are able to provide.
Some of the professional organisations and certifications that you might want to consider include:
CACHE Level 3 Certificate in health and social care
CACHE Level 3 Award in supporting individuals with learning disabilities
CACHE Level 2 Certificate in infection control in a healthcare setting
CACHE Level 3 Award in awareness of dementia

Conclusion
Care work is a vitally important role and is one that society relies on. Whether you are a paid or unpaid caregiver, you are responsible for helping those who can't help themselves. Without care workers, many vulnerable people would have a significantly poorer standard of living.
Providing care is a much more complex role than many people might think and, for that reason, it is important that carers undergo appropriate training. There are many benefits of providing training for care providers including improved safety for both carers and care recipients, faster response times during emergency situations, and an all-round higher quality of care.
Our society couldn't function successfully without carers. That's why ongoing education and training should be considered so valuable. If you were looking for a care provider, would you prefer one without qualifications or one that was highly qualified? All care recipients deserve to receive the same high standard of care, and their well-being should always be the primary concern of their care providers. Education is a direct route to achieving these high standards.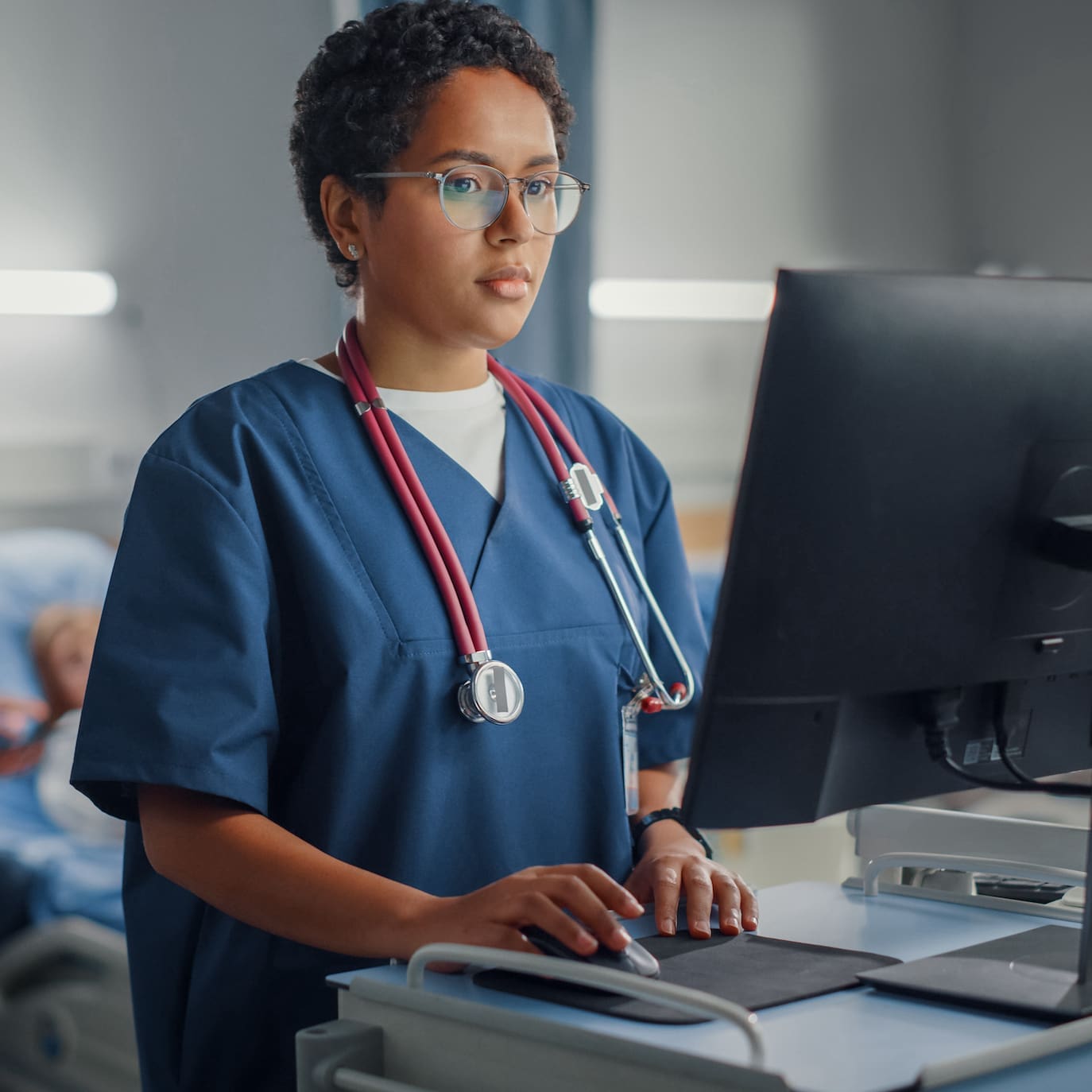 Interested in working for the NHS?
We offer the CACHE Level 2 Certificate in Working in the Health Sector through our online campus.