There are many reasons why teachers might choose to leave the classroom behind. Teaching is an intensive and difficult career path that some teachers feel is simply not possible to pursue alongside other things, such as raising a family or caring responsibilities, for example. Many teachers simply become disenfranchised with the bureaucracy involved in teaching or no longer find pleasure in spending time in the classroom. No matter what your reason for leaving the teaching profession is, you're likely to be wondering what you should do next. Which other professions will allow you to use your hard-earned skills? Do you want to find a job based in a school, or a job based outside of the school environment? Here's everything you need to know about the kind of jobs you can do after teaching:
Decisions to Make When Leaving Teaching
If you're thinking of leaving teaching, then it's important to ensure you are doing so for all the right reasons. Often it can be hard to find another career that matches the salary you will be used to as a teacher, but equally, most of the jobs included in this piece will offer you a better work-life balance. Achieving a better work-life balance is one of the main reasons that teachers choose to leave the profession, and in 2019, just 67% of teachers remained in the classroom five years after they started.  Stress and exhaustion are other reasons cited for choosing to leave the teaching profession. So how do you know if it's the right decision for you? Decisions to make when leaving the teaching profession include:
Can you afford to change your job role? Teachers earn a very respectable salary, and entry-level teaching positions tend to pay more highly than other entry-level roles. You need to consider whether you could maintain your lifestyle and current spending levels on a lower salary, or whether you're prepared to change your lifestyle in order to change your career path
Is your workload your primary concern? Is there something you could do to change this without leaving your job? Almost all teachers struggle with the workload involved in their profession at one time or another and the workload issues in teaching aren't likely to improve any time soon. But if you feel you could eliminate unnecessary workload and better improve your work-life balance whilst remaining in your role, then this may be something to consider
How do you use your holiday time? Teachers in the UK get more days of holiday than those in other professions, thanks to the long summer break, Christmas and Easter holidays, and six weekly half terms. If you moved into more conventional employment, then you would only be afforded a statutory 28 days per annum in leave. If you value the holiday time you are afforded as a teacher, then losing this is something to seriously consider
Your pension entitlement. The teachers' pension scheme is one of the most generous in the country and is a core benefit of working within the teaching profession. The teacher's salary is based on your salary and length of service, rather than on investments like other pensions. If you're thinking of leaving teaching, then you should look at your current pension level and then compare how it would look if you continued teaching versus if you moved to another career and made salary-matched pension contributions with your new employer. Would you be happy with what your final pension looked like, or would maintaining a slightly higher pension level be worth remaining in teaching for you?
Is teaching negatively impacting your health? Many teachers report that teaching has negatively impacted their physical and mental health. This has only worsened as a result of the impact of the coronavirus pandemic. A 2021 study found that almost three in ten teachers have needed to see a doctor during the pandemic due to the impact on their mental and physical health from their job. If your mental and physical well-being has been negatively impacted as a direct result of your work as a teacher, then this is the clearest possible sign that it is time for a change of career direction
The rewards of a job well done. Finally, whilst the life of a teacher can be hard, it is also incredibly rewarding. You are able to see first-hand the impact that you have on the children that you teach and see their progress, watching them develop and grow in a relatively short time frame. When considering what your next career move will be, will finding a role with the same level of instant reward be important to you? And what do you envisage that that role will look like?

Using Your Skills
Teachers have a specific, and very valuable, skillset and there are many jobs that you could pursue that require a similar skill set as a teacher. Your degree in education will be considered an asset in these circumstances and should be highlighted on your CV and application. Other transferable skills that you should consider highlighting include:
Time management skills. Teaching is a fast-paced role dictated by strict timetables, which means that teachers have excellent time management skills
Leadership skills. Leading a class of 30 small children or teenagers, holding their attention and keeping them engaged, takes considerable leadership skills. These skills could easily be transferred to leading teams or managing large groups of individuals
Presentation skills. No matter what career role you're applying for, you will no doubt have more presentation experience than the majority of job candidates, given that teaching requires you to do this every day. You can use these presentation skills to your advantage, both within the job role and without job interviews too
Problem-solving skills. Every teacher will know that things rarely go right: lessons don't go to plan, resources aren't available when you need them, but you still put together an engaging lesson for your pupils. These skills show that you work well in challenging situations, using all available resources to your advantage, which will benefit almost every career path
The ability to work independently and as part of a team. Teachers primarily work independently in the classroom, but collaboratively outside of it. For this reason, teachers can work in a wide range of different environments
Jobs Based in a School
Education Coordinator. You will remain within a school environment to ensure that the school is meeting the requirements expected of its primary and middle school-aged students, meaning this role is best suited to an existing primary or middle school teacher. Hands-on elements of this role will involve ensuring that children have the textbooks and learning materials that they need. The role will also involve organising staff development opportunities for teachers and developing strategies to increase student achievement. Education coordinators will assist with curriculum design, student assessment and teacher evaluation, meaning they take on a high-level role in the school, but are not student-facing on a daily basis. The national average salary for this role is £24,086 per annum
School Counsellor. Another role that will enable you to remain in school without day-to-day teaching is to become a school counsellor. School counsellors work primarily within high schools, helping students with a variety of issues including their academic performance, mental health, preparing for future careers, college preparation, life skills, and other pastoral care issues. School counsellors are members of the school community but do not have to teach. Rather, school counsellors provide psychological counselling and guidance to students, teachers and parents if and when this is needed. The national average salary for this role is £24,743 per annum
Academic advisor. If you want to step away from the classroom but don't want to remove yourself from the world of academia then why not consider a career as an academic advisor? Academic advisors work with high school, college or university students to help them choose the courses that will help them to achieve their academic goals. This is the person who helps students navigate the university system and understand course requirements, and which course will be right for them. The national average salary for this role is £31,061 per annum
School Business Manager. This is a role that is unique to private schools, and academies. School business managers are responsible for the non-teaching, business elements of running a school and often work closely with the head teacher. A school business manager will be responsible for budgeting, payroll, employee relations, purchasing, marketing, administration and human resources. Their role will also include staff salaries, managing the hiring and firing of staff, and any other financial activities within the school environment. The national average salary for this role is £38,386 per annum
Education Manager. Much like the school business manager, the education manager will work closely with the school head teacher but without any teaching responsibilities. The education manager will set the school's educational vision and then ensure that the teaching staff within the school are enforcing this. They will set academic timetables and the materials that will be used in each course. They will also oversee curriculum design and ensure that the requirements of the national curriculum are being met. The national average salary for this role is £44,674 per annum

Jobs Not Based in a School
Translator. If you are a language teacher or have strong foreign language skills then you should be able to find work as a translator. This is a person who either translates text from one language to another, or aids verbal communication between individuals who speak two different languages, often in legal or medical settings. The national average salary for this role is £27,732 per annum
Researcher. You can use the strong research skills you have acquired from your time as a teacher to work as a researcher and use set processes to get a better understanding of the world. Researchers tend to read significant amounts of source material and then reduce this into concise summaries. They may also find inconsistencies in research projects. This is a role which varies greatly depending on your employer
Corporate trainer. This is a role that could be described as being a teacher, but for adults in the corporate world. You will develop and conduct training in the workplace, motivating and educating those that you work with. This job role involves similar communication and instruction skills as working with children. The national average salary for this role is £29,723 per annum
Editor. Editors work within either the print media, publishing or online worlds to review and correct written works before they are published. This is a role that is well suited to former English teachers as editors have an excellent grasp of language and know how to use it in a way that keeps readers engaged. The national average salary for this role is £30,366 per annum
Textbook writer. After spending years reading the same old tired textbooks, why not create the content for new textbooks by becoming a textbook writer? Textbooks are required for almost every subject, meaning you can focus on your area of academic expertise. You will work alone, but will also collaborate with other members of the team on your book, such as the editor or illustrator. The national average salary for this role is £31,318 per annum
Research scientist. If your area of expertise is science then why not put this to work by becoming a research scientist? Research scientists work as part of a wider scientific team to conduct experiments within a lab, collect data, and publish new scientific research. Research scientists study the natural world to create new technologies and medicines. This is a great career path for a science teacher with a science-degree and scientific background. The national average salary for this role is £35,366 per annum
Private tutor. Finally, private tutors get all the pleasure of watching their pupils grow, teaching, and improving the skills and knowledge of their students, but without the stress and pressure of working within a school. Tutoring happens one-on-one or in small groups. A tutor provides students with positive learning experiences, so they succeed in their classwork and exams, and will often work with students who might be struggling in a traditional classroom environment. The national average salary for this role is £37,094 per annum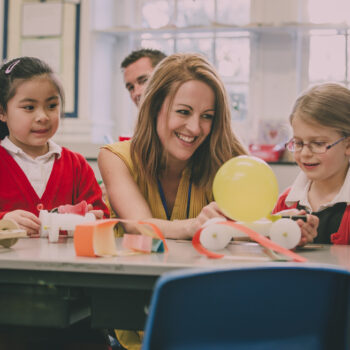 Interested in a HLTA course?
We offer the TQUK Level 4 Certificate for Higher Level Teaching Assistants through our online campus.