If you've always dreamt of becoming a teaching assistant, then getting through that all-important interview with your chosen school is the final hurdle. A teaching assistant job interview is your opportunity to showcase your skills, and explicitly demonstrate that you have all of the knowledge needed to fulfil the role. But what, exactly, does a teaching assistant do? And who will interview you for a teaching assistant role? Here's everything you need to know about the role and the types of teaching assistant interview questions you can expect:
What do teaching assistants do?
The role of a teaching assistant is an important and varied one. As a teaching assistant, you will work within a classroom setting, usually in a primary school, working closely with young children. You will support the teacher and work alongside the children to improve their reading and writing skills. The role of a teaching assistant is an incredibly hands-on one, which means you will build a close relationship with the teacher you are supporting, and you will get to know the children in your classroom well. Other day-to-day duties you can expect to perform within this role include:
Helping the teacher to prepare lesson materials and equipment. This could include photocopying worksheets or laying out science equipment, for example
Ensuring that the classroom is ready for lessons to begin when the teacher and students arrive, and then clearing away any supplies and equipment afterwards
Working with the children within your classroom, both individually and in small groups, to ensure they understand the work that the teacher is giving and providing the encouragement and support they need to stay focused
Help the teacher to manage the behaviour of the class
Watch the progress of each of the pupils in your classroom, using any recording metrics provided to record this progress and then sharing these records with the classroom teacher
Supervise the class in a variety of different settings including in the classroom, on the playground, on school trips and outings, and when taking part in sporting events
Ensuring that the classroom maintains a safe and healthy environment for the students to learn, and following safeguarding procedures if a pupil has an accident or injury, or if any other safeguarding issue arises
Looking after children who are upset or unwell and, where necessary, contacting their parents or carers if they need to go home for any reason
You may also need to lead classes, either with the support of the teacher or independently whilst the teacher is preparing for future classes
Why become a teaching assistant?
There are many reasons to consider becoming a teaching assistant, but the main reason that people choose to follow this path is that they want to work with children. Teaching assistants are generally friendly and community focussed: they enter their role because they want to support their local community and help educate children for the benefit of larger society. The role of a TA is also a popular one for parents with young children that are looking for a job that will fit around school hours, enabling them to have a good work-life balance, and spend evenings and school holidays with their own children.
To be a good teaching assistant you will need to possess a specific set of skills that will make it easier for you to fulfil your role. The main skills and knowledge needed to become a teaching assistant are:
A desire to work with children. As mentioned above, if you don't like kids then this isn't the job for you! Good teaching assistants build good relationships with the children that they support and are sensitive and understanding of their needs
Excellent verbal and written communication skills. From communicating with the teacher you support to communicating with the children in your class, communication is at the heart of this role. You will also need to have good written communication skills so that you can keep detailed written records of your students' progress
The ability to listen to children and understand their wants and needs
You will need to have a calm and relaxed demeanour and the ability to remain patient and calm in stressful situations
No two working days will ever be exactly the same. For this reason, you should be flexible and open to change: lessons, classrooms and schedules change constantly in a school environment
You will be an outgoing person, who enjoys being around other people and working alongside them
You will feel rewarded by teaching people how to do something new, and will enjoy creating a safe and welcoming learning environment

Who will interview for a TA role?
The number of full-time support staff in school has increased year on year, and there are now 275,800 teaching assistants in the UK (an increase of 3.9% when compared to 2019/20). This means that applicants for teacher assistant positions are increasingly coming from wide and varied backgrounds. Often applicants will either have a teaching assistant qualification or teaching assistant experience, but if you can demonstrate an interest in working with children, many schools will allow you to train and qualify as a teaching assistant whilst working in the role. Don't feel that your lack of experience will cost you the job: often associated experience (such as working as a childminder or raising your own children) will be taken into account, and what most schools want to see is your enthusiasm and commitment to the role.
Typical interview types
If you are interviewing for an available Teaching Assistant role within a typical school then the interview for this will usually take place at the school concerned. This interview will typically be a panel-type interview and should last between 45 minutes and one hour. The individuals on the panel may differ slightly from school to school, but you can expect them to include the head teacher, at least one member of the teaching staff (usually the teacher you will be supporting) and someone from the school's board of governors. It is becoming increasingly common for pupils to be involved at this stage of the selection process too, but this isn't always the case.
After your traditional panel interview, you may also be invited to have a more informal discussion with a senior teacher, or the teacher of the class you would be assisting. This will often take place as part of a wider tour of the school. It is a great opportunity for you to ask questions, and it is important to show an interest in the school and the areas that you are being shown, as this informal discussion will still form a part of your assessment.
Typical interview questions
Here are six interview questions that are commonly asked during teaching assistant job interviews, alongside what these questions are really trying to identify about you, and the best way to answer each question:
Why Do You Think You'll Be a Good Teaching Assistant?
The aim of this question is to ascertain that you have the skills needed to be a good teaching assistant. Teaching assistants are expected to be good with children, good team players and hardworking. So you should demonstrate all of these traits when answering this question whilst also providing specific examples of your qualities that will make you stand out from the crowd. An example of the best way to answer this question is: "I think I would be a good teaching assistant because I enjoy working with children and as part of a team. I have a number of core qualities that I would bring to the role, including my patience and my ability to commit fully to a project. That means that if a child needed plenty of time and support to understand a new concept, I would be happy to give that to them. I am creative, and enjoy using that creativity to come up with fun ways to entertain and educate children."
Why Do You Want to Work at This School?
This is a specific and focussed question that will ensure you have done your research about the specific school, and its values and learning ethos. This question is designed to ensure that you are committed to the school you are applying for, and they may also want to know that you have done your research, so this question is to find out what you know about the school. Ensure that you have read the school website ahead of time, and perhaps search your local news website for any stories or articles about the school. An example of the best way to answer this question is; "I am interested in working in this school because of your excellent extracurricular programme and your commitment to developing the interests of children both in and out of school hours. I am passionate about creative subjects and the importance of sharing these with children, and this is an ethos that is shared by the school. I want to develop professionally, and I believe that this school and its standing within the community makes this the right place for me to do this."
Have You Worked With Children Before? Can You Tell Us About This
This is an open-ended question that is designed to give you the freedom to share your experiences within your sector. This is where you should demonstrate your passion for working with children, and any examples of the impact that you have had on a child's life. If you haven't worked with children before you may need to adapt your answer by thinking about how you have spent time with children in your family, or any voluntary work you have done with children. Even something as simple as engaging your nieces and nephews in a game of football in the park can be used to demonstrate how you enjoy spending time with children. An example of the best way to answer this question is: "Although I have not worked in a teaching assistant role before, I have been a regular childminder for a mixture of boys and girls aged between 5-9. We worked together to play games, and I helped them with their homework by engaging them in a fun and interesting way. I turned mundane tasks into fun ones so that they would be more interested in helping with chores as well as completing their homework. I enjoyed my time with the children, and watching them grow during our time together."
How Would You Plan a Good Lesson?
The point of this question is to ascertain whether you understand what a successful lesson within the classroom looks like. Though you won't be in charge of lesson planning (that is the role of the teacher) you will still need to help with conducting lessons and to know what makes a good lesson to be a good teaching assistant. The best way to answer this question is to demonstrate that you have thought about everything that would go into planning a lesson, including materials and resources. An example of the best way to answer this question is "there are many different factors that would go into planning a good lesson, and it is important to ensure that children are engaged and that the lesson is fully prepared. One of my favourite lessons to teach is to turn learning vocabulary words into a bingo game. It is fun and engaging for the pupils and helps them to learn vital skills, but is also easy to run as a teaching assistant, even with minimal resources available."
How Would You React if a Student Was Disruptive in Class?
Not every situation is straightforward, and the role of a teaching assistant involves dealing with difficult situations, including children that are being disruptive. The way you would handle this reflects what kind of teaching assistant you would be and should also reflect the school's values and behavioural policy. An example of the best way to answer this question would be: "I would work collaboratively with the class teacher to ensure that we both used the same methods for calming disruptive behaviour, as consistency is important to young children. This may involve separating children or having a quiet discussion with a disruptive child. If the same student is consistently disruptive, I would suggest to the teacher that a behavioural plan for that pupil be established in the classroom. An example of this would be a reward for consistently non-disruptive behaviour."
What Would You Do to Contribute to Making the School a Safer Place for Our Pupils?
Safeguarding is a key issue in schools, with every school responsible for ensuring that their children are protected. At its core, this is a safeguarding question. It is important to research what your safeguarding role as a TA will be before you attend your interview to enable you to better answer questions like these. Investigate the common safeguarding issues schools are facing right now and think about how you might solve these. An example of the best way to answer this question would be: "I know how important it is to be aware of the safeguarding systems within the school and would ensure that I understood these fully. I would then identify any issues or areas of concern and ensure that these were reported to the correct authorities. If a safeguarding issue did arise, I would be considerate of the child's feelings and wishes, making sure they were able to establish trust with me to enable me to better understand their needs and protect them."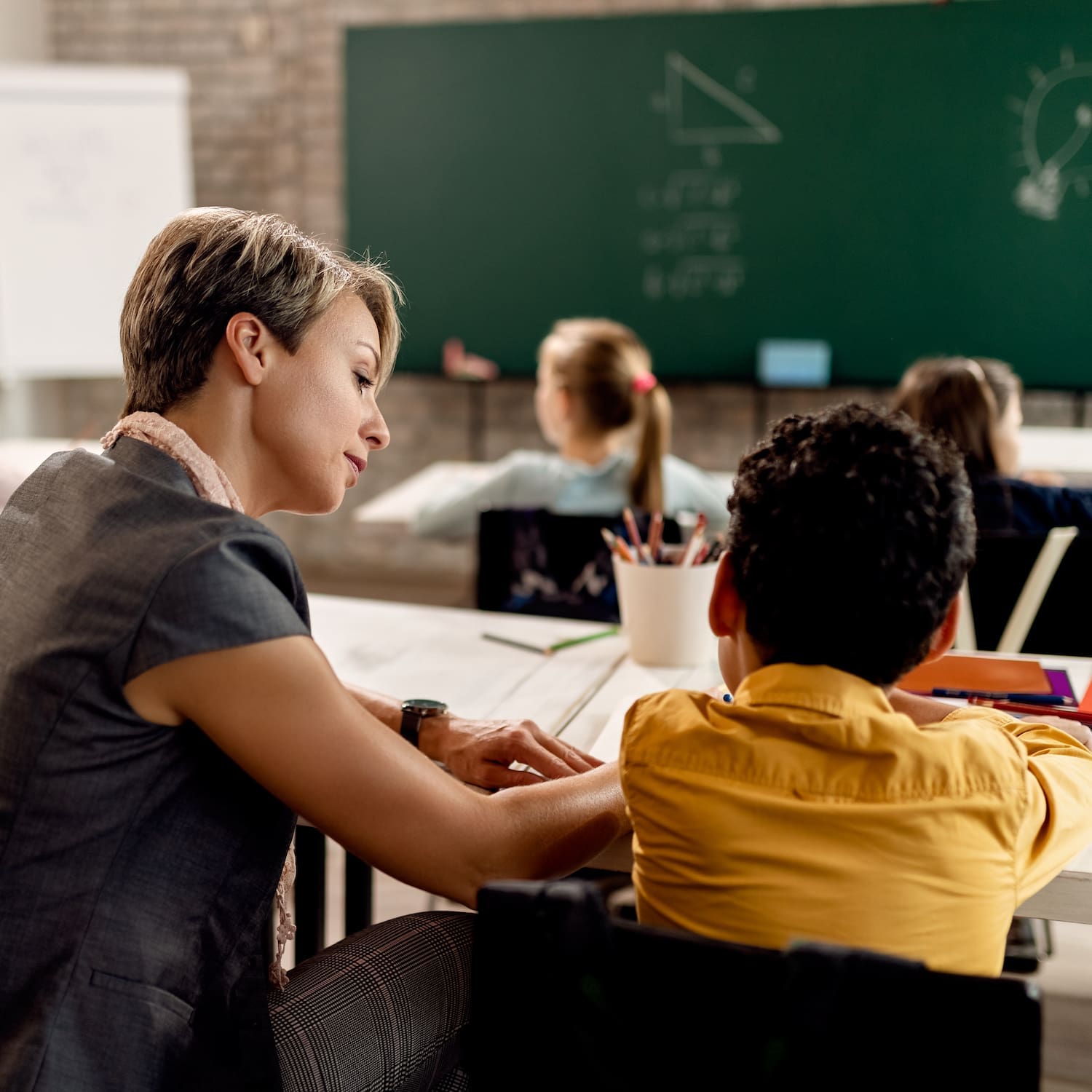 Interested in becoming a Teaching Assistant?
We offer the CACHE Level 2 Award in Support Work in Schools and Colleges.