Distance learning is one of the most popular approaches to adult learning in the UK with 21% of British people using online learning of some kind, and its popularity has only grown since the onset of the COVID-19 crisis. During lockdown, the number of distance learning students grew by around 15%, with people seeking to reskill and refocus. But what is distance learning and what does the term actually mean? Is distance learning available to everyone? And how is the work completed? Here's everything you need to know about distance learning in the UK:
What is Distance Learning?
Distance learning is sometimes also referred to as online learning and is a term that is used to describe the act of pursuing learning opportunities from the comfort of your own home. The types of courses available via distance learning range from short courses (such as a ten-hour introductory course on how to learn languages) to full degree and postgraduate degree courses (such as a three-year degree in French).
When you engage in distance learning, you are committing to studying, engaging with learning materials, and even completing assessments at home. Most distance learning providers will provide their students with access to a virtual learning environment in which they can easily access course materials and upload completed work. Some providers will also engage with their students via phone calls, email and other electronic means. No matter what form of communication you or your provider prefer, for a learning model to be considered distance learning, there should be no requirement to attend in-person learning or face-to-face meetings with tutors. The only exception to this rule is that you may need to visit an in-person examination centre for assessments and examinations.
Distance learning qualifications are considered just as valuable as their in-person equivalents. If you study for a maths GCSE online, for example, the quality of your learning and of your qualification will be just the same as if you studied for the same GCSE in school or college.
If you're new to distance learning, then it is likely to be different to any other type of studying that you have done before. You will have more freedom in terms of your study schedule and will work from the location that best suits you. You may even find that your assessments look different than in a conventional in-person examination environment. So, what are the positives and negatives of distance learning? And what kind of qualifications could you study from the comfort of your own home?
The Positives of Distance Learning
There are a number of benefits of choosing to study via distance learning. These include:
The ability to study on your own schedule. You can pick up your studies during the evenings or at weekends, enabling you to fit your learning around both your work and your home life. And no two students will be expected to maintain the same schedule, even if they are studying the same course. Whilst one of your colleagues may prefer to work in the mornings, that doesn't mean that you can't fit in your learning hours late at night.
Choosing where you study. Many students prefer to work in a formal learning environment, such as in a library or home office, but many more will choose to work from the comfort of their dining room table or even their sofa. There are no restrictions on where or when you study so, again, you have the freedom to be flexible.
You can get a degree from anywhere in the world. If there is a course that fascinates you that is only available overseas then distance learning means that you shouldn't face any barriers in securing that qualification.
Distance learning courses tend to be considerably more affordable than in-person courses. This is true whether you sign up for an introductory short course or a full degree course. This means that you can save a lot of money by choosing to pursue a distance learning course, whilst still receiving the same standard of education and quality qualification.

The Negatives of Distance Learning
There are fewer negatives to pursuing a distance learning course, but there are drawbacks to every prospect, including distance learning. Some of the negatives of distance learning include:
A lack of social contact. If you are looking forward to the social aspect of attending college or university then distance learning might not be the right option for you. This is because distance learning colleges don't have campuses, which means that you won't be meeting with your fellow students every day. There are very few social elements of studying via distance learning.
You will need good time management and self-motivation skills. If you are not driven to complete your course and succeed, then you will find it more difficult, because you will not have a lecturer or tutor to push you and motivate you to complete your coursework. Without this external motivation, some students may find it harder to hit their deadlines.
Some subjects are harder to teach in an online setting than others. Subjects such as English and humanities subjects lend themselves perfectly to online learning where hands-on subjects, such as medicine and engineering, are near-impossible to teach online. These subjects demand hands-on learning and face-to-face teaching. If you wish to study a very hands-on subject, therefore, you may find that distance learning is not the best route for you.
Distance learning doesn't encourage physical activity: students are largely stationary and spend considerable periods of time sitting in front of their computers. There is a concern that distance learning students may neglect exercise and physical activity, but this does not have to be the case. Because you can set your own work schedule when you are a distance learning student, it's easy to carve out time for a run or a visit to the gym. Distance learning doesn't need to negatively impact your physical activity.
Who Can Study Through Distance Learning?
One of the most attractive elements of distance learning is that it is available to everyone. There is no upper limit on the age of individuals who can enrol on a distance learning course, although some courses are not available to individuals under the age of 18. Distance learning is traditionally viewed as a great option for mature students, as it allows them to fit their studies around their lifestyles. Distance learning allows mature students to study and maintain full-time employment, or to fit their studies around their home or family life commitments. This is particularly true for parents who wish to study around the needs of their children.
But that doesn't mean that distance learning is only suitable for mature applicants. Individuals of all ages can reap the benefits of distance learning, and it is an option that is increasingly chosen by school leavers who wish to take advantage of the flexibility distance learning affords whilst also working part-time (or even full-time) so that their studies don't leave them in significant debt. A degree-level education is expensive, and many savvy young people are keen to avoid this expense whilst still securing an advanced education. The forecast average debt for a student starting their degree course in 2021/2022 (and completing their course in 2023/2024) is £45,800 by the time they graduate, but distance learning is significantly more affordable than this.
Distance learning also appeals to international students. It allows them to study remotely from their own country whilst still receiving the UK-based qualifications that they seek. Finally, distance learning is a great way to gain professional qualifications whilst still maintaining your full-time employment: you can study for the qualifications you need to gain a promotion or pursue a different career path whilst still keeping your position and maintaining your income. One of the benefits of distance learning is that you can work in the evening, at weekends, or on your days off. In short, there is a huge spectrum of individuals who can benefit from distance learning.

Online or Paper-Based?
There are two main types of distance learning: correspondence learning and online learning. Correspondence learning is sometimes also referred to as paper-based learning and with this type of learning you will receive your textbooks, study guides, assignments and other study materials via the post. You will then work through these materials at your own pace and return them via post when they are completed. Although this type of learning is primarily conducted via post, and your work will be paper-based, you will still be able to contact your tutor or instructor and ask them for help and support via phone or email as and when is needed. Correspondence learning has seen a sharp decline in popularity since the onset of the internet which has made online learning a much more popular and convenient alternative.
To conduct online learning you will need to have access to the internet, and this is a form of electronic learning that allows more instant interaction between tutors, instructors and students. Online learning will give you your study materials at your fingertips, allowing you to access all of the course materials you need in one place. You will also use this same online portal to submit your work instantly, which is a more convenient system than the one offered by correspondence learning. Some older learners continue to prefer paper-based correspondence learning because they don't feel comfortable navigating computers and the internet. However online learning is a faster and more efficient learning mode if you have the computer skills required.
What Can You Study Through Distance Learning?
There is a huge spectrum of courses that you can study through distance learning and when you choose to study via the Online Learning College you will find courses that offer quality tutor support at the best possible prices. When choosing a subject to study via distance learning, and a distance learning provider, it is important to look for a course that is accredited and will be recognised by the relevant body of the career you wish to pursue.
Some of the most popular courses to study through distance learning include A-Level and GCSE courses. To continue with further education or study at degree level, you will need to have at least 5 GCSEs at passing grade (often including maths and English) and two or three A-levels. If you don't already hold these qualifications, then you can study for them via distance learning without impacting your existing work or family commitments. Outside of this traditional journey into further education, other vocational courses that are particularly popular through distance learning include:
Beauty Therapy Courses
Business and Management Courses
Childcare and Early Years Education Courses
Counselling and Psychology Courses
Criminology and Forensics Courses
Design Courses
Health and Social Care Courses
Interior Design Courses
Teachers Assistants Courses
How is Work Completed?
The way in which you will be assessed for your distance learning course and complete the work for your distance learning course will depend largely on the type of course you are taking. Almost all courses will involve work to be completed and then returned online via a dedicated online portal, whilst some short courses will also require final assessments to be taken online via the same medium. If you are studying for GCSE or A Level qualifications then you will be required to complete your examinations and other formal assessments in person rather than online. This will mean that you will attend a formal assessment or examination centre to take your final exams in a controlled environment. This same practice may also apply to degree-level assessments, depending on the subject and unique requirements of the degree course that you are studying.
Completing work assignments for your online course should be perceived as a challenge rather than a chore. Assignments give you the opportunity to showcase what you've learned and build a foundation to improve on throughout not only your course but your wider academic career. Common types of assignments and assessments that you are likely to come across include simple Tutor Marked Assignments (TMAs) which can be regularly assigned throughout your course, Interactive Computer-Marked Assignments (iCMAs) that are often simple or interactive tests that can be marked by a computer, and conventional examinations. These tend to have a fixed date and are presented in a format that most students will have seen before during their school or college career, presenting a more level playing field on which each student can be assessed.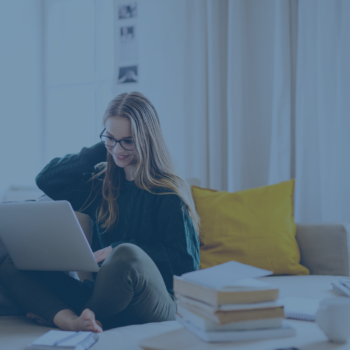 Interested in Studying Online?
We offer a range of online courses which you can find below