As the name suggests, Early Years Practitioners are professionals who dedicate their careers to caring for children in the early years of their lives. The children you will work with as an Early Years Practitioner are between 0-6 years of age. There are over 13,000 Early Years settings officially registered in the UK, meaning that providing early years care is a huge industry. 2021 estimations suggest that there were almost 330,000 paid staff working in childcare and early years provision in England and that 80% of these staff were educated to Level 3 level. The government target is that 100% of educators working in early years settings be educated to Level 3 level. But what does an Early Years Practitioner do, and what are the roles and responsibilities of an early years practitioner? From the qualifications you will need to the personality traits that will leave you best suited to the role, here's everything you need to know about becoming an Early Years Practitioner:
What Does an Early Years Practitioner Do?
Early Years Practitioners care for the physical, practical, and educational needs of all of the children in their care: The ages of these children range from birth until they attend primary school at five years old, although most Early Years Practitioners are qualified to teach and care for children up to six years of age. This is a sector that is highly regulated and under the Childcare Act 2006, all nurseries have to follow a statutory framework for early years education which is different in each country. Nurseries in England follow the Early Years Foundation Stage (EYFS), whilst those in Scotland and Wales have their own system and framework.
As an Early Years Practitioner, you can expect to work in a nursery or preschool setting, although some Early Years Practitioners work independently as nannies or childminders. Regardless of the setting, the main focus of your role will be to organise age-appropriate activities for the children under your care to stimulate their physical, educational and emotional development. Your role will also involve ensuring that the children under your care are properly safeguarded. Not only should they be protected from harm whilst they are under your care, but it is also your role to look for signs that they are being properly cared for at home, and to report any concerns that you may have to the relevant authorities. Early Years Practitioners are highly qualified and highly regarded members of the educational community, and play a vitally important role in preparing children for the rest of their school career.
Working as an Early Years Practitioner is an incredibly rewarding job role, although it is also a demanding role that will require a good level of physical fitness, as you will spend much of your day running around after active toddlers and preschool-aged children. There are great opportunities for career progression, with many nursery nurses going on to pursue careers in nursery management, or continuing their education to convert their Early Years Practitioner qualifications into full teaching qualifications.
Roles and Responsibilities of an Early Years Practitioner 
The vast majority of early years practitioners work as nursery nurses, but other job roles that fall under this umbrella title are early years teacher, nanny, childminder and preschool assistant. Whichever of these job titles interests you most, the roles and responsibilities that you will be expected to perform as a part of your role will remain the same. They include:
Looking after the day-to-day physical needs of the children under your care. The younger the children you are caring for, the more hands-on this aspect of the role will be, but examples of how you would care for a child in this way include changing nappies or toilet learning (potty training), feeding or assisting with feeding, and administering first aid to children.
Engaging children in a range of fun and stimulating activities, working with them to learn through play. These activities will include reading, number skills, messy play and physical activity. You should work to ensure that the children in your care have basic numeracy and literacy skills (the ability to count and write their name, for example) before they leave your care and start school.
Safeguarding the children under your care and reporting any concerns that you have both directly to your supervisors as well as to the relevant local authority, and if necessary, to the police. You will work closely with other agencies involved in the protection of children.
Monitoring children's progress and keeping written records of their development and achievement. This information should be reported back to each child's parents on a regular basis, and to the Local Authority and the relevant school as your child moves up to primary school.
You will build relationships with the children under your care, developing a close attachment with them and developing a relationship of trust and care. This means that those children should be able to share any of their concerns with you.
You will act as a primary contact, or key worker, for a small number of the children under your care, and you will be specifically responsible for reporting on and maintaining all relevant information and paperwork for this group of children, although you may be asked to complete reporting for a wider group as your job role requires.
You should be educated to an appropriate standard, and work to Early Years Foundation Stage requirements for child learning at all times during your role.
You will have good written and verbal communication skills, as you will need these to communicate with the children in your care, their parents or primary caregivers, other early years practitioners, as well as the relevant authorities. You will also need basic computer literacy skills, to assist with this communication.

Personal Traits of a Good EYP
It would be impossible to work as an Early Years Practitioner unless you liked children, enjoyed spending time with them, and wanted to play an active role in supporting them as they grow and develop. This is one of the most integral traits of a good Early Years Practitioner. But other personal traits that you will need to have to succeed in this job role include:
An interest in child development. Child development is a fascinating subject and one you will be able to watch in real-time every day if you work as an Early Years Practitioner. Children's early experiences and relationships in the first five years of life are critical for development. This is because the brain is growing at its fastest rate before birth and into the first five years of childhood, and so the imprint that is left on a child at this stage will have a significant impact on the rest of their life.
Imagination and creativity. Young children learn best when they are engaged and interested in a subject matter, and they often learn best when they don't realise they are learning at all! This is known as 'learning through play', it is an integral part of the role of an Early Years Practitioner, and it requires an abundance of imagination and creativity to engage children appropriately. The ability to play is one of the biggest skills that you can teach to a child in their early years. Play improves the cognitive, physical, social, and emotional well-being of children and young people, and is how those children learn about both themselves and the world around them.
Patience and enthusiasm. Whilst working with children can be a lot of fun, it can also be hard work! Children can be frustrating, and often test your limits. As an Early Years Practitioner, you will need to be able to deal with children with patience. You will also need to be enthusiastic when working with children, engaging with their interests and showing enthusiasm for what they have to say: Even if it is the eighth time you've looked at the same T-Rex that day!
A caring and kind nature. Young children should be treated with understanding and compassion and for this reason, you will need a kind and caring nature in order to successfully work with children. You should have genuine empathy for their needs and care about their wellbeing: Their parents are trusting their children into the care of individuals they feel will love and care for them in just the same way as they would.
Willingness to be part of a team. Early Years Practitioners rarely work alone: they work as part of large teams alongside other practitioners, and sometimes as part of multidisciplinary teams, working with social workers, healthcare professionals, and other involved parties to provide the best possible care for the children under their care. You will need to be a team player, be able to communicate with individuals from all walks of life and be able to put them at ease.
Courses to Become an Early Years Practitioner
The qualifications needed to be considered a fully qualified Early Years Practitioner will be determined by whether you are seeking to secure these qualifications now, or if you have already received some education in this field. This is because the rules surrounding the qualifications needed for registered nursery nurses changed in September 2015. If completed before this date, you would be considered fully qualified if you have obtained a Level 2 or Level 3 childcare qualification. There are many types of these qualifications, but some examples include the Level 2 Certificate for the Children and Young People's Workforce, Level 3 Diploma for the Children and Young People's Workforce or Level 3 Diploma for the Early Years Workforce.
From September 2015, whilst many people still pursue level 2 qualifications, and they serve as a valuable stepping stone towards a career in Early Years care, you cannot be considered a fully qualified early years educator until you have obtained a level 3 qualification. The exception to this rule is if you wish to qualify as a childminder or a nanny, looking after other people's children either in their own home or in other people's homes, in which case you are considered qualified to do this with a Level 2 qualification. Some examples of courses that you could take to reach these goals include:
CACHE Level 3 Award in Childcare and Education
CACHE Level 2 Award in Babysitting
CACHE Level 2 Certificate Introducing Caring for Children and Young People
These courses will teach learners a vast array of vital knowledge necessary when working with children. You can study for these courses either in a traditional college setting or via distance learning. Other qualifications you will need to secure a place on your chosen course will be determined by the college, but many will ask that you have achieved a passing grade (A*-C) in Maths and English at GCSE level. If you do not have the required GCSEs, or you wish to study for or retake your GCSEs to reach these standards in conjunction with your chosen childcare course then you may find that the distance learning route is a better path for you. This is because distance learning colleges are able to be more flexible with their entry requirements and because they are better able to facilitate your desire to study different courses at different levels simultaneously.
Career Path of an Early Years Practitioner
There are many different routes to becoming an Early Years Practitioner, with the variety of options meaning that the career is open to individuals of all educational levels and backgrounds. The most common route is to enter a child care environment as a junior team member, often a nursery assistant, with the support and supervision of a more experienced Early Years Practitioner, as you attend college as part of a day release programme or in your own time: for this reason, distance learning is a popular option for those seeking to become qualified as an Early Years Practitioner, because you can study at a time and place that suits you, fitting your course around your work and home life commitments.
This isn't the only route to becoming an Early Years Practitioner though; some students will choose to attend college on a full-time basis, enabling them to study for the qualifications they need in a shorter period of time, and then seek the Early Years Practitioner job role they're looking for. This path is common if you wish to become a nanny or a childminder, working for yourself and setting up your own business, as you're less likely to need the support of an established nursery setting throughout your studies. However, it is becoming increasingly popular with traditional Early Years Practitioners, such as nursery nurses, who are better placed to apply for available (and often better-paying) job roles if they already have the qualifications they need.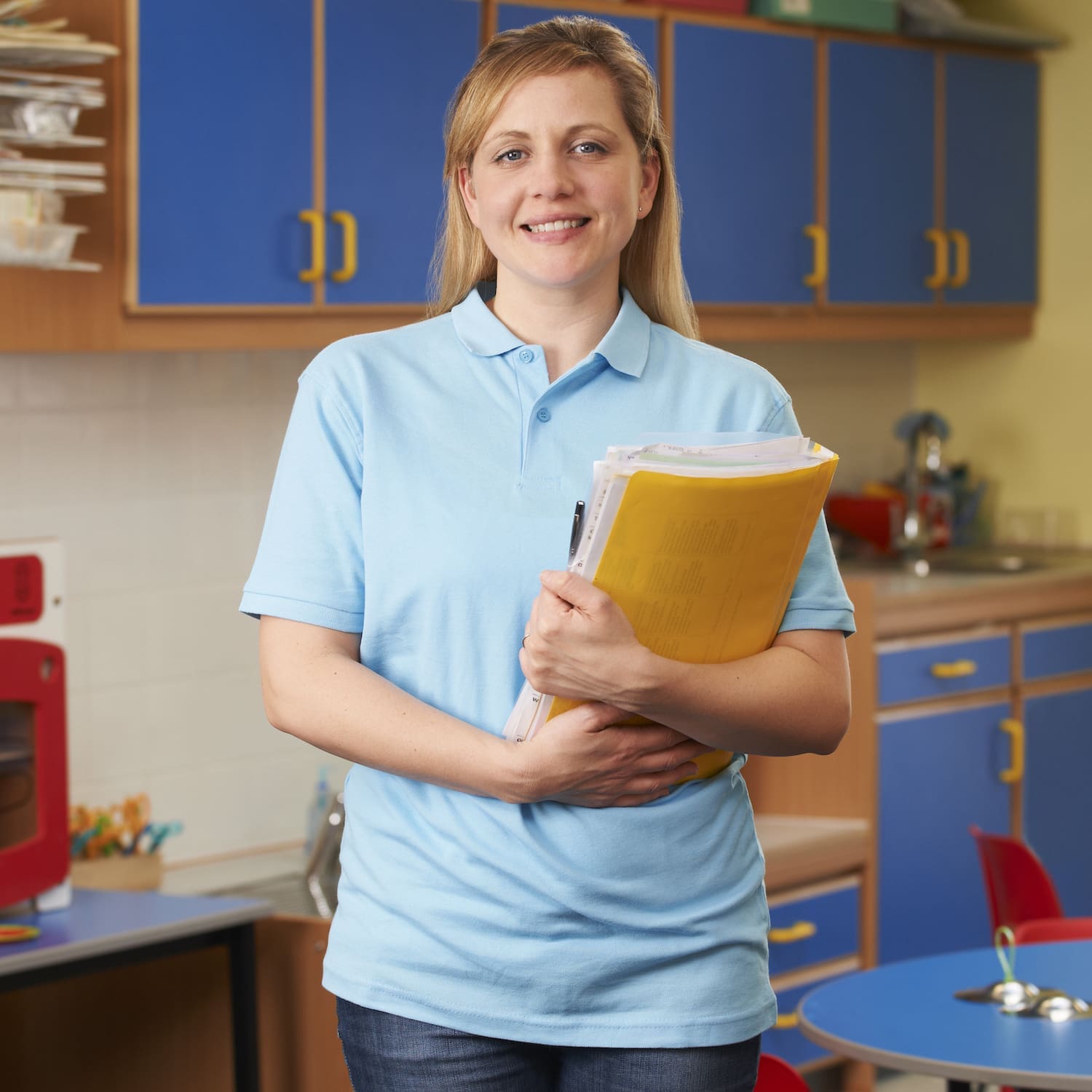 Interested in a Childcare course?
We offer the CACHE Level 3 Award in Childcare and Education through our online campus.