Who was Maria Montessori?
Maria Tecla Artemisia Montessori was an Italian physician and educator best known for the incredibly well-known and popular Montessori philosophy of education. If you haven't heard of Maria Montessori then you have almost certainly heard of a Montessori school or nursery in your local area. If not, this article has everything you need to know about Maria Montessori, her self-named approach to education, how she spent her early life and the Montessori approach to education.
Early life and career
Maria Montessori was born in 1870, in Chiaravalle, Italy, into a middle-class family. Whilst her father was an accountant her mother was a highly educated woman with a passion for reading, which was unusual for the time. Montessori's early education took place in Rome, and in 1886 she entered secondary school to study engineering (unusual in a time when those women who were educated to secondary level generally studied classics). When she graduated, Montessori's parents encouraged her to pursue a career as a teacher, as this was deemed an acceptable profession for a woman, but instead she applied for medical school. At the time medical school was a male-only arena, so her father opposed the decision, but even when she was originally rejected from the course Maria was undeterred.
Instead, she enrolled in the University of Rome to study physics, maths and natural sciences, graduating in 1892. This allowed her to enter the Faculty of Medicine, making her one of the first women to study medicine in Italy. During her time in medical school Montessori faced much discrimination, and spent a lot of time alone as mixed research classes were not permitted. Nonetheless, she graduated in 1896, and became well known in Italy as one of the country's first female doctors. After graduation she worked as a surgical assistant in Rome's Santo Spirito Hospital, caring for the poor and their children. In 1897 she volunteered to join a research programme at the psychiatric clinic of the University of Rome. Part of this research involved visiting Rome's asylums for children with mental disorders, and this provided the inspiration for her research on child development, particularly surrounding children who had experienced sensory deprivation.
In 1897 Montessori publicly presented her theory that the lack of adequate provision for children with mental and emotional disorders was a cause of their delinquency. She expanded on this theory to pose that social progress should be rooted in education, and supported special training for teachers who worked with special needs children. The concept of social reform through education was one that would ultimately shape not only Montessori's work but her life.
She promoted the importance of understanding the individual needs of each child, and she shifted the focus of her career from that of a physician to that of an educator. In 1904 she took up a post as a lecturer at the Pedagogic School of the University of Rome, which she held until 1908. The focus of her research was mostly educational philosophy and anthropology.
In 1907, Montessori opened her first 'children's house' and this was the first opportunity for her to work with intellectually 'normal' children. She used this as an opportunity to use some of the educational materials she had developed, but only kept those materials in the child's environment which engaged them. It was here that the Montessori concept of auto-education was developed: Montessori came to the realisation that children who were placed in an environment where activities were designed to support their natural development had the power to educate themselves. The children that were educated within Montessori's first children's house made quick academic progress, and as a result news of the Montessori approach spread quickly with several new houses opening across first Italy, and then wider Europe.
The Montessori approach to education spread rapidly from this point. In 1909 Maria Montessori gave her first official training course on how to use her approach. In 1912 her first book, The Montessori Method, was translated and printed in the United States. Montessori dedicated her life to helping the Montessori approach spread globally, with schools and training programmes all over the world.
In 1917 Montessori settled in Spain, where a Seminari-Laboratori de Pedagogía, an opportunity to experiment with her new pedagogy, had been created for her. She hoped to create a permanent centre where early-years education could be researched, but the rise of Fascism in Europe ultimately made that dream impossible. In 1933 all Montessori schools in Germany were closed and an effigy of her was burned above a bonfire of her books in Berlin: her refusal to incorporate Montessori schools into the fascist youth movement led to similar actions in Italy. When the Spanish civil war broke out, Montessori fled to England, and then travelled to India, where she was held under house arrest for the duration of the second world war due to her status as an Italian citizen. Her time in India was important, as it was here that she developed the theory of Cosmic Education, an approach for children aged 6 to 12. These years allowed her to enrich her philosophy and educational approach. Montessori died in the Netherlands in 1952.

The Montessori Method of Child Development can be applied to all children from the age of 0-18. As part of this method, Montessori divided children into four distinct planes of development. Each of these planes has their own distinct characteristics and learning benefits, which are as follows:
The First Plane applies to children aged between 0-6. This is a significant development period, with children serving as sensorial explorers. They refine their own senses whilst simultaneously navigating the concrete environment of the world around them. Gaining language, and the fine motor skills to manipulate objects, are also key elements of this stage
The Second Plane applies to children aged between 6 and 12. Children at this stage develop a herd instinct, wanting to work in group settings with their peers rather than individually. This is also an important period for the development of social skills with children formulating their moral sense and understanding the difference between right and wrong. Significantly, the beginning of intellectual independence is also fostered at this point
The Third Plane of development applies to children between the ages of 12 and 18. This plane coincides with puberty, so considerable physical changes are observed at this stage. Adolescence often brings with it difficulties with concentration, but the initial construction of the adult self also begins here. Children during this stage will seek out validation and commendation for their work: tangible rewards are significant here
Finally, the fourth plane of development applies to those people aged between 18 and 24. Individuals in this stage embrace their studies, want to find their place in society, and seek economic independence. They are adults now, and seek to support themselves by using their own learnt skills. The life of independence sought in the fourth plane is the ultimate aim of the Montessori Method
What did Maria Montessori do for education?
The Montessori approach completely revolutionised education, and in particular early years education. From the way the classroom is laid out the ages of the children within each classroom, every element of a Montessori school appears different to that of a conventional school. However, even if you are not teaching in, or attending, a Montessori school there are still elements of the Montessori Method that are often applied to all kinds of teaching. The importance of peer learning, for example, is a key element of the Montessori Method, and something that all modern teachers now accept and understand the benefit of.
The Montessori Method
The Montessori method is a system of education that seeks to promote natural interests and learning in young people, rather than promote formal learning methods. The three cornerstones of the Montessori method are:
Self-Directed Activity
Hands-On Learning
Collaborative Play
Children are encouraged to make their own creative choices in what they do, whilst the role of the teacher or educator in this situation is to offer age-appropriate activities that will guide the learning process that has been chosen by the child. The Montessori classroom may look different to a regular educational setting, in that the Montessori classroom is one that is filled with order, cleanliness, beauty, and harmony. Educational tools that a child is choosing not to engage with are often removed, and a child's own, individual, optimal development is the ultimate goal rather than encouraging children to reach certain academic targets. This applies not only to the child's educational development, but also their physical, emotional, and social development. The Montessori method assumes that each child has their own, unique potential and that obtaining this potential should be their aim within a school environment. For this reason, standardised academic testing and observation is not a part of the Montessori method.
Another significant element of the Montessori method, that instantly makes it stand out from traditional or conventional schooling, is that multiple different age groups will all learn together in one classroom, often sharing the same learning materials. Montessori proposed this method of teaching, because she felt it encouraged family-style learning where social and academic skills were fostered more organically. This practice also allowed for older children within each classroom to become mentors to the younger children in the classroom.  This allows those older children to hone their leadership skills, whilst the younger children harness the important lessons that can be taught through peer-led learning.
When learning about the Montessori Method, the main things that you need to know are that the key principles of this theory that drive the method forward are;
Both children and adults construct and represent their own identity by interaction with the objects and individuals that the find within their environment
Every child has their own innate path of psychological development, learning at their own rate and achieving their own completed stage or level of development
If you accept these principles then it is easy to embrace the Montessori method. The method looks at these two elements and uses them to guide everything, from the way the classroom is organised to the materials and learning tools that are offered to the children within the setting, depending on their age group. Montessori believed that all children would follow relatively similar trajectories of development, justifying the universality of her educational philosophy, but the age at which they pass through each window of learning may differ.
Montessori Schools Today
The Montessori method remains as popular today as it was when Maria Montessori was alive. There are currently around 20,000 Montessori schools around the world: around 3,000 of those schools are located in the United States. Montessori schools typically group children in developmentally driven age groupings. That means that children attending Montessori school will generally be assigned to one of the following categories:
fifteen months to three years old
three to six years old
six to nine years old
nine to twelve years old
twelve to fifteen years old
fifteen to eighteen years old
A huge number of highly successful and intelligent individuals have graduated from Montessori schools, and this is often cited as a victory for the Montessori movement. Those graduates include:  Jeff Bezos, founder of Amazon.com; Sergey Brin and Larry Page, co-founders of Google; Anne Frank, World war II diarist; Prince William and Prince Harry, sons of Charles, Prince of Wales; George Clooney, Academy-award winning actor; Chelsea Clinton, daughter of Bill and Hillary Clinton.
It is worth noting that there are some downsides to the Montessori method of education, particularly within the public education system. These include the lack of structure that they promote, as well as how expensive they are to implement. But despite these downsides, empirical evidence and peer-reviewed studies suggest that the Montessori programme can be beneficial. In a modern educational environment, the Montessori approach is often seen as a breath of fresh air, devoid from an endless focus on academic achievement and instead focusing on the individual needs of each child, often with greater results.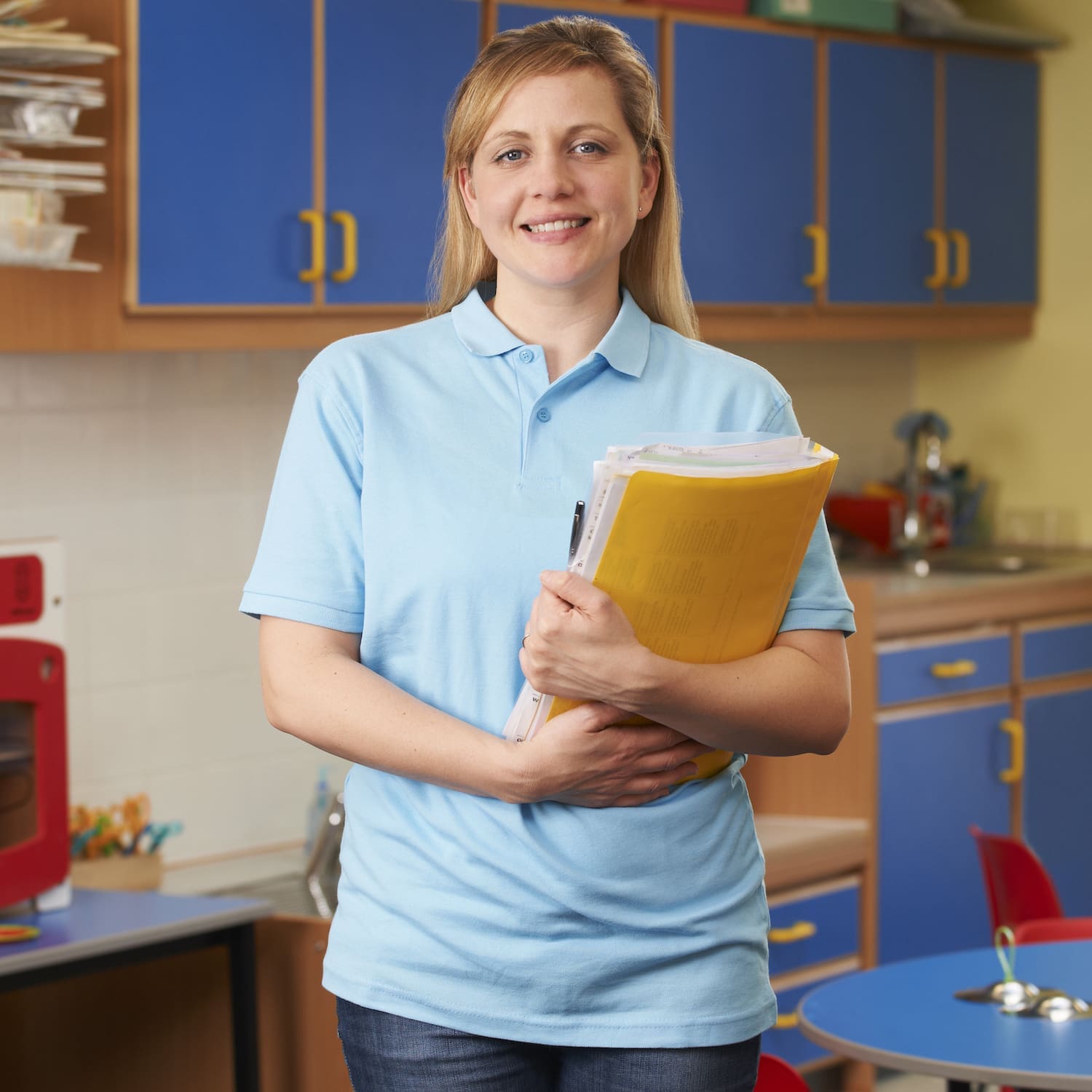 Interested in a Childcare course?
We offer the CACHE Level 3 Award in Childcare and Education through our online campus.