Disappointment on results day can be hard to deal with: there's nothing worse than watching those around you celebrating whilst you're dealing with lower grades than you expected. If you don't get the GCSE grades you wanted or expected, then you may be worried that you'll never reach your future career goals. But the fact is, failing to achieve the results you expected is not unusual. For example, the proportion of students who received a Grade 4 or above in their English Language GCSE dropped to 70.2 per cent in 2022, down from 73.9 per cent in 2021. This means that almost 30 per cent failed to achieve a standard pass grade. But who can retake their GCSEs? What are the benefits of retaking your GCSEs? And how long should you expect the process to take? Here's everything you need to know:
Why Retake Your GCSEs?
There are many reasons why a student might want to retake their GCSEs, with the most common reason being that they simply didn't achieve the results that they wanted or expected. This is particularly important to students that have a chosen career path in mind, or an ambition to pursue further study, and they know that they need to get a certain grade in a certain subject or subjects to pursue this goal. Some examples of this include: if you wish to carry on and study A-levels either in school or in college then you will need to have a minimum of 5 GCSEs at Grade 9 -5 (equivalent to A* to C) to secure a place. You may also need to have achieved minimum GCSE levels (usually in maths and English) to be accepted onto an apprenticeship, and if you're ready to move straight into the world of work, then many careers will have a minimum education or level of qualification requirement too.
The workplace is increasingly competitive, and as a result, more employers than ever are looking for applicants that have a good set of GCSE results to demonstrate their ability and their competence. This is particularly true if your chosen career path will require you to secure additional qualifications, either through on-the-job training or by attending college or university. Finally, you may simply wish to retake your GCSEs to prove to yourself that you can do it, and that you can achieve better grades. Sometimes our own satisfaction and meeting our own expectations is the best reason to try something new and push yourself outside of your comfort zone.

What Are the Benefits of Retaking Your GCSEs?
Still not sure whether retaking your GCSEs is the right choice for you? There are many benefits of taking the plunge and deciding to do so! These include:
Reaching the academic goals you need to help you to pursue your chosen career. This will be particularly important if your chosen career focuses on academic achievements, such as teaching or medicine
Adding value to your CV and ultimately helping you to attract the attention of recruiters and land a job interview for your chosen job role
Opening up both further education and further career opportunities, increasing your future earning potential
Finally, you may simply choose to resit your GCSEs for enjoyment. If you enjoyed learning a subject but this wasn't reflected in your grade, why not use this as an opportunity to study the subject for a little longer?
Who Can Retake GCSEs?
When it comes to taking your GCSEs there are no barriers, and no additional qualifications or other entry requirements apply. Anyone can choose to retake their GCSEs, and for any reason. It doesn't matter whether you're 17 or 77, if you would like to improve your GCSE grades and explore a topic in more depth then the option of retaking your GCSEs is available to you.
How Long Does it Take?
The answer to this question depends on your own unique circumstances. If you have only just sat your GCSEs and want to take them again, then the course material is likely to be fresh in your mind. This means that you will need less study time than someone in their 50s who hasn't looked at the course material since they were 16! Many students feel that they want much longer to re-examine the course material and allow a full year to study, whilst others resitting exams after they have recently failed them only need a matter of months to review the material and achieve their goals. This will be easier if you are studying in the same environment and with the same teacher: If you are changing providers, you need to make sure that the new provider can offer you support for the same awarding body and specification so that your prior experience and revision doesn't go to waste.
Where Should I Resit a GCSE?
There are two main options as to where you can resit a GCSE. You can either choose to return to a physical school or college setting or if you are ready to leave school (or perhaps you have already secured your first job and can't return to school or college) you could also study for your GCSEs online. There are pros and cons of each of these options:
If you resit your GCSEs at your local school or college then you will return to a routine school-type environment. This means that you'll have a set timetable, attend classes alongside other GCSE students, and abide by set school rules. Resitting your GCSEs at school or college doesn't have to hold you back, because many schools will allow you to resit your GCSEs alongside studying for your A-Levels, meaning that you don't have to fall behind your peers, and you will be able to sit the A-level exams (and go to university, if that is your chosen path) at the same time. Some students feel that a school environment is too rigid for them, but they still want to be taught in a physical environment. If this is the case, then you could always try attending an evening class at college, which will give you more freedom with your schedule. The final thing to note when resitting your GCSEs in school or college is that you will sit this in the classroom environment alongside the other people in your class.
If you're ready to put the formal classroom environment behind you, or you have already secured a job and simply can't take the time out to go back to school, then you can study for your GCSEs online. Online study gives more flexibility and allows you to work at a time and place that best suits you. So, if you want to study around work, family life or even your commitment to your five-a-side team then you might find online study is the best option for you. Some students also struggle with the formality of the classroom environment and the rigidity of the school setting, and this can contribute to their poor exam performance. You'll also get more one on one time with your tutor online than you will in a traditional classroom. Online study is not the best option if you have failed either your Maths GCSE or your English GCSE, as without achieving a passing grade of four or above, it is a legal requirement that you remain in school to sit these until you are over 18. If you have already achieved a passing grade and are simply looking to improve your grade, you are still legally unable to study online to do this until you are over 18, under the latest guidelines. Sitting your exams when you study online is slightly different to the way you would sit them in school. You'll still need to sit them in person at the same time as other GCSE students, but you will need to arrange this independently with a testing centre, or in your local school or college as a private candidate. You should be aware that there's a fee to sit the exam which you'll pay directly to the exam centre. The exact cost of this will vary depending on which centre or school you chose

How Can I Study for a GCSE Resit?
It's important to have a focused and sustainable study schedule in place. If you try to study too hard or at too fast a pace, you may find this unsustainable and choose to give up altogether. Think about the techniques that work best for you when it comes to learning new material, and incorporate these into your revision. If you're a visual learner, for example, then create flashcards whilst if you're an auditory learner, invest in books on tape. Do you revise best alone or in a small group? Can you find a study group or a tutor that may be able to support you? Only you know the techniques that will work best to help you reach your academic goals, but the key to studying for your GCSE resits is to be:
Consistent. Revise regularly, and ensure that you allocate the same amount of time and effort to each topic. Create a detailed revision timetable and stick to it
Start early. Leaving your revision to the last minute only leads to panic and failure. Starting your revision early gives you time to spread it out and cover everything
Unplug everything! It's impossible to study well with your phone beeping or your TV blaring. Turn everything off and disconnect. Find a quiet place to study that is free from distractions
How Much Does it Cost?
The amount you will pay to resit your GCSEs will depend on a number of factors including your age, the subject you are resitting, and where you choose to retake your GCSEs. If you are aged between 16 and 18 and did not achieve a grade 4 or above in your GCSEs in either English or Maths (or both) then you may be eligible to return to school and study for these qualifications for free. If you are over 16 and have left school or full-time education but do not have a grade 4 or above in English or Maths, then you may be eligible to study these subjects for free at a local learning centre. You should contact the learning centre closest to you to discuss the options available.
If you are hoping to resit a GCSE outside of these core subjects, then you should generally expect to pay for this. To resit your GCSEs, you'll have to pay two types of fees: course fees and exam fees. Your course fees will cover your tuition and/or course materials and are paid directly to the college that you study at whilst the exam fees cover the cost of booking an exam space and are paid directly to the exam centre. If you choose to study in a physical college then you can expect to pay upwards of £1,000 per subject for your tuition. Online courses tend to be much more flexible and affordable; you can enrol for an online course with access to a one-to-one tutor and the ability to work at your own pace for as little as £275 with enrolment fees starting from £30, depending on the subject. Examples of GCSEs you could study for online include:
When Would I Sit a GCSE Resit?
Whilst the vast majority of students sit their GCSEs in May/June and then receive their results by the end of August, the resit schedule looks slightly different. It is possible to wait a full 12-month period and sit your exam in the following May/June if you feel you need that much study time, but many GCSE students will choose to take the soonest available resit slot. There are currently two resit periods available. These are in November and January. If you resit your GCSE exams in November, you can expect to get your results in mid-January. If you resit your GCSE exams in January, you should be able to collect your results in March. Resitting early is particularly beneficial if you are studying for your GCSE resits alongside your A-Levels, as it enables you to separate the study periods for the two sets of examinations, effectively getting your GCSEs out of the way as soon as possible.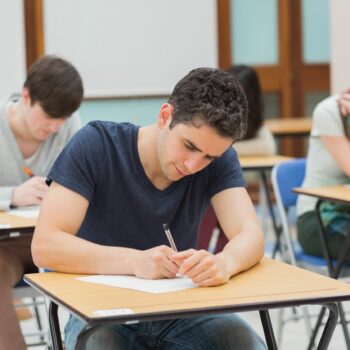 Study a GCSE with us
We offer the Edexcel GCSE in Business, Maths and Psychology through our online campus.