Online learning has become an increasingly popular option for students of all ages, hoping to learn new skills in a way that best suits their lifestyle. Whilst the vast majority of young people in the UK take their GCSE exams at school at age 16, a significant number will choose to take them independently or retake them at a later stage.
In 2021, there were 12,660 total entries for GCSE exams from private candidates, many of whom had studied online. This figure has grown over the last decade, as online learning has increased in popularity.
It is easy and convenient to enrol in an online programme to study for GCSE exams. It is also never too late: online learning is available to adults of all ages. This blog will explore the top 10 benefits of taking GCSE courses online:
1: Flexibility
Do you want to study for GCSEs but already have a busy schedule? Online learning is such an attractive proposition to so many learners because of the significant flexibility it offers. Students can set their own schedules and study around their work and home lives.
This is considered the most attractive element of online learning to many. When a sample group of online learners was questioned, 84% said that they liked the flexibility of completing an online course compared to in-person learning. If you work all night, then you can study during the day. If you spend your days caring for small children, then you can study when they're asleep in the evenings. No matter what your commitments are or how unusual your shift pattern is, you have the flexibility to study whenever suits you.
Another benefit of the flexibility offered by online learning is that it forces students to be accountable for their own schedules. The focus is not on the instructor's teaching but on the student's learning. Certain tasks will have to be completed by certain deadlines, but you are given the flexibility to determine exactly how you achieve this.
2: Personalisation
Modern educators recognise that all learners will learn in their own way and at their own pace. The diversity and differentiation of learners should be preserved, and autonomy promoted where possible. Personalising a course to suit the unique educational needs of each learner is much easier with online learning than it is with traditional learning.
In a classroom setting, educators have to teach each learner at the same pace, and each topic should be given an equal amount of learning time. But online courses are self-paced, meaning that students can work at their own speed and spend longer on the areas of their course that they need more support with, flying through the course elements that they find easier or that they already understand.
Even relatively simple elements of a course, such as the fonts used or the size of the text, can be personalised when you are studying via online learning. Anything that will make it easier to ensure that the course material sticks in the learner's mind can often be easily adopted.
3: Cost-effectiveness
Online learning is significantly more cost-effective in almost all instances than traditional learning methods. This is because online learning providers don't have to pay the same substantial overheads that traditional learning providers do: these include rent, maintenance, and other related bills.
Because online learning allows students to study from home, educators can work remotely, and teach more students per class, which will also lower the costs of a course. The cost of the teacher attending the course is the single-largest cost of learning in any environment, so being able to lower this will have a major impact on the overall course cost. Online tutors are always accessible when you need them, providing you with a one-to-one learning experience, but because their lessons can be pre-recorded and posted online for when you need to access them, that means more students can have access to this personal learning experience.
The price of course materials is also lower for online courses as these materials can all be accessed online, whilst in a traditional learning environment, documents must be printed, or books purchased for each student enrolled on the course. These additional costs are almost always passed on to the student. The low cost of online learning makes it more accessible to a wider range of students.
4: Interactive learning
Interactive learning is defined as learning that encourages independent study through the use of computer technology and electronic media.
Interactive online learning helps to improve student retention because it ensures that students are more engaged and excited by their learning. What's more, interactive learning can also boost student motivation. By its very nature, almost all online learning is interactive learning.
There are many benefits of engaging in interactive learning for students. Firstly, it is a great way for educators to introduce new or challenging topics that they might otherwise find difficult to process. For individuals that are visual learners, the interactive and visual elements of online learning are likely to make learning easier.
Interactive learning also helps to inject a sense of fun into learning. This is because interactive learning allows the student to interact both with their tutor and with the other students on their course as and when best suits them.
5: High-quality resources
It is a widely held, but entirely untrue belief that online learning is of a lower quality than traditional learning, or that the resources used are of a lesser quality. In reality, the resources used in online learning are the same as high-quality resources used in other forms of learning. In fact, often the quality of the resources is higher, and because they are shared online, they are also easier to access than in traditional learning environments.
Online teachers are able to make a wider range of resources available to their students because they can include a near-limitless number of resources in their online library. This means that students will have access to a wide range of selectable and suitable online learning resources, enabling them to promote their self-efficacy and ensuring that they tailor to all types of learners.
Any resource available on the Internet in an online educational environment can be considered an online resource, but online learning colleges use the best possible resources to ensure that their students get the GCSE grades that they need.

6: Time management
Time management is an essential skill that will stand any student in good stead for the rest of their lives. Both your professional life and your private life will be improved if you have good time management skills.
Whilst time management is relatively easy in a traditional learning environment, with classes taking place at the same time and in the same classroom each week, managing your time in an online learning environment can be a little trickier.
It's easy for online learning students to struggle to manage their time efficiently. Because you set your own pace and your own learning schedule you will need to learn the skills of discipline, time management, and a genuine understanding of how to use your time most efficiently throughout the day. Online learners will often finish their course with better time management skills than their traditionally educated peers as a result.
7: Improved grades
Distance learning or online learning is a great choice if you have already taken your GCSEs, either in school or college, and hope to improve your grades. Whether you didn't achieve the grades you need to carry on to study at A-level or degree level, or you need to improve your GCSE grades to follow your chosen career path, online learning will give you a second chance to get the grades you need.
Online learning allows students to focus on the elements of the subject they are struggling with and to focus on revision at their own pace. By studying at the pace that suits you best, and only moving on to the next unit when you are confident in your ability, you won't take the exam until you're ready. This will result in dramatically improved grades.
Engagement levels are high in online learning environments, and class session sizes are considerably smaller than those in traditional learning environments.
Finally, because of the individualised attention that you will receive from your teachers, you will have the support you need to actively engage with your subject and to improve your overall academic performance.
8: Greater control
When you study via distance learning you will have greater control over every aspect of your education.
Flexible learning provides students with full control and accountability over their course: in fact, research has shown that the more control students have over their own online learning experience, the better they perform. Students can choose their own modules, their own pace, and their own studying hours. Whether you want to work in the daytime or the evening, do all your coursework at the end of the course or schedule it evenly throughout your learning time, is entirely up to you.
Students will maintain control, whilst their relationships with their teachers will guide the decisions that they make. A good teacher can make a lifelong impact on students of all ages, and we ensure that teachers facilitate both one-on-one and group-based learning, so that students have the flexibility and control to choose the approach that works best for them.
The ability to choose is often underestimated but is an incredibly powerful thing. The greater the control students are offered, and the more choices they are given, the better their learning outcomes will be.
9: Career prospects
GCSEs are a vital qualification that all students in the UK should take at the age of 16. If you fail to take your GCSEs for whatever reason, or if you don't achieve the grades that you were hoping for, then you can retake them in an online learning environment to better improve your career prospects.
As a general rule, English and maths are the most important GCSEs that you will need. Many universities, apprenticeships, and even entry-level jobs will ask that you have at least a passing grade (C or above) in these two subjects.
If you have more specific career aspirations then you may need to study different GCSEs. If you wish to study medicine at degree level, for example, you will need to have GCSEs in chemistry, biology, and physics. If you wish to join the police force then you will need GCSEs in maths, English, science and sports science or another form of physical exercise.
Studying for GCSEs via online learning will significantly improve your career prospects, and help you to better achieve your career goals.
10: Improved self-confidence
Online learning environments work hard to improve self-confidence among their GCSE students. It is widely understood that a lack of self-confidence affects academic performance and that students that are bullied in traditional school or college environments will perform poorly compared to their peers.
Being around other students that are boisterous, demanding or even aggressive can have a negative impact on student learning, but that simply isn't a problem in an online learning setting because you learn at your own pace and in your own environment. Because you work at your own pace, you have access to the time you need to gain confidence in the topic and your understanding of it. It doesn't matter whether you are learning at the same rate as your peers, as long as you are seeing growth in yourself.
The end result is students that are more confident in themselves and in their own abilities, meaning they are better equipped to reach any academic, personal or career goals that they set for themselves.
Conclusion
There are so many wonderful reasons why students of all ages should consider taking their GCSE courses online. From greater flexibility and the opportunity for learning personalisation to cost-effectiveness and improved grades. By embracing online learning, students can enhance their education, improve their career prospects, and gain valuable skills that will serve them well throughout their lives.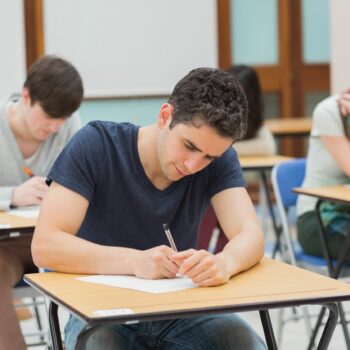 Interested in a GCSE?
We offer GCSE in Mathematics, Business and Psychology through our online campus.