The UK is currently experiencing a chronic shortage of counsellors and mental health workers. According to government sources, NHS counselling services in England are not meeting therapy access targets due to a shortfall of 2,000 workers. The negative mental health impact of the pandemic in conjunction with the nation's growing mental health crisis means that more people are seeking counselling or other forms of therapy than ever before, and there simply aren't the professionals available to meet this demand.
But what is a counsellor? A counsellor is a professional individual who provides counselling services to their clients, listening to their concerns and then establishing counselling methods and techniques that will help their clients to work through their emotional or mental health issues. There are many qualities you will need to be a successful counsellor. You should have a deep desire to help others, an interest in both understanding the mental health issues of others and in helping to overcome them, and a desire to ensure that the individuals under your care have an improved quality of life once they have worked with you.
Online counselling courses are a great way to get the skills that you need to become a qualified counsellor, whilst also maintaining your current job role and work-life balance. Here's everything you need to know about online counselling courses and pursuing a career as a counsellor:
Can You Do a Counselling Course Online?
It is possible to secure all the skills that you need to work as a fully qualified counsellor without ever setting foot in a traditional classroom setting. An online counselling course will provide you with the same skills and level of experience as an offline counselling course. When you choose to study for a Counselling Advanced Diploma Level 4 online, for example,  you will learn the advanced skills that you need to work as a counsellor, as well as learn more about counselling and its varying approaches. This course will take 12 months to complete on a full-time basis, and you will need to dedicate at least 100 hours of study time to completing the course successfully. The course has been endorsed under the Quality Licence Scheme, and the skills that you learn can then be transferred to a full diploma or degree if you wish to further grow your qualifications and experience within the sector.
There are a huge number of online counselling courses to choose from. The key is to choose a course that is regulated and recognised and will provide you with the skills you need to adequately care for the mental health of your clients. Many people don't realise that there are no set entry requirements to becoming a counsellor: because it is not a protected profession, anyone can call themselves a counsellor and take on clients on a self-employed basis. However, to become a qualified counsellor and recognised by a professional body you will need to be qualified to at least diploma level. It is more than possible to study for this diploma-level qualification online.
The good news is that anyone can be eligible to study online. Many online courses have no entry requirements and don't require any prior knowledge or experience. This is true of introductory courses or level 2 qualifications. For more advanced qualifications, such as a diploma level course, you may need to have a previous education level: a huge number of courses will require that you secure a passing grade in GCSE maths and English, or equivalent, for example.
Are Online Counselling Courses Recognised?
Provided that you select a recognised online course from a reputable provider, online counselling courses can provide just the same high standard of qualifications as in-person counselling courses. At Online Learning College, many of our counselling courses are Ofqual (The Office of Qualifications and Examinations Regulation) Regulated. Ofqual is an examination watchdog, and Ofqual regulation means that all business activities and qualifications provided by a service provider are published against regulatory principles and accreditation criteria. In short, Ofqual regulation is a mark of quality. You can have confidence in the quality of a qualification that Ofqual have regulated because regulated qualifications reliably indicate the knowledge, skills and understanding students have demonstrated whilst their assessments and exams show what a student has achieved throughout the duration of the course.
Online learning colleges provide the same high level of qualifications as other colleges and universities, but with a host of added benefits. First, online learning tends to be more affordable because the colleges involved don't have to pay costly physical overheads, such as the costs of in-person tutors and physical premises. Secondly, when you choose to study online you can set your own hours and work at your own pace. This means that you can fit your studies around your current employment and home life commitments. If you have children at school you can study during the school day, whilst if you work all day you can study during the evenings or even in the middle of the night! All of your course materials are available for you, so you are able to set your own schedule and study around your other responsibilities: this is a great option for mature students who don't want their studies to interfere with their ability to earn an income or support their family. Finally, when you choose to study online you can start immediately. You don't need to wait until the start of an academic year to begin your course, nor are you limited by specific term dates or study periods. Your own unique needs are the main priority, and your learning will start when you're ready.

What Qualifications Do You Need to Be a Counsellor?
Counsellors are highly qualified professionals who must undertake extensive training. This training can be provided by distance learning organisations, colleges, universities and private training organisations. The qualifications you will need are exactly the same whether you choose to study online or in-person. The qualifications you will need to start a course will depend on the course you choose, with an introductory course in counselling often having no academic entry requirements and a degree course requiring at least three A-level qualifications, or equivalent.
There are several different routes into counselling, and a wide range of qualifications to choose between. Whichever path you choose, you cannot practise as a counsellor that is recognised by a professional body until you have achieved a counselling qualification at foundation or diploma level, undertaken relevant professional training, and are either accredited or have joined a professional body.
If you are in the early stages of exploring counselling, then you might wish to consider taking an introduction to counselling course. Whilst an introductory course will not leave you able to practise as a counsellor, it will help you to decide if the career path is right for you and give you a strong grasp of the counselling terms you need to know and an introduction to basic counselling skills. There is a wide range of introductory counselling courses available online, and these short courses only tend to last between six and twelve weeks.
Once you are assured that you wish to pursue a career as a counsellor, you can begin your core training. It is here that you will have a little more flexibility about the type of qualification you choose. You cannot practise as a counsellor without at least a diploma-level qualification, but many counsellors choose to pursue a bachelor's degree, master's degree, or even a doctorate to hone their vocational skills. Some examples of online counselling courses that you could study to achieve your goals include:
Counselling Advanced Diploma Level 4
TQUK Level 3 Certificate in Understanding Mental Health Care
Counselling Children and Young People Level 3 Course
To become registered with the British Association of Counsellors and Psychologists (BACP) the course that you choose should include at least one year of full-time tuition (or two years of part-time tuition). As well as this period of formal study, you will also need to undertake supervised placements of at least 100 hours within a counselling setting. This will allow you to work within an organisation and practise your skills with clients, effectively honing your counselling skills in real terms, but under supervision from a more qualified counsellor.
Why Study Counselling?
There are many reasons why you might choose to study counselling but the most obvious is because you wish to become a counsellor or other mental health professional. The primary role of a counsellor is to provide guidance and support to those who need it, and many individuals choose to pursue counselling because they want a career where they can make a real and tangible difference to people's lives. Other reasons to study counselling and become a counsellor include:
The opportunity for flexible working. Counselling is a great career option if you're hoping to achieve a good work-life balance. Many counsellors work independently meaning that they are able to set their own working hours, but even if you work within the NHS, which is one of the largest employers of mental health professionals in the UK, you will have more freedom to work daytime, evening, or weekend shifts to suit your home life needs or other commitments. With the average counsellor working 34 hours a week, you will have the freedom to make those hours work for you.
Counselling is a meaningful career. This is a career path when you can see the positive impact you are having on the lives of others, and this is a rare feeling that you are unlikely to find from other career paths. When their lives become challenging, people will reach out to a counsellor, and that can make what you do feel both rewarding and meaningful.
An in-demand career path. With demand for qualified counsellors far outstripping their availability, this is a career path that offers significant job stability. In the past ten years, demand for counsellors has increased by 57.1%, meaning that as soon as you are fully qualified you shouldn't struggle to find employment. Growth within the sector is only forecast to continue over the next ten years.
You will work in a sector you find engaging and have plenty of opportunities for continued professional development. A good counsellor will never stop learning, and there is a huge number of specialities you can choose to focus on or diversify your practice into. You can work with clients of all ages, such as children, adolescents, adults, and the elderly and focus on areas such as bereavement and loss, mental health conditions such as depression and anxiety, and the emotional impact of physical conditions ranging from cancer to weight gain.
Learning Counselling Techniques Online
To become a successful counsellor, you will need to learn a wide range of skills and techniques, but almost all of these techniques can be learnt online. Some of the skills that you will need, and that you should develop both in an online and offline setting include:
Knowledge of psychology and how to apply this in a real-world setting. This is one of the primary skills that you will learn in any counselling course, both online and offline.
Core counselling skills. Again, these can be taught both online and offline and there are many techniques that you should expect to learn as part of your counselling course. These include the ability to listen actively to your clients and a non-judgmental approach to the problems that they present you with.
A good counsellor will understand how best to interpret the reactions of others. This is something that neither an online course nor an offline course can teach you exclusively: instead, spending time with people to better understand the human condition is the best way to develop and hone this skill.
Other core skills that you will need, and that are very difficult to teach, are the ability to remain calm in stressful situations, a patient and gentle disposition, sensitivity and understanding, and the ability to work under pressure without succumbing to stress.
Regardless of the type of counselling specialism you choose to pursue, you will need to be able to use a computer and the main software packages that it includes competently. If you choose to study counselling online, then you will be at an advantage when it comes to learning this skill.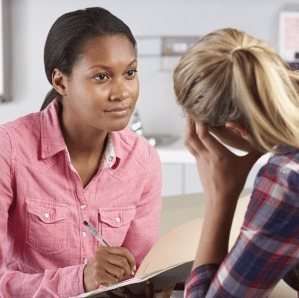 Interested in a counselling qualification?
We offer the TQUK Level 2 Certificate in Counselling Skills