If you're looking for a career with excellent job security, then you should consider a career in care work. The demand for care workers already outstrips the number of people working in the sector. Estimates predict at least 1.7 million more adults will require social care over the next 15 years, which is likely to require an increase in the social care workforce to between 2.1 million and 3.1 million by 2025.
Care workers contribute so much to our society. They are empathetic and adaptable professionals who work in circumstances that can often be challenging. Care workers provide personal care, physical and emotional support, and help fulfil social needs too.
Care work is central to human and social well-being. Care work can involve caring for children, the elderly, and those with physical and mental illnesses.
The purpose of this piece is to explore future trends in the care work arena and to investigate further opportunities within the care sector. Here's everything you need to know:

The Growing Demand for Care
We live in an increasingly ageing population. When coupled with the growing burden of chronic illness, this means that the NHS is facing a rising demand for carers within the community. A study conducted in March 2023 found that demand for adult social care in the UK hit record-high figures, but at the same time, the support available for those in need of care from local authorities declined.
The latest figures show that support requests from not only older people but also from working-aged adults increased, and currently sit at around 1.98 million people across England. Of these 1.98 million people in need of support, only 818,000 were receiving care from their local authorities during the year 2021/22. This figure represented a decrease of 55,000 people receiving care when compared to figures from 2015/16.
Whilst the number of people in need of care in the UK is bad news for the overall health of the general population, these factors do create opportunities for care workers and professionals. One report suggests that 8.2% of care roles are currently unfilled. In real terms, this amounts to a shortage of around 100,000 carers. Where there is a shortage of workers in any profession, this means that there is an increased level of job security: if you wish to move to another location in the UK, or even move overseas, you are always likely to find a job. Demand also leads to innovation, meaning that there is no better time to enter the care arena.

Technological Advancements in Care
Embracing the use of technology in social care can completely enhance care work. Organisations that provide care are benefitting from the use of technology, and this is making care work easier on the ground too. Some of the most successful uses of technology in social care right now include:
Robotics and Artificial Intelligence. The use of AI in the delivery of care is a relatively new concept and one that is only being used in a small number of care settings right now. But this concept has the potential to be huge. Physical assistance robots can provide support to patients with tasks such as lifting and carrying, should they require assistance with these tasks. Socially assistive robots can provide support with day-to-day tasks (such as reminders to take medications or rehabilitation motivation) as well as social support and companionship. Finally, cognitive assistance robots have been used successfully to perform tasks for those with cognitive impairments such as dementia and Alzheimer's disease.
Many people are understandably concerned about the use of surveillance technology in care settings. But when used correctly, this can be incredibly valuable. They can play a key role in helping to keep people safe without having to have a carer present at all times, and this can be particularly beneficial when there is a shortage of carers. The Care Quality Commission has released advice on its website regarding the use of surveillance in care services. Surveillance technology includes CCTV, security cameras and microphones.
Remote support. Finally, technology has already been utilised to provide support to patients remotely. Technology can be used for remote patient monitoring, assistive devices, or telehealth. A carer can call more patients per day than they can visit, for example. Whilst face-to-face care is important, and can never be replaced, when used in conjunction with remote support it will enable more patients to be supported by carers, without the need to recruit additional care staff. It will also make life easier for carers and could reduce the burden of their already significant workload.
Personalised and Holistic Care Approaches
The role of a care worker is not just to focus on the physical needs of their clients. To provide the best possible level of care they should also consider their emotional, social and spiritual well-being, and the best way to achieve this is to take a holistic approach.
If you're unfamiliar with the concept of holistic care then you need to know that a holistic approach means taking the time to provide support that looks at the well-being of the whole person, rather than just at their immediate physical and mental health needs.
As societal awareness of the importance of holistic health increases, the future of care work is likely to involve more holistic support. Person-centred care models can focus on individual preferences, cultural considerations, and overall well-being.
To achieve this, carers can spend more one-to-one time with their patients, getting to know them and understanding their unique needs outside of their physical conditions. Holistic care workers will provide emotional support, companionship, and promote independence. This type of support is the future of care and plays into the empathetic, supportive nature of care work.

Specialised Care Fields and Niche Opportunities
There are many different types of social care career options available. Whilst a huge number of care workers provide social care in the community, some care workers choose to specialise in particular areas of care. Some of those areas include dementia care, palliative care, mental health care, or paediatric care.
If you have already carved out a satisfying career in care, then you may find that investigating specialised care fields and niche opportunities is the next natural career step for you. Care work is often a very poorly paid profession and research conducted in October 2022 found that the average NHS care worker earns less than over 80% of the wider workforce. But specialising will not only provide enhanced career development and job satisfaction but will also enable care workers to command higher salaries.

Caregiver Support and Workforce Development
The NHS has laid out a clear workforce development framework for care coordinators. If you wish to progress in your career as a care worker, then this document is worth reading.
It states: "The framework includes competencies for the role and links to resources to support employers to recruit and embed care coordinators in services. Organisations employing care coordinators, including primary care networks, can use this framework to support recruitment and retention. It will help them develop a greater understanding of the role, its scope of practice and the training and development care coordinators need to enable them to practise safely and effectively."
To ensure that the quality of care provided by carers across the UK is of the highest possible standard, it is important that the right training, education, and resources are provided.
Because the demand for care work is so high, there are plenty of opportunities available for career advancement, continuing education, and professional development within the care sector. To continue to advance within the care profession, growing your knowledge and understanding, and ultimately climbing up the career ladder and growing your salary, it is important to take advantage of as many of these workplace development opportunities as possible.

Entrepreneurship and Social Innovation in Care
If you're looking for the best possible financial opportunities within the care work arena, then you need to consider the potential of entrepreneurship and social innovation in the care sector.
Healthcare entrepreneurship is the act of creating a product, process, or service that fills a need or introduces a new development in medicine or healthcare delivery. Creating your own care startup or community-based care initiative would be an example of healthcare entrepreneurship.
There has been a significant increase in the number of successful care startups and social enterprises in recent years. Some significant examples of this have been outlined by Dignity Health and include the following inventions:
Antibiotic envelopes: These devices are used to deliver antibiotics around an implant site, such as a cardiac implant.
Heart monitoring devices: These devices can warn patients and doctors of heart failure.
Smart apparel: Smart shirts and other smart clothing monitor sleep, heart rate, and other metrics to provide health awareness.
Telemedicine: As providers seek to lower costs of care, the convenience of telemedicine has been noted by patients.
No one knows the healthcare and care work sector better than a care worker. Having worked in what many consider to be a flawed and underappreciated industry, there would be no one better to identify care problems that need to be solved, create innovative care solutions and address unmet needs.
Embracing Diversity and Inclusion in Care
Diversity and inclusion are important in all workplaces, and this includes care work. Good equality and diversity practices make sure that the services provided to people are fair and accessible to everyone. They ensure that people are treated as equals, that people get the dignity and respect they deserve and that their differences are celebrated.
It is important that culturally competent care is provided to all care clients and this is more likely to be achieved when there is a diverse care workforce. Promoting diversity in health and social care is important, therefore.
Diversity means respecting the distinction between people and behaving well towards people's worth, trust, cultures and way of life with esteem and respect. We live in a diverse society, and the employees working within a social care setting should be as diverse as the patient base they are handling. For this reason, skills such as being able to speak different languages or understanding different cultures should be seen as a plus for potential care workers. This is because the more diverse a workforce, particularly one that is responsible for caring for a wider population, the more likely it will be that there is someone on staff among the workforce that can communicate with them, put them at ease, respect them, and care for them in a way that will meet their cultural or religious needs.
The future of care is diverse. It is important that all care workers provide culturally competent care and understand and appreciate the benefits of a diverse care workforce.
Conclusion
Care workers are in high demand, and the demand for care workers is only going to grow as the care needs of our ageing population do. This means that now is the perfect time to consider care work and the future opportunities that are available within the sector.
As the landscape of care work continues to evolve, you are encouraged to think carefully about the changes you can make now that will enhance your personal and professional growth. Researching technologies that are growing in popularity within the care sector, undergoing continued professional career development, and investigating the specialisms that you could diversify into as part of your chosen career path will all be hugely beneficial.
The National Association for Care and Support Workers (NACAS) is a great resource to research advances and opportunities in the care industry further. This is the association responsible for protecting and supporting professional social care workers, and a great place to start for further reading on how you can grow your care working career.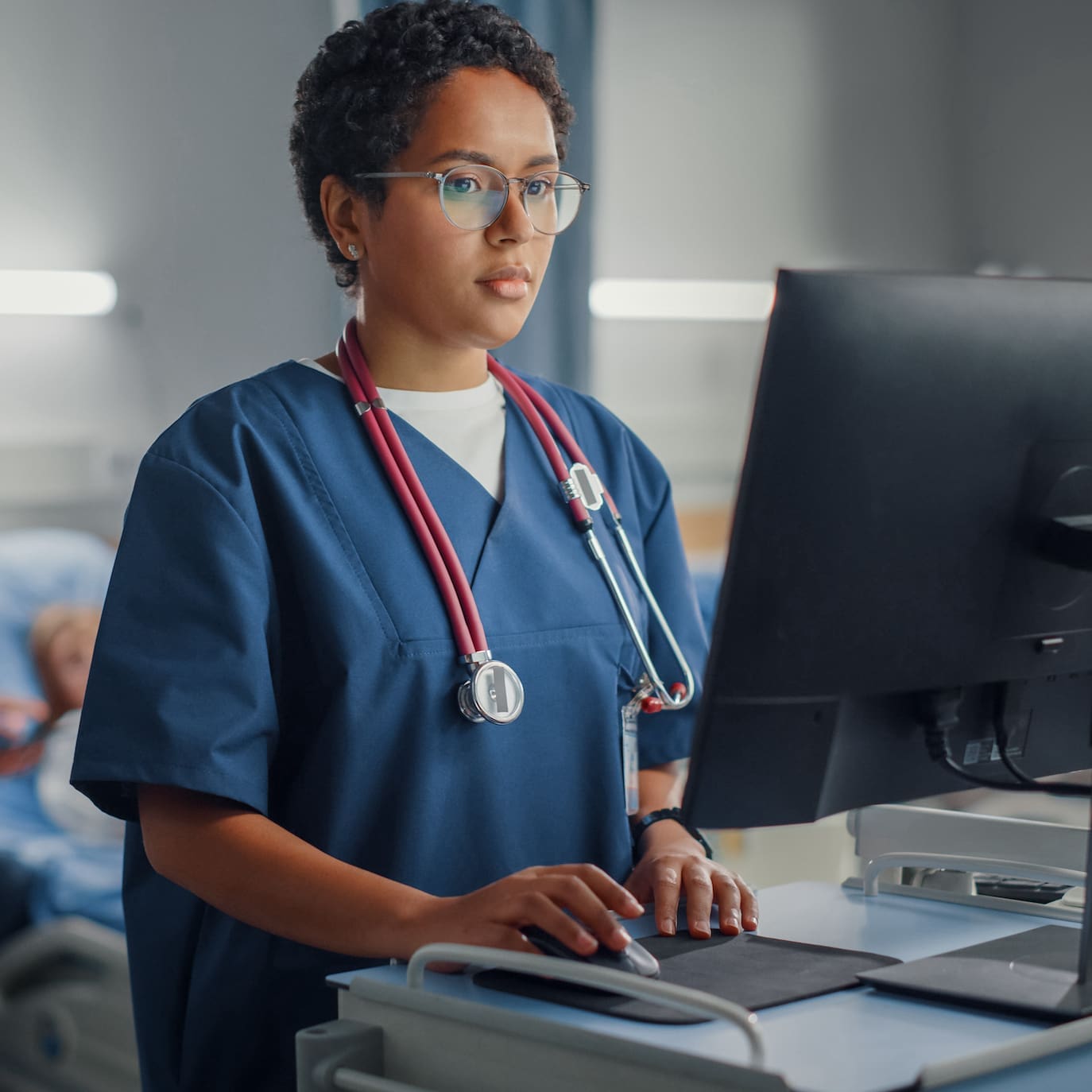 Interested in working for the NHS?
We offer the CACHE Level 2 Certificate in Working in the Health Sector through our online campus.