No matter how well-prepared the nursery or highly qualified the nursery workers are, the fact is that accidents in nurseries can and do still happen. Small children are curious and unpredictable, which means that to a certain extent we should acknowledge that occasional accidents are to be expected within a nursery setting. From what you should record in your accident book to when further action or investigation is needed, here's everything you need to know about recording accidents in a nursery:
What are accidents in a nursery?
There is a key difference between an accident and an incident within a nursery setting, but both should be recorded within your nursery accident/incident book. An accident is any injury that occurs unexpectedly and unintentionally in a way that could not be predicted. Tripping over and hurting your knee or cutting your hand whilst climbing a tree are examples of accidents. An incident is similar to an accident but occurs as a result of the action of another person: for example, you cut your knee because someone pushes you over, or cut your hand because someone pushes you out of a tree.
Accidents in nurseries are subject to the same regulations as accidents in the workplace. These are known by the acronym RIDDOR, which stands for the Reporting of Injuries, Diseases and Dangerous Occurrences Regulations. These regulations were first implemented in 2013 and allow the government's Health and Safety Executive (HSE) to monitor accident trends, identify risks, and ultimately prevent accidents from occurring. RIDDOR regulations define an accident as a 'separate, identifiable, unintended incident which causes physical injury'. For an event to be recorded as an accident, and categorised as an accident, these guidelines also state that there 'must be an identifiable external event that causes the injury'.  In the nursery environment, this means that the activity must be related to a school activity within the nursery premises or outside of them if a trip or managed activity is taking place.
Examples of accidents that should be recorded within a nursery setting are:
A trip or fall that results in an injury
An unexpected event that causes damage to the nursery or to nursery property (for example a flood or a fire)
A child biting or scratching another child or a member of staff

RIDDOR explained
The way in which RIDDOR applies to nurseries is different to the ways in which it applies to other workplaces. Here we will more clearly explain how RIDDOR applies within the nursery setting. The most important thing to note is that it is the responsibility of all schools, nurseries and any other childcare setting to provide an environment that is safe for its young people. However unfortunately no environment can ever be 100% safe, and if an accident does happen then there are some circumstances in which it is the legal requirement of the nursery to report this to the health and safety executive under the RIDDOR rules. Failing to report that a reportable RIDDOR incident has occurred is a criminal offence, and the person who fails to do so could face legal prosecution. This would not only damage your standing as a nursery worker for failing to report an incident, but could also damage the reputation of your nursery.
As a nursery employee, you are not legally required to report any incident or accident directly to the health and safety executive. However, you are required to report any accidents or incidents to your immediate supervisor. For this reason, all nursery employees must have a basic understanding of what the RIDDOR regulations are, and how they might impact the way they behave when an accident occurs. This is particularly relevant when it comes to recording accidents and incidents, ensuring the records are suitable and comprehensive.
Unlike other workplaces, as well as adhering to RIDDOR regulations, nurseries must also adhere to the Early Years Foundation Stage (EYFS) requirements for reporting incidents. As an Early Years provider, you should pay particular attention to sections 3.50 and 3.51 of this framework. These sections of this document state what you must do when an accident occurs, the types of written records you should keep, and what your first aid response should be. You are also required to inform parents and guardians of any accident or incident as soon as possible after it occurs, and (as outlined more clearly below) you have a legal requirement to inform OFSTED of any serious accident or incident that occurs. You have 14 days to report the incident, and a delay could be considered a criminal offence.
Accident books
Every nursery setting should have an accident book. Written recordings of all incidents and accidents that occur in the nursery must be maintained, and this is the primary role of the accident book. As well as detailing an accident or incident in your accident book, it's important to ensure that any event, however minor, is recorded by completion of an "Accident/ Incident Report". The following information should be recorded on the accident form that accompanies the report within the accident book:
Whether you are reporting an accident or an incident
The full name and date of birth of the child involved
The date and time of the accident or incident
The full name and signature of the staff member who observed, dealt with, and is recording the accident or incident
A description of the accident or incident, including how or why it occurred
A description of the injury that occurred as the result of the accident or incident
A description of any care given to treat the injury resulting from the accident or incident
The name of the individual who administered any care provided (this must be a Paediatric First Aid qualified member of staff
A body map illustration clearly demonstrating the position and location of the injury
The signature of any staff members who witnessed the injury
A countersignature of another qualified childcare practitioner
The signature of the parent or carer who is informed of the incident or accident

Who should record accidents in nurseries?
All early years staff should be trained to report any accidents or "near misses" as soon as they happen or are discovered, no matter how minor they may be perceived to be. We have already established that early years employers should keep records of these reports, including details of any investigations and accident analyses that they undertake as a result. But who should record accidents in nurseries? Because all nursery staff should be trained to do so, the answer is that accidents and incidents in nurseries should be recorded by either the staff member that observes the accident or incident or the one that is informed that an accident or incident has occurred by the child involved.
The only exception to this rule is if a more serious accident or major incident occurs. In this case, it may be necessary for urgent remedial action to be taken, so in these circumstances, the incident should be escalated to the senior management team of the nursery or to the designated lead for health and safety within the nursery environment.
What should be recorded?
Every nursery in the UK is required to keep a full written record of any accident, incident or injury that happens to a child whilst they are in the nursery setting, or outside of the nursery setting but in the care of the nursery staff. As well as a brief description of the accident or injury, the accident book should also detail any first aid treatment that is administered, and an accident or incident report should be completed.
All accidents within nurseries should be recorded within the nursery accident and incident book, but not all accidents will need to be reported to Ofsted. Ofsted considers the following incidents to be serious injuries, accidents and illnesses that they should be informed of:
Any incident that requires a child or member of staff to be resuscitated
Any incident that requires a child or member of staff to be hospitalised for more than 24 hours
Any broken bone or fracture incurred in the nursery setting
Any dislocation of a major joint. A major joint is defined as a knee, shoulder, hip or elbow
Any incident that results in a loss of consciousness
Any incident that results in a loss of vision in a child, even if this is only temporary, or any other significant eye injury
Any incident that is the result of an accident with either electricity or chemical exposure
Any incident of breathing difficulties in the nursery setting, including asphyxia
Any incident that leads to an incident of either hypothermia or heat-induced illness
Accidents and incidents that should be recorded but do not need to be reported to Ofsted include:
Minor animal and insect bites, including but not limited to, bee stings provided that they don't cause allergic reactions
Simple sprains, strains and bruises, provided the cause is self-explanatory, such as a child tripping over their own untied shoelaces
Minor cuts, grazes, or small burns and scalds
The dislocation of any minor joints. A minor joint is defined as a toe or finger
Wound infections
Investigating
After any accident or incident has occurred in your nursery setting, it's important to carry out a thorough investigation. According to the HSE, an investigation should aim to 'gather and establish the facts' and 'identify immediate and underlying causes and lessons to be learned'. With most minor nursery accidents the HSE will not choose to investigate, however it is the responsibility of the nursery itself to conduct an internal investigation to ascertain what the cause of the accident was, who was involved in the accident, why and how the accident occurred, and whether the accident could have been prevented. If this investigation shows that the accident could have been prevented (for example if a child slips on a wet bathroom floor because the non-slip bathroom rug was removed, when it shouldn't have been) then preventing this from happening again should be the primary concern of the nursery.
Because the HSE is a regulatory body, they do have the right to perform inspections and investigate any accidents and incidents themselves. They may also seek to conduct a formal interview with the nursery owners and any staff members involved in the accident or incident. However, this rarely happens in nursery settings, unless a major incident has occurred. If a major incident does trigger an investigation and the HSE determines that a 'material breach has taken place' then they may choose to trigger the Fees for Intervention Scheme, charging organisations for breaching regulations as well as any associated charges. However, this can only happen if there is direct proof of a material breach.
Further action
The main aim of the RIDDOR measure, and recording nursery accidents in a dedicated accident book, is to observe any patterns within accidents and incidents: this can then be used to prevent future accidents from occurring. Each accident or incident should be investigated, and once this investigation has taken place, you may find that practical or procedural changes can be made to help prevent the same accident or incident from happening again.
Examples of recording accidents
Now that we have outlined how to record accidents in a nursery, why it is important that these reports are completed, and what these accident reports should contain, you may still be wondering what kind of accidents you may need to record under the RIDDOR guidelines within a nursery setting. Here are some common examples of recordable accidents and incidents:
Bone Fractures. These are not reportable if they occur as a result of a slip or accident. However, if the slip occurs due to an environmental cause, such as a cracked paving stone, then this should be reported
Non-consensual violence. If an accident or injury occurs because one child injures another then this should be recorded. This is because acts of non-consensual violence are specifically mentioned within RIDDOR
Playground Injuries. These should only be recorded and reported to RIDDOR if they are caused by inadequate or damaged playground equipment. If there is no obvious external cause, and the child has merely slipped and fallen, then the incident does not need to be reported to RIDDOR
Sports injuries. Sports injuries are incredibly common in school and nursery environments and the vast majority of sports injuries that a nursery sees each year will hopefully not be RIDDOR reportable. However, if the school does not manage risk appropriately and this is why the injury occurs then this would be reportable to RIDDOR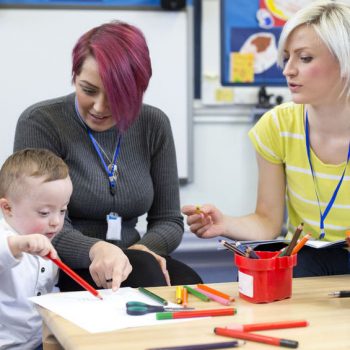 Interested in a Childcare course?
We offer the CACHE Level 4 Certificate for the Early Years Advanced Practitioner through our online campus.