If you're interested in working in a school and helping to educate and shape future generations then you may enjoy pursuing a career as a Higher Level Teaching Assistant (HLTA). HLTAs are teaching assistants who perform all of the same tasks as a regular teaching assistant, but with an increased level of responsibility and therefore a corresponding increase in salary too. The Higher Level Teaching Assistant (HLTA) role was introduced in 2003 as part of a government-led bid to raise standards in the classroom and provide additional support to teachers so that they can better manage their workload.
A HLTA is much more involved in supporting teachers and organising lessons for schoolchildren than a regular teaching assistant. Teachers and HLTAs work closely together, and a HLTA can help to shoulder much of the burden of the teacher's workload, as well as being more actively involved in what the structure of the class's lessons will look like. Many teaching assistants thrive with this additional responsibility and the additional freedom that HLTA status affords them.
Wondering if a career as a HLTA is right for you? Are you a teaching assistant hoping to grow your career in a new direction and take on increasing responsibilities within your field? Here's everything you need to know about becoming a HLTA and whether the course and the career are right for you:
Why Become a HLTA?
There are many reasons why you might wish to become a HLTA. Training to become a HLTA is a great way for existing teaching assistants to increase their responsibility and improve their salary at the same time. The role you will fulfil as a HLTA will be slightly greater, and more in-depth than that of a regular teaching assistant, but you will not have the responsibility of or require the intensive degree-level training of a teacher.
Outside of these additional benefits, the reasons you might choose to pursue a career as a HLTA are identical to the reasons you might choose to pursue a career as a conventional teaching assistant. These include:
Because every day in the classroom is different. Being a teaching assistant is a unique and varied role, meaning that every day will feel fresh and exciting.
You will develop transferable skills that will be considered valuable in a variety of fields. This means that if you wish to pursue a different career path at a later stage, your time as a HLTA will still prove valuable.
You get to help your students to succeed, follow their own academic and career dreams, and to learn and grow. This is incredibly rewarding and is one of the main draws of working in a classroom for many.
There are plenty of opportunities for career progression. It is not uncommon for HLTAs to go back to university and use the experience they have already gained to study to become a teacher.
You have a flexible work schedule. Teaching assistants tend to work similar hours to their pupils (and their working hours are not as long as teachers). This means that you will have evenings, weekends and school holidays away from work to pursue other interests or to spend time with your family.
What is HLTA Status?
In order to become a HLTA, you should either already be working as a Teaching Assistant, or take lower-level teaching assistant qualifications so that you can pursue the higher-level qualification. You can achieve HLTA status via either attending college or a distance learning course. The HLTA qualification is a level four qualification aimed specifically at teaching assistants who already have some experience working within a school or similar environment. If you can achieve HLTA status then you will be able to clearly demonstrate to current or future employers that you are an effective, skilful and knowledgeable higher-level teaching assistant. You will stand head and shoulders above regular teaching assistants when applying for jobs or during the interview process and will be fully equipped to assume a challenging role within a school environment.
To achieve HLTA status you should complete a level four course either via distance learning or an in-house college, and you will then need to be assessed by an assessor approved by your learning provider within your school. The assessor will visit you within your school setting and ask that you:
Both explain and demonstrate what your role in the school is.
Give more details of your written assessments, explaining how you are able to relate these assessments to your role in the classroom, and providing evidence of how you came to the conclusions within your assessments where necessary.
Have your evidence and your abilities as a HLTA verified by both your headteacher and by the teacher or teachers that you have been supporting.
Demonstrate clearly that you meet HLTA professional standards. HLTA professional standards are a list of guidelines that clearly set out what is expected of teaching assistants working towards HLTA status. There are 33 standards, grouped under three main headings, and these will be provided by your chosen college setting.
Are HLTA Courses Recognised?
HLTA Courses are high-level courses and are recognised by the Teaching Agency. If you are interested in pursuing a career as a HLTA, then it is important that you ensure that the course you choose has been recognised by this organisation and meets their professional standards, or it may not be considered a valid and accredited course. Legitimate HLTA courses, such as the TQUK Level 4 Certificate for Higher Level Teaching Assistants offered by the Online Learning College, are specifically designed to meet the professional standards required for HLTA status and to ensure that all students who complete the course achieve this status.
There are some criteria that you should fulfil in order to achieve recognised HLTA status, and secure a place on a recognised HLTA course. First, you should already be employed as a teaching assistant within a school environment. If you are not already a teaching assistant but wish to pursue a career as a HLTA then you should seek a qualification and a job role as a lower-level teaching assistant first. Secondly, you can rarely pursue the HLTA qualification independently. You will need to approach the headteacher of your school to secure their support, as you may need some time out of your workplace to pursue independent study. You will need to have a GCSE level qualification in both maths and English. Finally, you should think about how you will fund your course: sometimes you will need to fund your course independently, but in some cases, your school may provide some form of funding to enable you to complete a HLTA course. Advancing your qualifications and experience within the sector will benefit your school just as much as it will benefit you.
Can You Be a HLTA Without a Qualification?
You do not need to secure a degree level qualification in order to work as a HLTA, in that you can support a teacher within a classroom at a higher level whilst you are working towards your HLTA qualification or even without a HLTA qualification, but you do need to have a HLTA qualification to be a recognised and registered HLTA. HLTA status is only awarded to teaching assistants who meet the national standards for the profession.
If you are thinking of taking the jump from lower-level teaching assistant to higher-level teaching assistant then you need to know that your job role will involve completing the same tasks that you have always done as a regular teaching assistant, but that you will also be required to take on some additional responsibilities. This is the biggest difference between the two job roles, and what you will gain by taking a HLTA qualification. Roles that can usually only be performed by a teaching assistant with higher level accreditation include teaching classes independently, covering classes during both planned and unplanned absences, and giving teachers time out of the classroom so that they can plan their lessons or complete their market.
An increased level of responsibility isn't the only benefit that accompanies achieving HLTA status. With this increase in responsibility generally comes an increase in salary, and HLTAs can expect to be paid slightly more than regular teaching assistants. The difference in salary between a HLTA and a regular teaching assistant will depend on both your employer and your local authority. For this reason, there is quite a broad range of salaries available for HLTAs across the country which ranges from around £17,000 to £24,000. If you work with children with special educational needs or have other niche specialisms in the field of education, your salary could be higher.

Who Needs to Do One?
Any existing teaching assistant who is looking to take on additional responsibilities within the classroom or grow their salary should consider taking a HLTA course. Many teaching assistants were once offered these courses through their school and local authority, but funding cuts mean that in the vast majority of cases, there is no financial support available from the government to support staff training in schools. Heads and local authorities will no longer be given any specific budget to pay for employees to become high-level assistants or to attend courses, which means they cannot make it a requirement that their staff take on the additional training these qualifications require.
However just because HLTA courses are rarely funded by schools doesn't make them any less valuable. If you wish to apply for a HLTA position within your existing school, move to a new school in order to secure a promotion, take on extra responsibilities and plan lessons for the children in your care with confidence, and command a greater salary, then these are all good reasons for teaching assistants to consider taking a HLTA qualification.
How Long Do HLTA Courses Last?
A HLTA qualification is a level four qualification, and once you have secured this it will last forever: you will not need to take a refresher course or retake the qualification after a certain period of time. Your HLTA certification is something that can remain on your CV permanently once you have achieved it.
How Long Do HLTA Courses Take?
When you opt to enrol in a distance learning programme, your course will give you the flexibility to study as little or as often as suits your own schedule. You can also study at a time and place that suits you: something that appeals to many individuals pursuing a HLTA qualification who wish to fit their studies around their existing teaching assistant positions. One of the main benefits of distance learning is that all materials are self-led so that each student can complete the course at their own pace, but there are 'normal' parameters in which you can expect to complete a HLTA course.
The TQUK Level 4 Certificate for Higher Level Teaching Assistants takes 360 hours of study time to complete, and although some students will complete the course faster, you can expect to be enrolled on the course for a period of twelve months. There are 6 written assignments in the course and 8 practical assessments. You are able to complete all of the written assignments remotely, and complete these online, whilst you may need to work within or take inspiration from your existing school setting to complete the practical assessments.
Is the HLTA Course Difficult?
Difficult is an objective term, and whilst some students find the HLTA course to be challenging, the vast majority do not. As you should already be working as a teaching assistant if you are taking a HLTA qualification, you will already have all of the hands-on experience you need to successfully complete the course.
One of the main requirements of being a HLTA, and that differentiates a higher-level teaching assistant from a lower-level teaching assistant, is that they are able to plan, prepare and deliver a lesson without the teacher present. The nature of the classroom environment means that, in real terms, this is something that many teaching assistants are already doing, and capable of doing, so it is unlikely that you will find this difficult. Perhaps the most difficult aspect of completing a HLTA course is that you will need a lot of support from your school to gather and document the evidence you need to complete the course. If you have a supportive head teacher and work within a supportive school environment then this will be easy, but if you do not have supportive colleagues and peers then you may find this element of the course to be a little more challenging.
How Much Do HLTA Courses Cost?
Distance learning courses tend to be a more affordable option than attending an in-person college or night school. This does not reflect the quality of the teaching or of the qualifications offered (the exact same HLTA qualification can be obtained both via distance learning or via a physical college). Instead, this reflects that physical settings tend to have higher overhead costs and other expenses than distance learning facilities, and these costs are often passed on to the students. For this reason, it is hard to answer the question 'how much do HLTA courses cost?' because costs can be incredibly varied.
One example of the costs of a HLTA course is that to complete the TQUK Level 4 Certificate for Higher Level Teaching Assistants with the Online Learning College you will need to pay an enrolment fee of £55. The complete cost of the year-long TQUK Level 4 Certificate for Higher Level Teaching Assistants course is £495, but you can either pay this in one lump sum or in instalments (opting between either five monthly payments or ten monthly payments, depending on what suits your unique financial needs). There is no formal exam with this particular course, and the certification fee is included in the course fees. This means that you will not need to consider any additional expenses when you choose to pursue a HLTA course.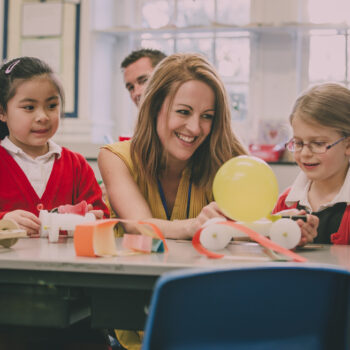 Interested in a HLTA course?
We offer the TQUK Level 4 Certificate for Higher Level Teaching Assistants through our online campus.