Everyone in the UK studies for GCSEs between the ages of fourteen and sixteen, and these mandatory qualifications are the first formal qualifications that students in the UK will gain, and can include on their CV to demonstrate their skills in a particular subject. But what are GCSEs? Is there an age limit on who can take GCSEs and what are the benefits of studying for GCSEs from the comfort of your own home? Here's everything you need to know about taking GCSEs as an adult:
What are GCSEs?
GCSE is an acronym for the General Certificate of Secondary Education. This is an academic qualification that you study for in a particular subject. GCSEs are taken by all students in England, Wales, and Northern Ireland at or before the age of 16. State schools in Scotland use the Scottish Qualifications Certificate instead, but some Scottish private schools will also use GCSEs.
GCSEs are taught as part of the National Curriculum, and they are therefore compulsory. School-aged students study for their GCSEs between the ages of fourteen and sixteen, completing coursework throughout this period before sitting their final exams at the end of the two-year period. GCSEs are vital because they set the groundwork for all further education: you cannot go on to study A-levels, further education, and many vocational courses without them. Achieving good grades in your GCSEs will also impact your future job prospects.
Some adult learners may never have studied for GCSEs before, instead studying for O Levels at school. O Levels were also subject-based qualifications conferred as part of the General Certificate of Education and they were introduced in 1951, but the GCSE system was introduced to replace the O Level system in 1987. GCSEs are considered to be O Level equivalents, so you can use these to access further education. However, if you did not achieve the O Level grades you were hoping for, and have decided later in life to return to education, you should retake these subjects in GCSE format, as it is no longer possible to take O Level qualifications.
It's important to achieve good grades in your GCSEs. This is because GCSEs are recognised as being the first major academic qualification that you can achieve, and you need success in this initial milestone in order to continue your academic journey. Pre-16 GCSE students generally take their GCSEs at school, but adult GCSE learners will study for their GCSEs either in a college setting or a distance learning environment. However and wherever you choose to take your GCSEs, you should choose a setting that makes you feel comfortable in order to prepare yourself for success.
Is There an Age Limit on Who Can Take GCSEs?
GCSEs are usually taken in years 10 and 11 of secondary school.  For this reason, they are sometimes referred to as pre-16 qualifications. The vast majority of students will spend the first year and a half of their GCSE study period learning the course material and completing coursework (although coursework is not required for all GCSE subjects) before spending the last six months of the course completing examinations and assessments (this is usually undertaken in the spring and summer terms of year 11 for school-aged) students.
Whilst all students in the UK must take GCSEs before they reach the age of 16, and guidelines state that students now cannot leave school until they have achieved a passing grade in both Maths and English, there is no upper or lower age limit on students who can take GCSEs. Five-year-old Desiree Ali passed her GCSE Maths examinations, achieving a C grade, making her the youngest person to have ever achieved a GCSE qualification in the UK. At the other end of the scale in 2022, 92-year-old Derek Skipper became the UK's oldest GCSE student, taking the qualification in Maths and achieving a level 5 (the highest possible grade in the subject). Mr Skipper took a Maths GCSE because he wanted to learn more about Maths, but found that he also learnt valuable digital skills, including how to use Zoom, because he opted for digital learning for his course which was taught entirely online. Anyone can choose to retake their GCSEs (or take them for the first time) regardless of their age or life experience.
It is very uncommon for younger students to sit GCSE examinations, but it is not unusual for adult students to seek the qualifications. Not all young people know what they want to do with their life or are focused on their studies. Perhaps you didn't achieve the grades you needed for your chosen career path, or you wish to change your career and need qualifications in different subjects. Or maybe you wish to attend higher education: the vast majority of universities require that you have a passing grade in both Maths and English, and this is a common reason for adults to return to their GCSEs. However, the reasons students choose to take GCSEs as an adult are varied and near-endless.
GCSE Entry Requirements
There are no entry requirements if you wish to retake a GCSE qualification or study a new subject for the very first time. It doesn't matter if you've just left school and need to improve your grades to seek your chosen career path or if you're a retiree looking for a hobby. It also doesn't matter if you have any other existing qualifications: no other qualifications are required to begin to study for GCSEs, which makes this a great place to start if you're looking to enhance your career prospects but you don't have a raft of existing qualifications.
If you have already taken a GCSE in a particular subject, but aren't happy with the grade that you obtained then you can retake your GCSE with the aim of improving your grade. Alternatively, if you wish to study a brand new subject from scratch then you can do this without any existing knowledge or qualifications in the subject.
Studying from Home
Adult learning provides considerably more flexibility than studying for your GCSEs in your teens. This is because school-aged children are expected to study their national curriculum qualifications in a school-based environment. However, adults have the freedom to choose where they study, and can choose a learning environment that works best for them and their specific needs. The two main options available to you as an adult learner studying GCSEs are to return to college or to study at an online learning college via distance learning.
If you want to learn in a face-to-face environment with the structure of a traditional classroom and stick to a regulated timetable (studying with the same people and at the same time every week) then studying GCSEs in college may be the right choice for you. However, many adult learners prefer studying from home in a more flexible and informal distance learning environment. Distance learning enables you to work at your own pace and around your existing schedule, which is incredibly appealing to adult learners with busy lives. If you want to learn around your family or caring responsibilities you can log into your lessons at night, whilst if you want to learn around your work commitments you can take lessons before work, after work, or during your lunch break. You really can arrange your schedule around your own unique needs.
Another benefit of studying from home is that it is more affordable. Course enrollment fees tend to be cheaper for distance learning colleges compared to physical colleges, because they have fewer overhead costs. Your own costs will also be reduced, as you won't need to pay for petrol or other transport costs to travel to and from college. What's more, because you are not wasting valuable time and resources travelling to and from a physical college setting, distance learning will enable you to use your time more efficiently. For all these reasons and more, distance learning is incredibly popular. There are around 300,000 students studying through distance learning at UK universities, and many more are studying for GCSEs, A-Levels and other qualifications.
Getting GCSEs to Change Career
One of the main reasons that adults choose to take or resit GCSEs is to open up a wider range of career paths or career opportunities. If you don't have at least five GCSEs with a passing grade or higher then this could severely limit the kinds of jobs that will be accessible to you. Many employers won't even offer an interview to applicants that don't have a passing grade in GCSE Maths and GCSE English. Even if you already have a range of GCSEs under your belt, taking new subjects and broadening your specialism will demonstrate to employers that you are committed to self-improvement and to furthering your educational development. This will help to make your CV look fuller and will in turn increase your employability and improve your potential earnings.
Qualifications are important because they show an employer what skills and knowledge you have in certain areas. They are something physical that you can include on your CV that will clearly demonstrate that you have the skills needed to fulfil your chosen job role. Whatever stage you're at in your career you can always benefit from gaining extra skills, knowledge and experience, particularly when competition for jobs is at an all-time high. And GCSEs are a great option if you're looking for CV-enhancing qualifications.
If you don't need to take GCSEs to change your career path, studying for GCSEs is also a great way to learn about a new subject, keep your brain active, and expose yourself to new experiences. You are never too old to try new things or to learn new skills, and taking a GCSE course is the ideal way to do this.
Choosing Your Subjects
When it comes to choosing the right GCSE subjects for you, there is a rich wealth of possibilities. There are approximately 60 GCSE subjects for you to choose from, although not all colleges or distance learning providers will offer all of these subjects. You may wish to retake GCSE examinations that you have already taken before, in order to improve your grade, or you may wish to start a brand-new subject from scratch.
When choosing your subjects, it's important to note that Maths, English and Science are the core subjects everyone must take at GCSE in England and Wales. English Language is compulsory in all schools and whilst schools have more flexibility about whether they make English literature a compulsory subject, it remains one in the vast majority of English schools. If you live in Wales, then Welsh is also considered a compulsory GCSE subject for school-aged children. This information is important because, if you did not achieve at least passing grades in your Maths and English GCSEs then you may wish to resit these. This is because most industries have minimum educational requirements, and these requirements are likely to include at least a passing grade in English and Maths. Written and verbal communication and numeracy skills are considered to be core competencies and you may find it difficult to secure employment without these. Away from these core subjects, many employers will ask that you have at least five GCSEs at a good pass grade or better. So if you want to find a job, change your career, or are looking for a promotion in your current company then you will need to have these GCSEs to help you achieve your goals.
Outside of the core subjects of Maths and English, other subjects that are considered to be both popular and valuable to adults studying GCSEs include the science subjects of Biology, Chemistry and Physics: You will need to have qualifications in these areas if you wish to pursue a career within the medical arena. The NHS is the biggest employer in Europe and the world's largest employer of highly skilled professionals, with a whopping 1.3 million employees, meaning that having a strong science educational background will put you in a better position to secure a position within this industry. Taking science GCSEs will also put you in a better position if you wish to pursue science A-levels which are required by many universities, particularly if you wish to study for a Bachelor of Science (BSc) degree.
If you are hoping to study GCSEs to advance your career prospects, then a GCSE in Business Studies is a very popular choice. This course will enable you to develop an understanding of business concepts, terminology and objectives as well as the impacts that businesses have on society. Having a business GCSE will put you at an advantage if you are hoping to pursue a career in a business arena, such as in a corporate or office-based environment.
When choosing GCSEs you should focus on both subjects that will help you to meet your ultimate career goals and subjects that you enjoy. Research has shown that you're more likely to achieve good grades and complete your course if you are taking subjects that you enjoy and find interesting: everything is easier if you're doing something that you love!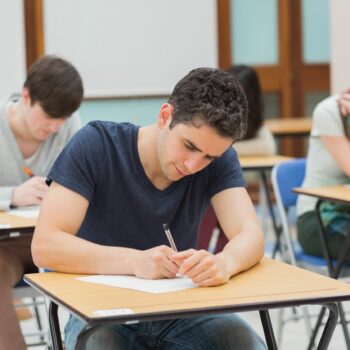 Interested in a GCSE?
We offer GCSE in Mathematics, Business and Psychology through our online campus.