There are over 2,000 qualified forensic psychologists in the UK, and it is a field that is considered highly competitive and desirable. It is the ideal career for resilient individuals, who look for a challenge in their day-to-day lives, and those who want to help and understand criminal offenders. Whilst the challenges of forensic psychology might not be for everyone, it is a rewarding career and one with a high level of job satisfaction: forensic psychologists rate their career happiness 3.4 out of 5 stars which puts them in the top 36% of professional careers.
From the qualifications you'll need, to forensic psychologist salaries, here's everything you need to know about pursuing your ambition to become a forensic psychologist.
What is a Forensic Psychologist?
Forensic psychologists work within the criminal justice system to apply psychology to criminal investigations. A forensic psychologist will help the relevant authorities to better understand the psychological problems that are associated with an individual's criminal activities. The information gathered can not only be used in criminal investigations, but it can also help to reduce the risk of reoffending.
When you are fully qualified, your work as a forensic psychologist could include:
Undertaking crime analysis
Providing expert evidence and opinion in court
Advising parole boards and mental health tribunals
Creating prisoner profiles by utilising statistical analysis
Designing and then implementing treatment programmes
Undertaking research that can be used to support psychological best practice for offenders
The largest employer of forensic psychologists in the UK is HM Prison Service so it is likely that, once qualified, you may be exposed to a prison environment at some point. Other locations where forensic psychologists work in the UK include specialist NHS mental health settings (these are also known as 'secure hospitals'), within social services, working with the police or probation services as part of an offender management programme, or within an academic department, if you choose to teach or conduct research within the field.
When looking for forensic psychologist jobs, you may be interested in the working hours expected of the role. Most forensic psychologists work full-time hours (this can be between 37 and 40 hours a week) and the working day is generally considered to be between 8.30 am and 5.30 pm. However, if you work in a mental setting or rehabilitation centre, you may find that some evening and weekend hours are expected. This will depend largely on the working environment that you choose to operate in. Job shares and part-time opportunities are available in some roles.

Personal Qualities of a Forensic Psychologist
Wondering if you've got what it takes to be a successful forensic psychologist? There are many distinct character traits and personal qualities that you will need to achieve in this field. Working with prisoners and offenders, and treating them with compassion, is not a position everyone would be capable of. You will also need to interact with, and work well with, other professionals involved in the judicial and penal systems as well as with victims of crime.
The following personal qualities are often associated with successful forensic psychologists:
A keen knowledge of, and interest in, psychology
High-level communication and listening skills
The ability to build relationships and foster trust within the criminal offender community
Excellent organisation skills and a systematic approach to work
High levels of self-motivation and commitment to succeed
The ability to lead, whilst also working well as part of a team
Decisive and able to solve problems quickly and logically
High-level research and planning skills
Ability to analyse and understand statistics
A non-judgemental and non-discriminatory approach to people in different situations from your own
Heightened sense of self-awareness and awareness of your personal safety
The ability to cope with an element of personal risk on a day-to-day basis
What a Forensic Psychologist Does
The role of a forensic psychologist is fascinating, and the very nature of the work means that no two days are exactly the same. You may choose to work in a generalised role, undertaking all aspects of your training: this is common if you work for a large body such as HMPS. Alternatively, you may choose to specialise.
There are several sub-specialities within the field of forensic psychology, and once qualified, many experts in the field choose to focus their research and career ambitions on just one of these aspects. These include:
Criminal Forensic Psychology. These are forensic psychologists who specialise in liaising with the courts. This role often involves using your skill to assess whether an offender is fit to stand trial. Risk assessments into the danger an offender poses to society if they are allowed to re-enter it are also undertaken by criminal forensic psychologists
Investigative Forensic Psychology. Working closely with the police and other law enforcement agencies, investigative forensic psychologists will assist with the psychological profiling of the perpetrators of crime. Identifying character traits and descriptors can make it easier to identify these individuals. Investigative forensic psychologists may also provide support to victims of crimes and witnesses to crime
Correctional Forensic Psychology. These forensic psychologists work almost exclusively within a prison environment, supporting both inmates and the correctional officers that work with them. Crisis intervention, screenings and consultations are all regular roles fulfilled by forensic psychologists in this setting, whilst the mental competency of prisoners and their suitability for rehabilitation and release would also be assessed
Juvenile Forensic Psychology. The clue is in the name here, with juvenile forensic psychologists focusing on juvenile court cases and secure hospitals. Mental health assessments, support and assessment of cognitive ability amongst minors would all form a significant role in this sub-speciality
Civil Forensic Psychology. Much like a criminal forensic psychologist, a civil forensic psychologist will spend much of their time in court. However, rather than deal with criminal cases, the focus of your day-to-day work life would be on civil issues. These include divorce and child custody cases, as well as assessing the psychological damage sustained in personal injury, sexual harassment, and employment compensation claims
Because forensic psychologists often work within prison or secure hospital settings, whichever type of position you choose, your working environment is likely to be both physically and emotionally demanding. Due to frequent court visits, and visits to other professionals working within the criminal justice system, you may also find that you travel frequently within your role. If this sounds appealing, then this should only help cement the nature of the role of forensic psychologist as one where no two days are exactly the same.

How Much Does a Forensic Psychologist Earn?
Wondering what a forensic psychologist salary looks like? As with most careers, this will vary wildly depending on how qualified you are, and how much experience you have of working within your field. Given that HM Prison Service is the largest employer of forensic psychologists in the UK, we will use the salary data taken from the HM Prison and Probation Service (HMPPS) and Health Careers website as a loose guide when answering this question. It is worth noting that these figures may be higher (or lower) if you work for other bodies, or work outside of the regular working day.
As a trainee forensic psychologist within the HM Prison Service, you can expect your starting salary to be between £27,021 and £34,461. Once you are fully qualified, this figure will rise to between £37,218 and £46,846, and if you reach the level of a senior registered psychologist then your annual salary will increase again to between £41,586 and £53,952. You will need higher levels of experience within the sector to reach this highest bracket.
As well as a competitive annual take-home salary, HM Prison Service also offers additional benefits that are worth considering. These include a robust pension scheme, access to childcare vouchers, and the availability of travel loans and cycle to work schemes.
Qualifications Needed to Become a Forensic Psychologist
Before you can begin to apply for forensic psychologist jobs, you need to have the appropriate qualifications. Because forensic psychology is such an intricate and focused role, you will need more qualifications to work as a forensic psychologist than you might need to work in other fields. Even many entry level and trainee positions in the field will require that applicants are educated to PhD level, meaning that it is likely you will have already studied for seven or eight years before you gain your first forensic psychologist job. The average forensic psychologist will study for seven years before they gain their first forensic psychologist job in the field.
It's important to know that in order to practise as a forensic psychologist legally in the UK, you must be registered with the Health and Care Professions Council (HCPC) as a chartered forensic psychologist. You will need to have obtained the following qualifications in order to be registered with this body:
A British Psychological Society (BPS) accredited psychology degree. If you don't have a psychology degree (or your first degree is not accredited or recognised by the BPS) then you can still find a route to meeting this requirement by taking a postgraduate conversion course that has been accredited by the body
A British Psychological Society (BPS) accredited master's degree. This should be a degree specifically in forensic psychology. It does not matter what route you take to achieve this qualification; you can do this either on a full-time or part-time basis, and could also complete this via a distance learning scheme
Stage 2 of the BPS Qualification in Forensic Psychology (QFP Stage 2). This qualification is often achieved whilst working in a trainee forensic psychologist role. Alternatively, you may need to seek an internship or mentorship programme in order to fulfil the criteria of this. The main requirement of the BPS Qualification in Forensic Psychology is that you undertake supervised practice in your field for at least two years, and that you are able to provide evidence that you have utilised your psychological training in practice in a forensic setting
The requirements to have a British Psychological Society (BPS) accredited master's degree and Stage 2 of the BPS Qualification in Forensic Psychology (QFP Stage 2) could be overwritten by undertaking a Doctorate programme in forensic psychology instead. This course is only offered by a small number of universities in the UK: you can find a full list of these on the BPS website, here
If you don't have a relevant degree then entry into the field of forensic psychology may be possible at an assistant level. You may also be able to secure a role as an interventions facilitator working for HM Prison Service without a degree level of education. However, if you wish to further your career and achieve the title of Forensic Psychologist, you will only be able to do this if you are registered with the HCPC, something that can only be achieved by fulfilling the criteria outlined above.
On-the-Job Training
It is often said that learning is never complete, and this certainly couldn't be truer than it is in the field of forensic psychology. As outlined above, even when your formal degree (and advanced degree) level education is complete, you must still undertake supervised practice (often referred to as on-the-job training) in your field before you can qualify as a registered forensic psychologist.
Once you have completed your trainee level qualifications, continuing professional development will continue to be a frequent occurrence in this field, particularly if you wish to enable continued job progression. This training is generally undertaken with supervision by a more senior forensic psychologist and qualifications are issued remotely.
Professional Bodies
The British Psychological Society boasts a Division for Forensic Psychology, and this is the most important professional body that any forensic psychologist based in the UK can join. This is the largest network of forensic psychologists in the UK, collectively representing the profession and associated professionals within the field. Membership to this body would provide you with access to continuing professional development opportunities, reports and research published by members, and advice surrounding professional practice issues whenever you need it. Membership to this body is a small aspect of membership to the larger British Psychological Society and is considered essential if you wish to obtain the title of 'forensic psychologist'.
Another important body to be aware of if you wish to practise as a forensic psychologist is the Health and Care Professionals Council (HCPC). You cannot practise in your field using the title of 'forensic psychologist' unless you have obtained HCPC registration, and your name is included on the HCPC register. This register is incredibly important, serving the role of protecting the public and making it straightforward and quick to check if an individual has the professional qualifications that they claim to have. You must meet the required standards for your training, professional skills, behaviour and health within your field.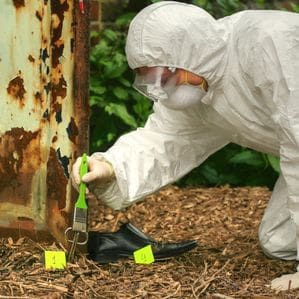 Interested in forensic psychology?
We offer the Level 3 Forensic psychology course.